Interview with Memoria
05/29/2017 by Lena Pletzinger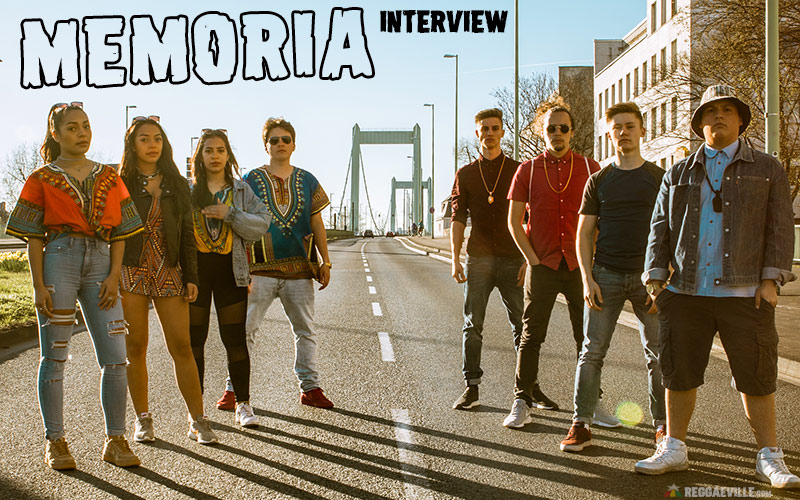 Everyone who is interested in new and upcoming Reggae bands, should be familiar with the band Memoria. If not, you need to catch up now!

Memoria is a young band from the German city of Cologne, a place where reggae veterans like Gentleman and Patrice started their careers many years ago. It's time to make room for the extremely motivated next generation, such as Memoria. Formed as a group of friends, brothers, and sisters, Memoria started playing in the community center of its neighborhood Mülheim, performing at various local concerts and hosting the annual Mülheimer Reggae Night, which attracts hundreds of fans. In 2016, things began developing even further—the first prize at the U-Club Band Contest, live shows at Ruhr Reggae Summer festivals, and the release of their first single One Drop which premiered on Reggaeville.
Who stands behind Memoria? There are the two brothers Inti Manuel (vocals) and Chaski Ayvar-Waltz (trombone & vocals) with half German/half Peruvian roots, the twins Eva Luna (saxophone) and Alma Sofie Blanco Zikeli (keyboard & vocals) and their little sister Greta Marie (guitar & vocals), who have family in Venezuela, Rafael Tobias Tobar Gehrke (bass) from Chile, and Emil Lorenz (drums) and René Bacher (guitar), both Germans. Most of them have known each other since childhood and have grown up together with music. All have learned to play instruments at a young age. Hence, their formation as a band, initiated by Inti and Chaski, was only a matter of time. At the beginning, they didn't have a specific genre in mind, until they were hit by the reggae wave in 2008. That was at Summer Jam Festival in Cologne, an event that many of Cologne's Reggae community members count as a key experience in their interest in reggae.
With the influence of artists such like Anthony B, Ziggi Recardo, Sean Paul, Culcha Candela, Barrington Levy, and the Latin American musicians Cultura Profética and Dread Mar I, the reggae project became unstoppable. The release of their debut EP Startline in May 2017 is more than a good reason to look closer at these young boys and girls. Reggaeville met Inti, René, and Emil in an open-air café on a warm and sunny spring afternoon right in the middle of Cologne-Mülheim, the district of the city where the band was initially born. As they were recognized by other guests of the café, you can notice that they are already sort of local heroes.
You've just released you debut EP Startline. Let's talk about that first. Can you tell us a little about the production process of Startline?
Inti: We started recording the first tunes for the EP three years ago. But then we had some changes in the band and it was left aside. Then we realized that we had grown a lot musically and must keep working on it. The working process involved a lot of back and forth. But then last year, I sat down with Augusto and we re-recorded and re-edited almost every song. We did the vocal recordings with my uncle [Lenin de la Torre], which was another blessing for us. We were also lucky to be able to work with Guido Craveiro, who mixed and mastered the EP. Now we have the result, Startline is out and we are ready for everything that the future holds for us.
Some songs are not actually new then?
Inti: All the songs on Startline are kind of old, but now they have been refreshed.
Emil: We worked a lot on the songs. We entrusted the mastering to Guido and worked very closely with him. I joined him many times in his studio. We are now really happy with the result.
How is it that you cover so many different genres besides Reggae and Dancehall, such as Reggaetón, on your EP?
Inti: Well, actually the EP is not as diverse as you may think. It's only the sounds that are diverse, but the EP itself is harmonious, it represents us. Look at our weird constellation. We are German Latinos doing Reggae (laughs). That speaks for itself. We don't want to sound like anybody else; in fact, we do not sound like anybody else. We just want to do our own thing. At the moment, this is the way we sound.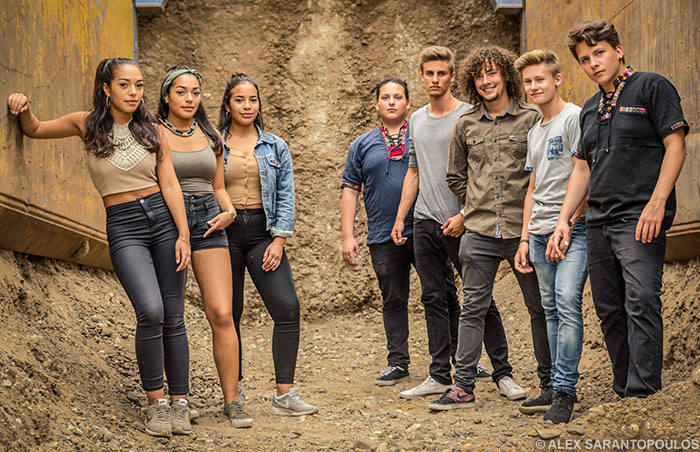 Do you have other songs that didn't make it on the EP?
Inti: Yes, we have around 90 minutes of live show, but we decided this time to bring out only seven songs on this EP.
Are you already thinking about releasing a full-length album next?
Emil: We do have plans and we are considering it, yes. But that's still up in the air.
Besides being part of the band Memoria, what else do you do in life?
Inti: My brother and I also play in cover bands. My brother, for example, has a show with Dellé on Saturday, playing the trombone. We also do a lot of Latino music projects. The bills must be paid, right? (laughs). I study Latin American studies at the University of Cologne and have a girlfriend, there is not much free time.
Emil: I'm about to graduate from high school next year; at the same time, I have started a training to become a sport and gymnastics instructor.
René: I'm in high school and I'll graduate next year. Greta is also still in high school, she is the youngest. Alma, Eva, and Rafa already go to university.
Since you have known each other for so long and have such a strong bond, can you imagine a different formation of the band?
Inti: As for myself, I couldn't sing in another band project. Although I do perform as an MC at various events, nothing will ever be like Memoria. What's more, nothing will ever reach the people like Memoria does, because the fans feel that the band is much more than just music. We all share our time together; we are more than friends and more than working colleagues—we are one.
How do you differ from each other? Do you have different interests as well?
Emil: We have different interests, yes, but our common interest is music. We all love reggae extremely. We all strive the same goal when it comes to the future of Memoria and stand 100 % behind this project. But yes, we do differ from each other. Inti studies and does a lot more other musical projects. I do a lot of sports. But Memoria means everything for all of us, which is why this works out so well.
Do you fight or argue a lot amongst each other? What does that look like?
Inti: Only the brothers and sisters (everybody laughs).
Emil: Only Inti and Chaski or Eva, Alma, and Greta have fights. We do tease or make fun of each other, but we all share the same sense of humor and get along pretty well.
René: They never involve us in their troubles.
What is it like performing and touring in your young age? Do you have to leave events earlier due to regulations for minors?
Inti: Yes, unless you find exceptions or derogations…The three of us sitting here, we are all over 18 by now. But the youngest is 15.
René: It has been working out well so far.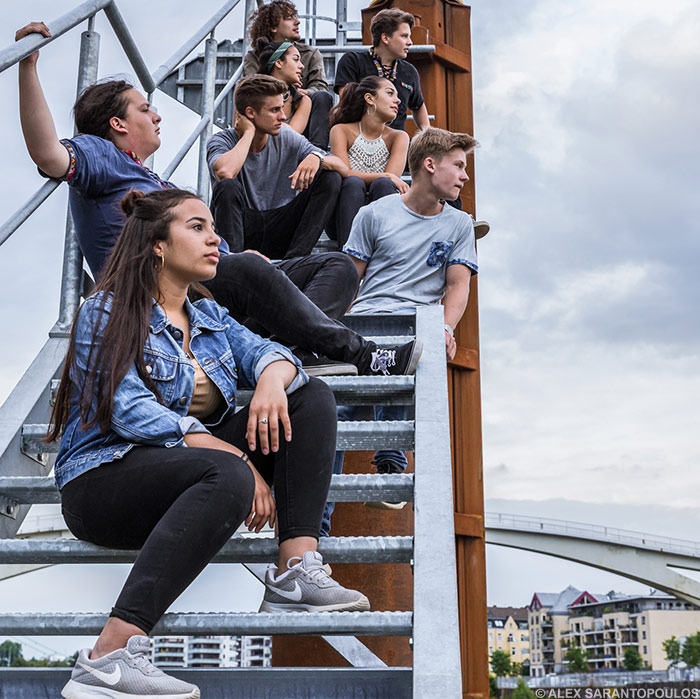 What were your personal highlights as a band in the last years?
Inti: Every Birlikte Show was a highlight for me. That's a yearly art and music festival in our neighborhood against racism. The message behind this festival is very important. Violence against foreign people must stop. We are all humans. My blood is red. A black man's blood is also red; a yellow man's blood is red, too. I also like the yearly Edelweißpiratenfest. We have been playing there for many years. Both Ruhr Reggae Summer Festivals were also crazy.
Emil: And every Mülheim Reggae Night was crazy, too.
Inti: Yes, every Reggae Night! Last year we had 750 to 1000 guests!
Emil: We played in Karlsruhe two weeks ago and the vibes there were just amazing! People were mad about us. We hadn't even entered the stage and they were already screaming and applauding like crazy. They also sung along to every line of One Drop. The Karlsruhe vibes were heavy.
How do you deal with all the critique you get?
Inti: Let me tell you a story: Way back then, as we were guests on Summer Jam, we were amazed by the man called Andrew Murphy, live on stage. He was for us the real meaning of reggae music. Last year, we met him personally in Wuppertal where we won the U-Club Band Contest. Afterwards, last Summer Jam, Andrew Murphy himself approached us and asked us if we would like to play on his birthday event. As you can guess, it was such a great moment for us. He even invited us to his rehearsal where we jammed one week long. He gave us such good credits and critiques for our music. I remember, a few weeks from now, Andrew Murphy was a guest on a show and now we were the ones on stage. He was jumping and was even going down on his knees out of excitement. And we were like: "Wooow!" That was bigger than I ever dreamed of. If such a man like him would believe in us and tell us to do it, it's our duty to do it.
Do you feel like beeing under pressure to achieve what people expect from you?
René: No, that's more like a motivation for us. When we see others believing in us, it pushes us in the right direction.
Do you have also negative memories in your mind?
Inti: We had a strange situation a few years ago. We were invited for a show but the promoter behaved very weirdly. Until now, we haven't been paid and all the names on our guest list were canceled. All the guests on our list had to pay the entrance. We were treated very badly.
Do things like that happen often?
Inti: I must say, as a young, white boy, it was kind of difficult for me to be taken seriously by the elders. I used to do all our bookings, the negotiation, and so on. Many of them were really nice to me, but others only showed me disrespect. They knew I was young and still impressed by the magic of reggae.
Is that a genre-specific problem, or do you think that happens in every kind of music business?
Inti: I like how people doing German-rap support each other. In Jamaica, the situation is the same. People like, share, and repost the news of other artists. But here, that's still missing. Things have to go into a different direction. Reggae is getting bigger and bigger. Look at Dancehall, Reggaetón: Boom! There is the same big market for reggae as well. But artists who have been in the business for many years and have ruled the main events should make some room for new artist.
Inti, you've mentioned your admiration for Andrew Murphy's dreadlocks. You and your brother used to have dreads yourself, but you recently cut them off. What can you tell us about that?
Inti: Well, I have been wearing my dreads for more than six years. I have always been the one with dreads. At one point I realized, that the world had become too superficial. I felt that many people spoked to me only because of my dreads, for what dreads represent. When I turned 20, graduated from high school and just came back from Peru, I decided it was time for a change. I don't want to match the cliché of a Reggae singer: "Hey, look at this Rastaman, he is doing Reggae and is singing about Love and Peace." I want people to really listen to my music no matter how I look like. Music speaks for itself. Those might also be the reasons why my brother cut his dreads.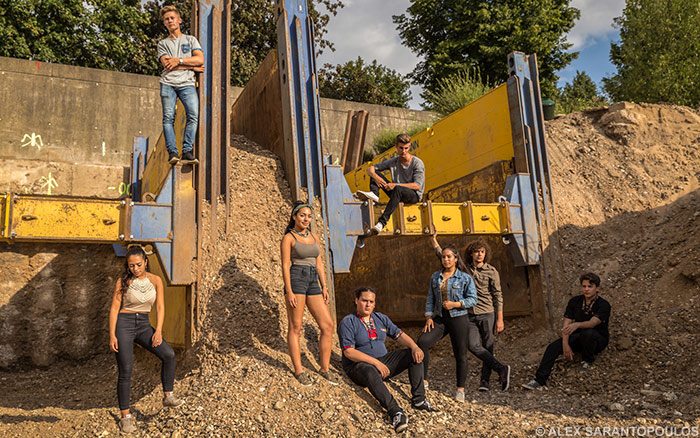 What about you, Emil, have you ever considered growing dreads?
Emil: I love dreadlocks a lot, and I used to grow my hair when I was younger. But I don't really know if dreads would really suit me (laughs). Just like Inti mentioned, people are beeing judged only according to their look. One day we run into some police officers in our neighborhood, they asked for a random ID check. Of course, they chosed only Inti and Chaski, and check them for weed. I know, this should not be a reason preventing me growing my dreads.
Do you want to do music for a living, as a permanent job?
Inti: Yes. We want to get the best out of it.
Emil: Yes, we discussed this idea within the band and we all would love to do it for a living. That's our thing. But we cannot just quit our jobs, schools, and university.
Inti: It's just the beginning, such as the name of the new EP, Startline.