Review
Album Review: Mellow Mood - Large
04/08/2018
by Gardy Stein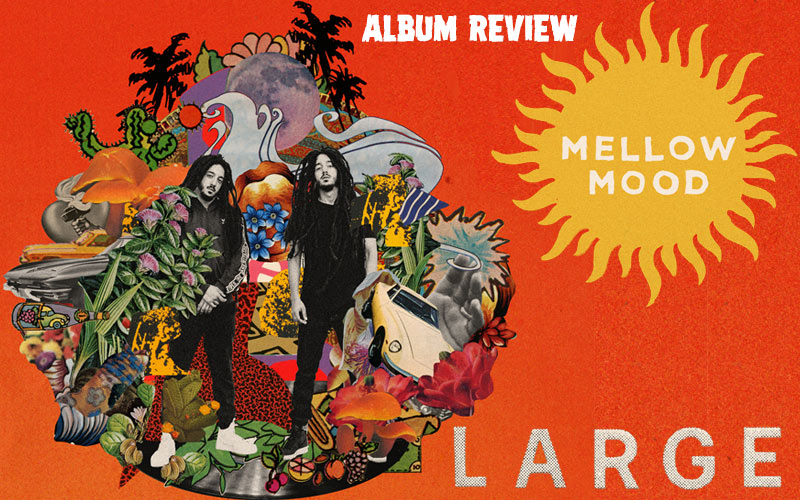 Pressing play on their new album, it's immediately back… this Mellow Mood feeling! Almost guiltily, I realize that it's been quite some time since I heard one of their last releases Twinz or 2 The World, and I really missed their fine, melodious music. But, impressive as their past releases were, we are living in 2018, and now Large is coming for you!
A well-chosen name, given that the first words people hear is "We are born as Gods" in the Intro Call Back The Love. The background of the title track is not divine magnitude, though, but quite an earthly matter: Large is in fact a criticism on greed, over-consumption and materialism. A criticism that forgoes too many words but uses metaphors and a certain melancholy expressed through the underlying riddim and the twinz' emotional style of singing.
This melancholy is actually a common thread here – Large is not an album of shallow amusement, but of profound gravity, expressed by an overall emphasis on drums. Take Tuff Rocky Road, for example, a heavily percussive piece that reflects on the hardships of life, but also on how to overcome them. Or Sound Of A War, a different take on global disputes and their originators that relies on drum-beat and onomatopoeia to bring the message across.
More crucial subjects are handled in It Can't Work, where you'll come face to face with "smiling sharks", and Eye Waata, which teaches you to not drown in tears. Heart To No One is a bitter-sweet love song pleading with a woman to give her heart to no one else but him, while Ms. Mary, despite the title, is not a Ganja tune but a reckoning with mean landlords.
On a slightly happier note, underlined by a bright metallic xylophone theme, Another Day expresses gratitude for being alive and waking up in the morning, and this is indeed an important and rewarding practice to include in your daily routine. Visualising what a blessing it is to be able to breathe, see, hear, speak, walk, eat, drink and sleep makes a lot of our perceived daily problems seem insignificant. "Follow your heart!"
Other uplifting pieces are Daddy, a touching declaration of love to Jacob and L.O. Garzia's father, and Place Called Home, which is however no revelation riddim-wise. An interesting track that falls through the musical frame established so far is String Up A Sound. Not only because it's much faster (and less serious) than the rest of the album, but also because it includes the intro of the track Mother In Law by the fantastic Sierra Leone's Refugee All Stars.
Producer Paolo Baldini assured the sonic quality of the release, and if you listen keenly you will notice his distinctive handwriting in the Dub-parts that shimmer through here and there. Quite fitting, La Tempesta Dub is the name of the sub-label founded by Mellow Mood in 2015 that houses the diligently assembled album, the creation process of which is described by bassie Giulio Frausin thus: "We really worked together in the rehearsal room to write the right riddims for the songs, while the twins brought the lyrics and the melodies. It was an old-school songwriting process!" Old-school songwriting, old-school sound – it's good to hear that modern releases do get along without auto-tune, computerized riddims and body-part-related lyrics. Mellow Mood, you Large!
---
Release details
Mellow Mood - Large
DIGITAL RELEASE [La Tempesta Dischi]
Release date: 04/06/2018
Tracks
01. Call Back The Love
02. Tuff Rocky Road
03. Ms. Mary
04. Sound Of A War
05. Large
06. Heart To No One
07. It Can't Work
08. Another Day
09. Daddy
10. String Up A Sound
11. Eye Waata
12. Place Called Home