Review
Album Review: Macka B - Health Is Wealth
09/29/2017
by Gardy Stein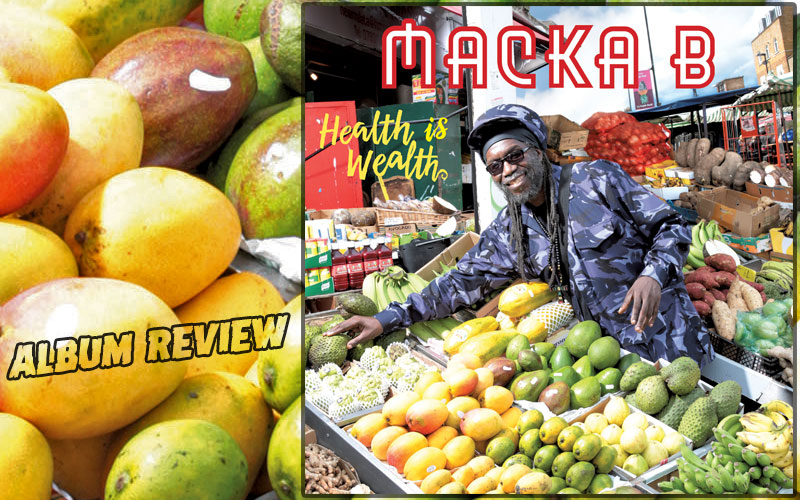 "Health is wealth, ital is vital!"
That these are no empty rhymes but phrases that express a serious life focus for UK-based artist Macka B is not only demonstrated by his weekly Medical Mondays and Wha Me Eat Wednesdays videos (check all videos here!), but is now also audibly reflected in his new album Health Is Wealth. Teaming up with Greensleeves Records, this 16-course-release will take you on a life-improving trip through diverse issues of mental and physical health.
In a true worldwide effort, the tracks were produced in Jamaica, the US, the UK, Japan (Akihiro Hotto of Sunnyside Music is responsible for the fine Sleng Teng relick of Natural Herb) and Germany. The latter is represented by Oneness Records who contributed the instrumental version for the pensive Gangster, a lyrical statement against gun violence livicated to the memory of Shamore "Chadie" Grant and Akeem "Squidley" Henrdicks, "two young kings lost to the gang and gangster", as the corresponding video tells us.
Most recordings were done either at Macka B's own studio or at Mafia & Fluxy, Stingray, Eye To Eye or VRB, with the notable exception of Our Story and Mama Africa, both of which were recorded with a host of fine musicians at Jamaica's legendary Tuff Gong.
Apart from a remix of the 2008 single Wha Me Eat and the gone-viral track Cucumba (the March-6th-edition of said Macka B-series Medical Mondays had 20 Mio. views in just two days via UNILAD and reached an amazing 43 Mio. by now), most other songs are fresh material that are bound to either make your waistline or your brain-cells (or both) rotate. Nutritional teachings are delivered by the self-declared Lyrical Chef in his unique humorous style in the two tracks mentioned above, and, of course, in the title track. Also, Excess Baggage educates us on the importance of losing those little fat pads, along with a video that transports how much fun sports can be.
A bit of fun and a lot of reverence are the basis of Legendary Reggae Icons (on a version of the Conversations riddim) and 70's Legendary Reggae Icons (on a version of the Here I Come riddim), both pieces in which the singer stuffed as many great names as possible. And indeed, in case there is one that you've not at least heard about, you got some foundation-homework to do. Set your Speaker Pon Fire! In this vein, the hefty cover-version of Ras Michael's None A Jah Jah Children features a Reggae Icon of its own: Maxi Priest (who has the honour of being the only feature).
Further issues are treated in Nah Go Back There, a deep insight into an expatriate's mind, and See Them From Far, a plea to heed your intuition about people you meet. The album closes with the purely a-capella My King, stressing the artist's deeply-felt devotion to the person, history and meaning of Haile Selassie.
Health Is Wealth is a rich addition to both the international Reggae menu and the personal catalogue of this versatile singer/ educator/ messenger/ entertainer/ teacher/ entrepreneur. Thanks for a delicious sonic meal, Macka B!
---
Release details
Macka B - Health Is Wealth
DIGITAL RELEASE / CD / VINYL [Greensleeves]
Release date: 09/29/2017
Tracks
01. Health Is Wealth
02. Gangster
03. Wha Me Eat (Remix)
04. Natural Herb
05. Legendary Reggae Icons
06. 70's Legendary Reggae Icons
07. Cucumba
08. Speaker Pon Fire
09. Jah Jah Children feat. Maxi Priest
10. Our Story
11. Lyrical Chef
12. Excess Baggage
13. Nah Go Back There
14. See Them From Far
15. Mama Africa
16. My King
Featured artists
Maxi Priest