RIP Winston 'Bo-Pee' Bowen
03/27/2019 by Gardy Stein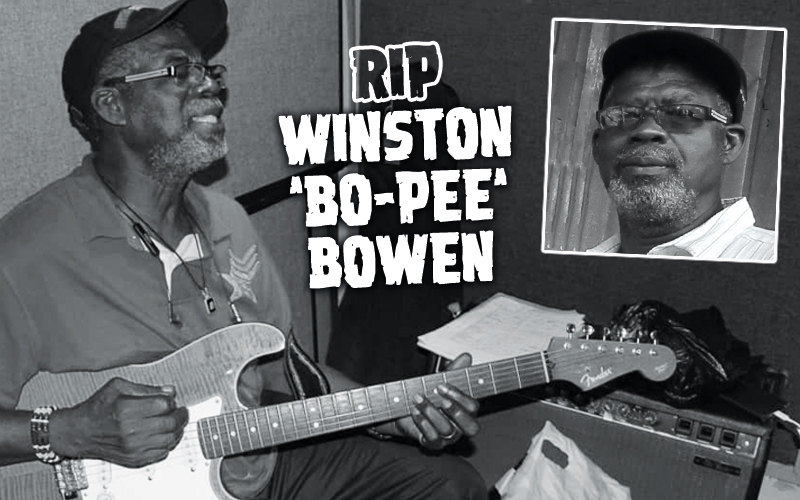 Another sad loss to the music world: Winston Bowen, affectionately called and better known as Bo-Pee, died of a heart attack early Tuesday morning in his Jamaican home at age 62.

The skilled guitarist started his career in the 70ies, recording at Channel One, and soon developed into one of the most sought-after musicians of the island. He recorded and performed next to well-known bands and artists such as Dean Fraser, 809 Band, Firehouse Crew, Lloyd Parks and We The People, Uprising Roots and Inna De Yard, touring with the likes of Dennis Brown, Ziggy Marley and Luciano.

His untimely passing leaves the Reggae Fraternity in shock, as the comments on social media reveal:

"It's so sad to hear of the loss of another friend, and music icon. Master guitarist Winston "Bo-Pee" Bowen, from Firehouse Crew, We The People Band, and 809 Band, has passed on to be with the King. My bredren, we give thanks for your dedication and support, to the music industry. Condolences to the family, friends, fellow musicians, and fans. You are forever in our mind and heart and will be truly missed. Rest in Zion king. Jah guide and protect." (Maxi Priest, Facebook)

"Sly and Robbie and the Taxi Gang would like to extend our condolences to the Family and fans of a great guitarist who has made his mark touched some many with kindness RIP Bo-Pee Job well done." (Sly & Robbie, Facebook)
"He was a beautiful person, always caring about one another. Very serious in music, very serious in life, always smiling and laughing. He was a hugely gifted and talented musician, with a very particular touch and feeling. He brought so much to Jamaican Reggae, to Inna de Yard, to the music in general. We all miss you hard 'Bo', you will rest among us forever. May you rest in peace." (Inna De Yard, Facebook)
"To our friends and fans. We are very, very sad to announce that our beloved friend and wonderful guitarist Winston 'Bo-Pee' Bowen passed away yesterday in Jamaica from a heart attack. Bopee was one of those warm, humble, sincere and loving human beings that spread a ray of light wherever he went. He was also a deeply spiritual and thoughtful man. We will miss him deeply. On every level - his great musical gift, his warm friendship, his humour, wisdom, guidance and support. Bopee was more than a friend, he was family to us all at Havana Meets Kingston. Our condolences to his wife, children, family and friends at this difficult time, we are all thinking of you." (Havana Meets Kingston, Facebook)

"The most high introduced me to the humblest of beings. A true father, brother and friend to I in lifes walk. His unconditional love never went un-noticed and will forever be written in our minds and hearts. My condolences goes out to his family." (Randy Valentine, Instagram)

"RIP Musical Soldier Winston Bo-Pee Bowen. A Soul that was full of Joy. I have no memory of you ever being sad or down. Always evenly full of Joy and being calm. Thanks for the memories praying for your family." (Junior Tucker, Facebook)

His musical legacy will live on. Bo-Pee's most recent activities included recording the Havana Meets Kingston project with whom he was on tour in 2017, as well as the release of a single called Give Thanks and Praise on the Inna De Yard album The Soul Of Jamaica in 2017 and playing lead guitar on all tracks of the new edition of Inna De Yard (about to be released), a collective he was also on tour with.
Bo-Pee leaves his wife, six children and eight grandchildren.