Review: Shabba Ranks, Maxi Priest, Barrington Levy & Mr.Vegas in London, UK
07/05/2017 by Angus Taylor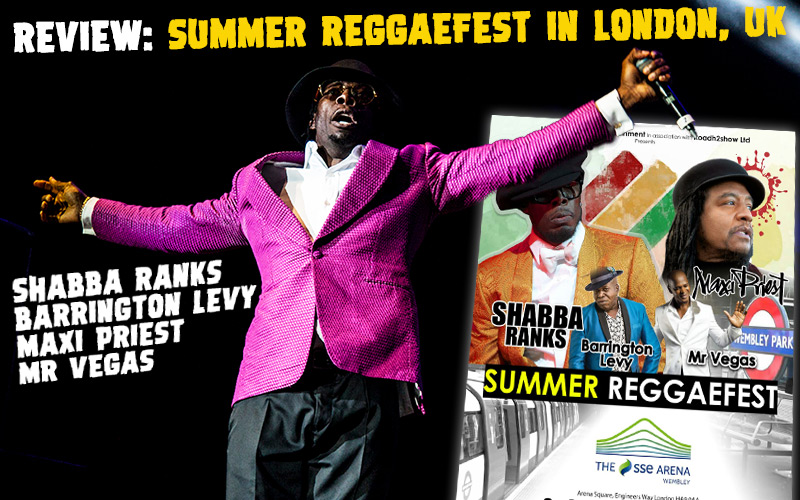 It's rare to see a London reggae dancehall show take place in a venue the size of the SSE Arena, Wembley. When they do, there is a palpable pressure for them to succeed. Often it works - like Nas & Damian Marley in 2011 and Beres, Tarrus and Romain in 2012. Other times, like 2011's One Love Peace Festival there are problems (Shaggy playing only a few minutes because earlier acts ran over time).

So it was a relief to witness Live Experience Entertainment and Roadh2show's Summer Reggaefest - featuring Mr. Vegas, Barrington Levy, Maxi Priest and an equally rare appearance from raunchy rockstone deejay Shabba Ranks - deliver. Especially when sharing a date with International Reggae Day, and the anniversary of Dennis Brown's passing. The 12,500 capacity arena was 90% full - and each singer raised audience expectations to a climax as Shabba took the stage.

Another coincidence was the health based cancellation of that day's Adele concert at the larger Wembley Stadium. Staff were stationed along the route from Wembley Park tube to apprise and console any stray fans who didn't get the news. Meanwhile, Jamaican music's younger generation was being represented by a sold out Popcaan gig down the road in Hammersmith. But fears that this might reduce the turnout were unfounded. The - optimistically - all seated arena floor filled fast during Wassifa sound's opening selection. As host Seani B would remark later to Daddy Ernie "the parents of the Popcaan pickney came here".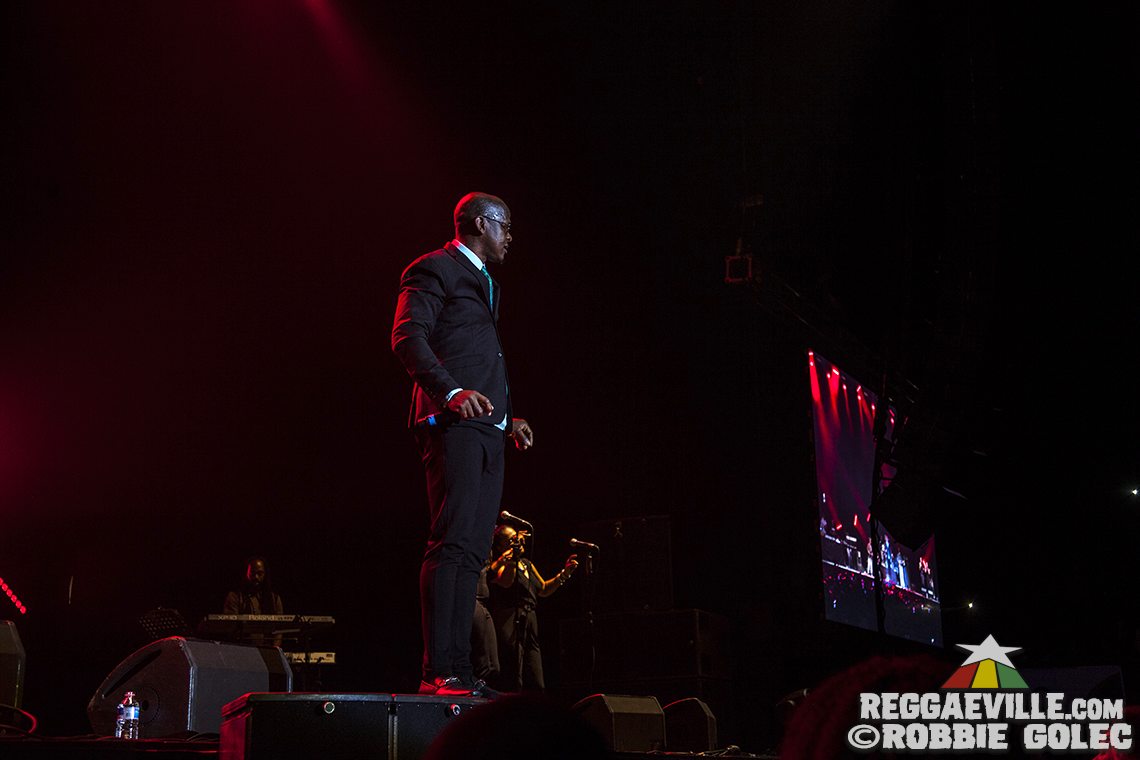 After only one local act – powerful young singer Empress Imani - Mr. Vegas kicked off the bill at 7pm. Looking like a dapper reverend in a smart brown suit, his tart stinging voice was in full effect over gospel, dancehall and global rhythms handled by London's Soul Rebel band. Fittingly for a man who has repeatedly "left" secular music he began with I Am Blessed and When The Saints Go Marching In. Yet he couldn't stay away from dancehall smash Heads High for long. "Some people see Mr. Vegas singing dancehall and wonder if he is Christian?" he remarked "But some dancehall is a fun loving music".

Much of the rest of his set was covers – Beenie Man's Who Am I/Toots' Bam Bam, Chaka Demus and Pliers' Murder She Wrote, Bob's Three Little Birds and Adele rival Ed Sheeran's Thinking Out Loud. He showed local sensitivity with recently recorded response to the Manchester and London attacks, Terrorists In A England (praising "all real Muslims"). He also praised Soul Rebel, who he revealed were a last minute replacement when "certain people" didn't want him to use veterans Ruff Kutt. "They did great job because when God say yes, man can't say no". It wasn't easy to thaw out the boxy booming SSE arena but by the end, his eclectic offering had reached all the way to the back.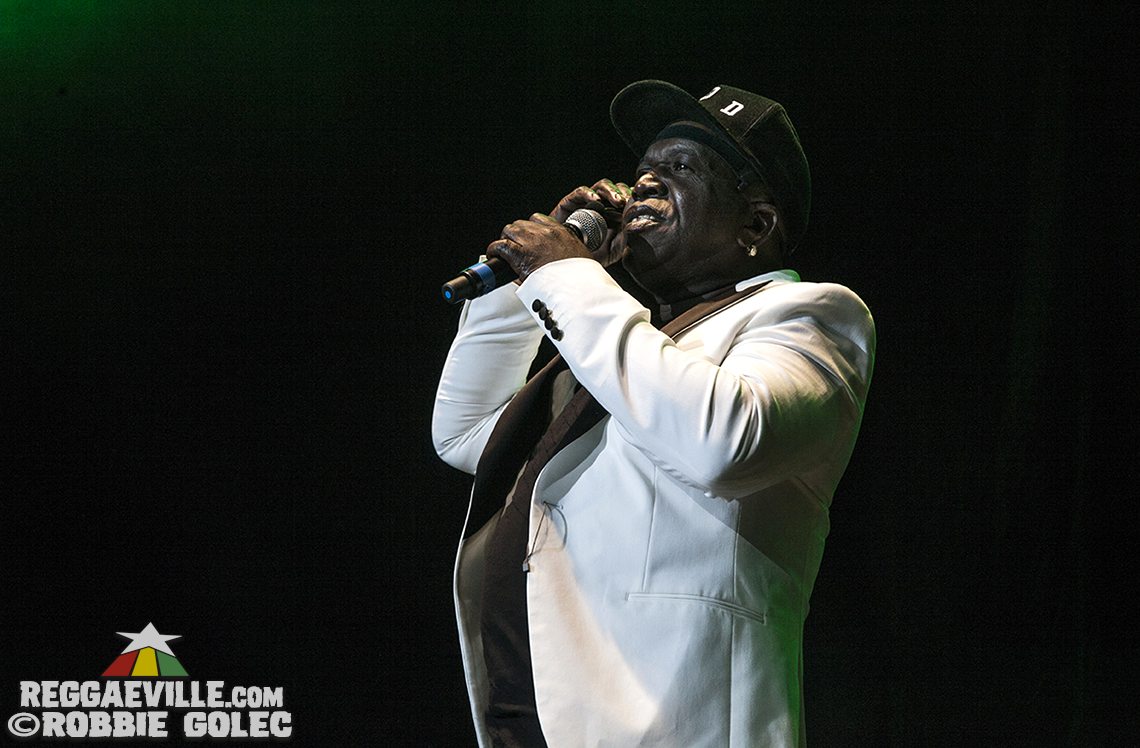 A white-suited Barrington Levy, still slim and wearing his baseball cap, was in mellifluous voice over his own slick rock-infused band. He eschewed the songs of others - unless you count massive hit Bob Andy covers My Time and Too Experienced. In addition, he brought Murderer, a Chronixx endorsed Prison Oval Rock, On The Telephone, Black Roses/Here I Come and Under Mi Sensi (which he once scandalously performed on British kids' TV show Number 73). Autobiographical new track Greatest Survivor Of All Time's lyric "as I walk through the valley of the shadow of death" recalled his rootsier earliest work.

A long-time resident of the USA, he seemed impatient at the reserve of the British crowd: stopping and starting to ask "Can I go home?" to elicit further screams. At times it felt like more would be gained by just played the songs through. That said, the cheering as he left suggested he probably knows best.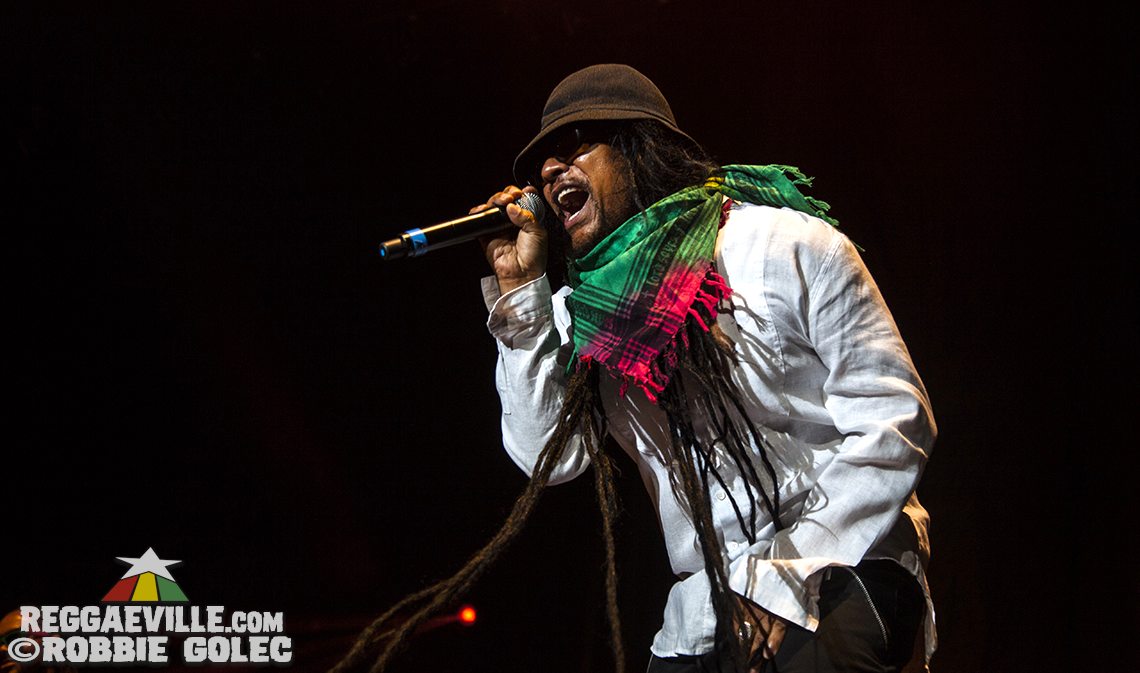 The doubters who value Jamaican reggae over the UK might have questioned why Maxi Priest went on after Barrington. But they were proved decisively wrong by the chart conquering hero's reception Maxi got from his people. Attired casually in long shorts, a white shirt, and shades, he opened with Dennis Brown's Should I to mark the occasion - backed by the aforementioned Ruff Kutt band. This perfectly set the momentum for his In The Springtime, Strollin' On, and Wild World. Only a combo section with New York deejay Beniton received neutral applause. He soon won everyone back with I Just Wanna Be Close To You.

Echoing Vegas' sensitivity, Maxi requested a minute's silence for the victims of the Grenfell fire - briefly interrupted by a woman who couldn't resist shouting "We love you Maxi". As the recent Rodigan controversy demonstrated - the UK scene is tired of being ignored.

"Are you ready for dutty stinking Shabba?" was a question asked by hosts Daddy Fridge, Seani B and Daddy Ernie - throughout the night. And boy, were they ready when the veteran deejay arrived. Sometimes if an artist doesn't travel much they can be rusty: the joy coming from seeing the legend rather than the performance. Yet Shabba's deep nasal tone carried to each corner of the oblong aircraft hangar shaped space. He still had the energy to perform his lithe and lascivious moves. Dressed in a ruby jacket and a black hat he bounced, gyrated and wound to Ruff Kutt's bass-line rolls. (No prizes for guessing who Vegas was talking about earlier – in characteristic style he took to Facebook after the show to call Shabba a "diva" for pinching his band).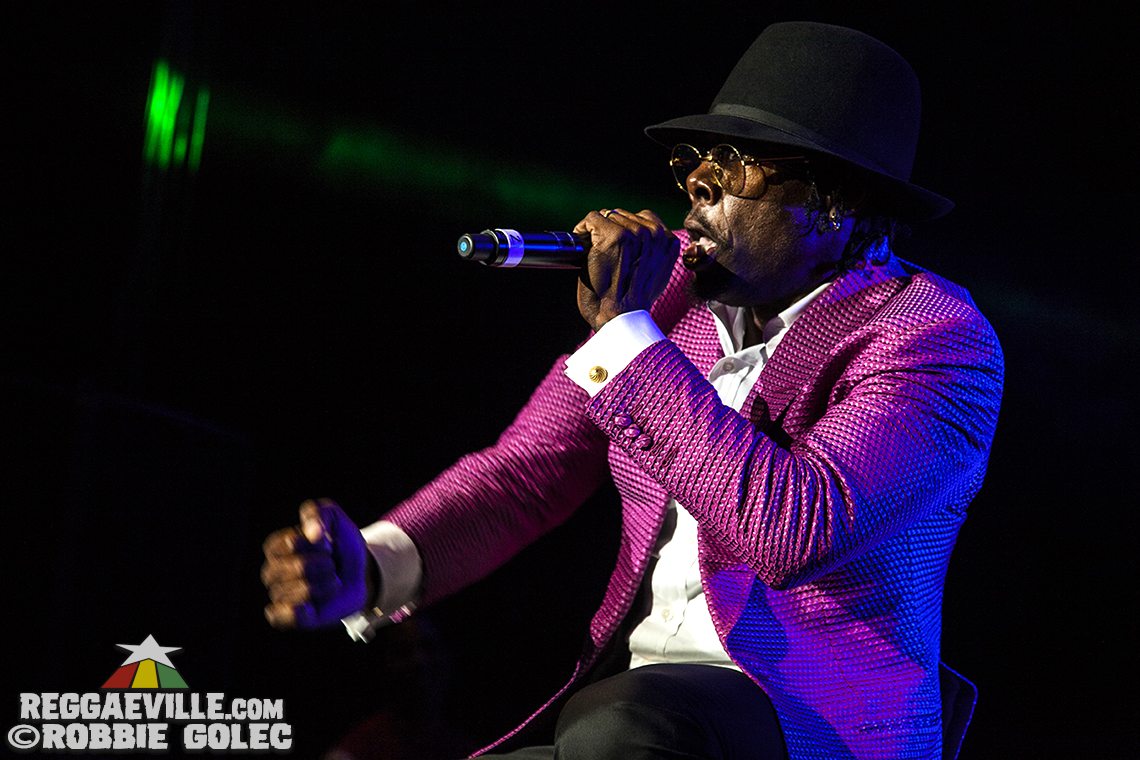 Shabba was certainly dirty but with the awareness of experience. "Let me lick some tight pussy right now" he said to screams during the breakdown to Muscle Grip "Excuse my language but I got to take it there". He brought on the blonde haired and brilliant JC Lodge to sing Telephone Love and her daughter Gia - who has a big voice of her own - for Mr Loverman and Twice My Age. He expressed reticence to wind and grind with a woman half his age ("her mother and father are here") before doing so anyway when the audience cheered him on. Cocoa Tea reminiscent male singer Zanadu sang Pirates Anthem and, of course, Maxi - in another reason for going second to last - returned for House Call. "What the bomboclaat tell me about time?" he said of being 10 minutes past 10.45 curfew - closing with Trailer Load Of Girls and roots song Heart of A Lion (over Bob's Heathen rhythm). Though he didn't play Dem Bow, no-one seemed to mind.

It all added up to an ambitious but professionally-paced, promotion. As the throng streamed towards the tube, disappointed Adele fans had left "get well" signs on the walls of nearby buildings. Tonight, reggae and dancehall supporters didn't feel their pain.