Buju Banton On New DJ Khaled Album - Father of Asahd
05/17/2019 by Reggaeville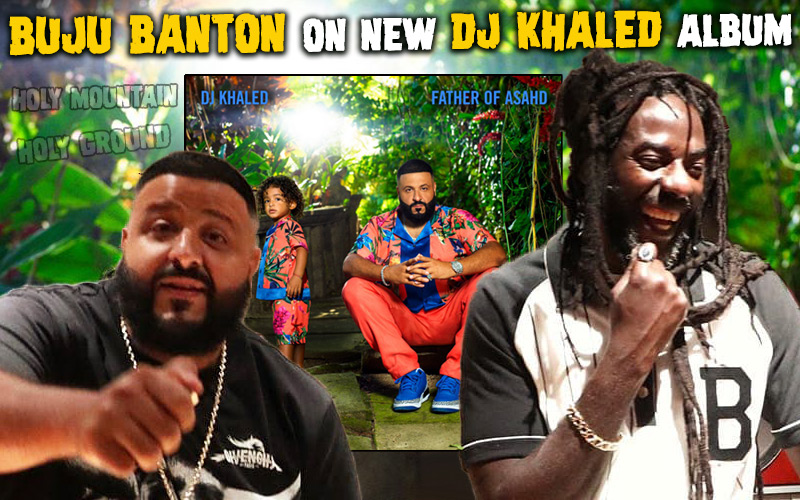 Buju Banton: "Today is my first day back in the studio."

Back in December 2018, just a few days after Buju Banton returned to Jamaica, DJ Khaled came to Kingston to work on his new album Father of Asahd. Khaled linked up with Buju Banton, Sizzla and Mavado.

The album's tracklist wasn't revealed in advance, so we just learned today, that Buju Banton is featured on two songs. Father of Asahd contains total of 15 songs featuring major artists like Cardi B, NAS, Jay-Z, Beyoncé, Chris Brown and the late Nipsey Hussle.

The opening track Holy Mountain is a massive combination with Buju Banton, Sizzla, Mavado & 070 Shake. Filmed also in December 2018, during Khaled's trip to Jamaica, the official video will be out May 17th. LISTEN TO HOLY MOUNTAIN HERE!
The album closes with Buju Banton's Holy Ground. See below the full lyrics:

DJ KHALED feat. BUJU BANTON - HOLY GROUND
[Intro: DJ Khaled]
We the Best music
DJ Khaled

[Verse]
Where thou standeth is holy ground, yeah (Holy ground)
Where I standeth is holy ground (Holy ground)
I shot him down to the ground, never to be found
No wickedness, only righteousness
But I shot him down to the ground
With word, power and sound
I fear no evil ground, no, no
Have you ever heard it was written? (Written) Yeah, yeah
Just like the anointed, your judgement shall be tripled
Lord, God
Where thou standeth is holy ground, remember that (Holy ground)
While I standeth on this holy ground (Holy ground)

[Pre-Chorus]
A rebel is a warrior, just give him a cause
No more badass, no more wars
The state of play ain't pretty over
But a real soldier keep marchin' on
Let not another generation face this evil oppression
Or stay incarcerated, feeling nice in all black
The poor still living in a state of shock
The time you took I know I will not never get back, but

[Chorus]
Where I standeth is holy ground, yeah (Holy ground)
Where I standeth is holy ground (Holy ground)

[Pre-Chorus]
A rebel is a warrior, just give him a cause
No more badass, no more wars
The state of play ain't pretty over
But a real soldier keep marchin' on
Let not another generation face this evil oppression
Or stay incarcerated, feeling nice in all black
The poor still living in a state of shock
The time you took I know I will not never get back, but

[Chorus]
Where I standeth is holy ground (Holy ground)
Where I standeth is holy ground, tell ya (Holy ground)
Where I standeth is holy ground (Holy ground)
Where I standeth is holy ground (Holy ground)
Remember that

[Refrain]
Holy ground
Holy ground
Holy ground
Holy ground