Review
Review: Marla Brown - Survivor EP
06/16/2017
by Gardy Stein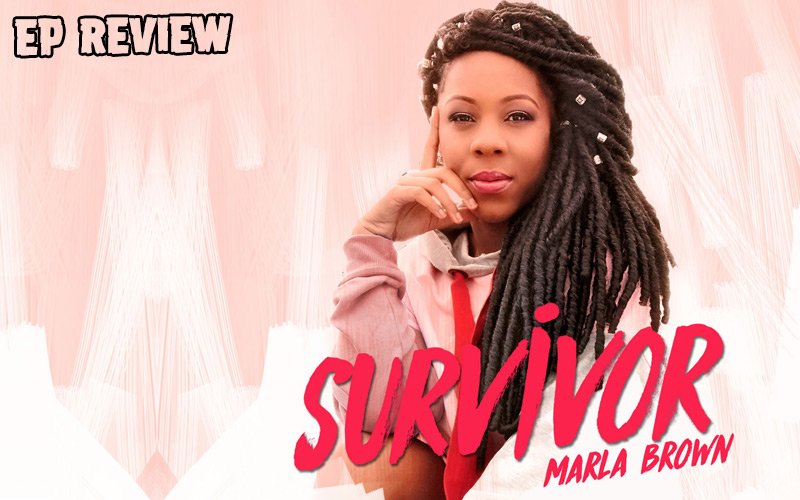 Self-Love, Faith and Unity – for Marla Brown, these are the most important themes to strive for and reach in life. "Be confident within your own skin. Be open to love and be loved. Never question your intention and always hold your head high." says the youngest daughter of legendary singer Dennis Brown, and she has clearly embraced these maxims.

Even though Marla can already look back on an impressive career as accomplished dancer, her singing skills carry her renown even further - quite recently, that is! In 2014, she harvested raving applause and critical acclaim at the annual Dennis Brown Tribute Show, where she sang her father's hits Silhouette and How Could I Leave as well as own creations. One year later, she released her first EP Deliverance, and is now ready to follow up with yet another EP. Survivor is the title, as it encourages people to rise above anything that conflicts with self.

The title and opening track, interspersed with original comments of the late Dennis Brown (at least I assume it's him, as Marla already included his words on Deliverance), was produced by Dan Grossman of Loud City Music. He is also responsible for the closing song Roots Rockin which features Hempress Sativa, another powerful singer. Rock and come in!

Other producers have made sure that the stylistic variety is kept high. Thus, Royal Order Music (a quite new label founded in 2012) provided the deep soundtrack Zion, yet another feature with Indonesian freedom-fighter Ras Muhamad, and Niente Piu La Crime, a rather rocky piece that settles old scores with an ex-lover.

This leaves us with the melancholic Crystal Woman (produced by the Berlin-based Rootdowners Thilo Jacks and Andre Ras Meyer) and Mumma Knows Best, an ode to Mrs. Yvonne Brown with an underlying driving, melodic riddim by the Austrian House-of-Riddim-musicians around Sam Gilly. Rounded off by the harmonic background vocals of Sherieta Lewis and Dionne Reid as well as the appealing visuals by Gianluca De Girolamo and Jason Panton, Survivor brings to our attention the musical output of an exceptional young woman who has a firm grasp on life and all that comes with it. A firm grasp is what Marla has on the vocals as well – crystal clear high notes and never off-key mids make this EP an enjoyable affair with a strong message: "We were made from royalty, made in the Lord's likeness, thus being beautiful lights of the world. So why should we conform and be made to feel uncomfortable within our own skin? Love self and give thanks for being YOU!"
---
Release details
Marla Brown - Survivor EP
DIGITAL RELEASE [Golden Brown Music]
Release date: 06/16/2017
Tracks
01. Survivor
02. Zion feat. Ras Muhamad
03. Mumma Knows Best
04. Niente Piu Lacrime
05. Crystal Woman
06. Roots Rockin feat. Hempress Sativa
Featured artists
Ras Muhamad
/
Hempress Sativa