Review
Album Review: Marcia Griffiths - Timeless
06/30/2019
by Gardy Stein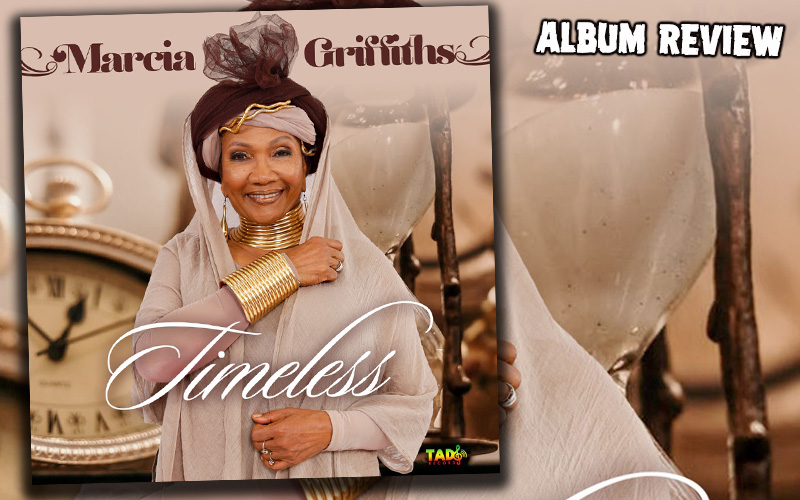 Ooooh that good, warm, welcoming sentiment music can put you into! Especially music as laden with positive vibes, memory and sheer magic as that assembled on Timeless, the new album of Marcia Griffiths. The Queen of Reggae has lost nothing of her fascination, quite to the contrary - the older she gets, it seems, the more emotion she is able to transmit in her songs. With 55 years in the biz, she has a lot of tales to tell indeed.
The special thing about this release, though, is that she didn't rely on her own vast catalogue for its compilation, but that she carefully chose 15 tracks by grand artists she encountered on her musical journey. Conceived as a tribute to Studio 1, these "golden treasures", as she calls them in a recent Reggaeville interview, were re-arranged and produced by Donovan Germain and published by Tad's Records. From the well-known descending keyboard pattern of The Cables' What Kind Of World to the touching beauty of John Holt's Stranger In Love, the album invites us to take a ride on Reggae's timeless memory lane.
Nothing is left out: the genre's up-tempo beginnings in the infectious Ska Medley are as much part of the listening experience as its successor Rock Steady by Alton Ellis (equally well represented by Ken Boothe's Home) and heavy Roots in The Abyssinians' Declaration Of Rights. The latter's conscious lyrics find their equivalence in the self-conscious Peter Tosh livication I Am The Toughest, whereas most other songs deal with love, sweet love. And this is the subject Marcia's voice seems to be predestined for - her performance in The Heptones' Baby Be True, Joe White's My Guiding Star and especially Cry Me A River (originally sung by Jackie Opel, a top-vocalist from Barbados, not Jamaica, who passed away much too young) is simply phenomenal. A special place in Mrs. Griffiths' heart must have the artists who are present with two songs, Delroy Wilson with Once Upon A Time and True Believer as well as Carlton and the Shoes with Love Is A Treasure and Love Me Forever, in which Carlton himself is singing the harmonies.
Featuring the young Jamaican artist Zagga, a fresh approach is taken on the Larry & Alvin track Your Love. And, just like that, Marcia Griffiths created an opus that makes some lesser known Studio 1 classics available to the international Reggae community. To complete the Timeless tour, we suggest that you search for and listen to the originals as well – hail all veterans!!!
---
Release details
Marcia Griffiths - Timeless
DIGITAL RELEASE / CD [Tad's Record]
Release date: 06/14/2019
Tracks
01. What Kind of World
02. Once Upon A Time
03. Baby Be True
04. True Believer
05. Love Me Forever
06. Love Is a Treasure
07. Your Love
08. I'm The Toughest
09. Ska Medley
10. Rock Steady + This Old Man
11. Home
12. My Guiding Star
13. Declaration of Rights
14. Cry Me A River
15. Stranger in Love