Review
Album Review: ManuDigital - Digital Pixel
02/19/2016
by Gardy Stein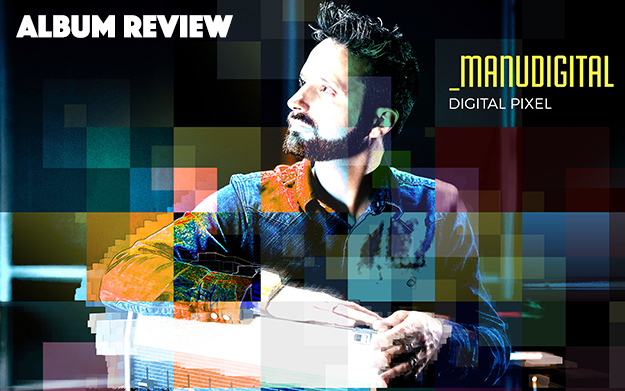 After hundreds of collaborations, single releases, EPs and some precious 12'', here comes the debut album of ManuDigital: Digtal Pixel! The title is no coincidence: apart from music, his second passion is the visual world, be it still or moving pictures. His stunning, entertaining and skill-displaying videos (check him out re-constructing some of Dancehall's foundation riddims such as Peanie Peanie, Duck or Punany) are mostly recorded and produced by himself. Teaming up with X-Ray Productions now, in comes a thing called digital madness!

Hailing from a musical family, Emmanuel Heron earned his spurs in his teenage days, starting out with bass and live music, discovering his love for digital equipment through a soundsystem he started with friends. From age 19 onwards, he has been building up his studio with original (and now almost vintage) equipment. He doesn't need a lot of musicians to realize his visions, this one: ManuDigital relies completely on his own artistic self to create his tracks or remix existing ones. Thus, only four songs of the album had instrumentals added (e.g. melodica by Fayce and percussion by Nicodrum in Saudades and Look At The Tree or guitar by Kubix in Big Up).

Which brings us straight to the music: starting off with a high dose of Digital Lovin from Bazil (who accompanied ManuDigital on tour recently), the second tune is a critical Politic Man by the wonderful Soom T, the young MC who should be known far beyond Scotland's borders by now through her quality works, words and collaborations, a quality to which this piece is no exception. Besides this music- and canto-wise strong track, Crazy by Taiwan MC is a next treat - it just makes you wanna jump to your feet and start wining. Original style!

Joseph Cotton and King Kong can be seen having fun in the studio on a short video snippet that Manu posted on his timeline lately, while freestyling on a track called Manudigital Affair (which pays direct tribute to the Dancehall Stylee of the nineties). Joseph, apart from George Palmer the only artist who is featured twice, appears again on Full Control, a wicked old-school celebration of dis ya Reggae music.

Another veteran encounter waits for us in Look At The Tree, a calm, contemplative praise tune and Dennis Brown cover. Featuring the one and only Errol Dunkley and an artist called Blundetto, who is none less than the musical director of Parisian station Radio Nova, their track is a piece of candy for all dub lovers, but no revelation lyric-wise. Strong words as well as powerful UK steppa beats can be heard in Mali Remix by Danakil. The band should be no stranger to the faithful followers of Reggaeville (their album was featured last year), same as Sara Lugo, who comes with a version that strays a little from the digital setup – a warm Reggae beat is the basis for her Big Up.

Apart from these big names, the album introduces also a couple of artists I was unaware of so far. While songs like Come Inna Di Dance featuring George Palmer, Must Get Panic with Peter Youthman (who rides his tune with flavour, ticking off subjects such as soundclash, Ganja and big-ups to ManuDigital) or Marina P in Already Midnight are already well known in France through the Digital Lab vinyl series issued by ManuDigital, they still wait to be discovered internationally. Especially the latter is a gem: Marina P entices with her moony voice, a flow that perfectly fits the magic of the underlying riddim. Those bubbling organs, this bass, this drum roll! I can already see the massive skanking to the beat worldwide, if the high rotation it has on my player is any indication.

Another strong female artist, Flavia Coelho spreads her magic on a downtempo melodica beat in Saudades. Staying in the Americas, we have Jamalski outta New York City who bows to the digital era with a fast-paced Bad Boys. The honour of the last tune is reserved to George Palmer, who closes the circle with Digital Robot.

This album is definitely a must-have for all those who have experienced the Casio-tinged, bass-heavy fascination of the nineties live. Digital Pixel, before, above and beyond being a conceptual album, is a collection of stars, a sequence of digital highlights that will make your ears happy. And if you happen to be in Paris on the 26th of March, La Cigale is the place to be - release party is on!


---
Release details
ManuDigital - Digital Pixel
DIGITAL RELEASE / 2LP / CD
Release date: 02/19/2016
Tracks
01. Digital Luvin feat. Bazil
02. Politic Man (Remix) feat. Soom T
03. Come Inna Di Dance feat. George Palmer
04. Saudades feat. Flavia Coelho
05. Crazy feat. Taiwan Mc
06. Manudigital Affair feat. Joseph Cotton & King Kong
07. Retreat feat. Don Camilo
08. Must Get Panic feat. Peter Youthman
09. Look At The Tree feat. Blundetto & Errol Dunkley
10. Already Midnight feat. Marina P
11. Full Control feat. Joseph Cotton
12. Bad Boys feat. Jamalski
13. Big Up feat. Sara Lugo
14. Mali (Remix) feat. Danakil
15. Digital Robot feat. George Palmer
Featured artists
Bazil
/
Danakil
/
Sara Lugo