Interview: Reasoning with Mad Professor in Sardinia
01/17/2014 by Angus Taylor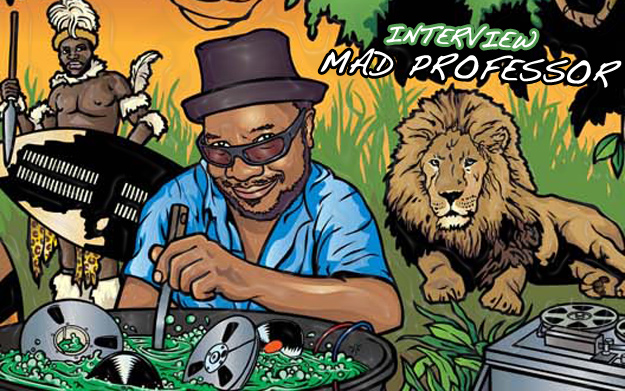 Neil Fraser aka The Mad Professor has taken on many roles in his four decade career. He has been a producer, engineer, artist, remixer, label owner, tour manager, festival promoter, musicologist, entrepreneur – in fact, he's done pretty much everything bar spending time in a laboratory or being committed to an institution for the psychologically infirm.

He built his first crystal radio aged nine in Guyana before relocating to London in 1970 where he assembled a twelve channel mixing console from scratch in his teens. He then soldered his interest in electronics to his love of the capital's reggae music when he started up his first home studio in 1979: voicing and mixing pop, rock and reggae acts six days a week and devoting Sunday to producing his own creations for his Ariwa label. As both imprint and space took off, he began to record visiting Jamaican artists such as Johnny Clarke, Mikey Dread and most notably Lee Scratch Perry – with whom he maintained a close musical and business relationship until the end of the 20th century.

Ariwa has lasted longer still, outputting thousands of releases (never mind the billions of unreleased tapes stashed at the fourth incarnation of his Ariwa studio near Croydon). His sonic journeys have spanned roots and dub, lovers rock, and in recent years, forays into the links between reggae and the South American music of his past and the South London dubstep. As the recording industry has become less profitable he has travelled further and further physically with his live mixing extravaganza the Mad Professor's Dub Show: bringing his distinctive take on reggae to every corner of the globe. In 2012 and 2013 he fulfilled a lifelong dream to hold his Back To Africa Festival in Gambia.

Although he is usually associated with heavy digital dub – this is misleading. Fraser prefers vintage electronic equipment to computers and is a great lover of the sweet sounds of soul music – having based Ariwa on Berry Gordy's Motown.

Angus Taylor spoke to reggae's tenured Professor at Sardinia Reggae Festival about his revamped studio and his plans for 2014 – including his long awaited album with Luciano, Deliverance, due for release in late February. However, things did not go to plan when the Professor turned the tables and began questioning us!

PROFESSOR: I'm going to start by interviewing you (laughs) – you must have a good insight into the true international clout of reggae right?

Pass.
I think you have a better idea than most people in England.

Possibly.
Because one thing I have a problem coming to terms with when I talk to the people in England – especially young black Londoners – is their ignorance on the international clout of reggae. They really think it's finished – because they are misled by the UK media which is leading them up a totally different road than the real one. For years I have been going to festivals – even in England – and the main diet has been reggae. Nothing to do with what's on the radio – but from '89-90 you'd go to festivals and hear Chase the Devil, 54-46, and obscure reggae tracks that never even made the national charts. It's been a generation of that – so it's not surprising that so many bands are playing reggae.

I saw Morgan Heritage play in London this summer when Beres didn't make it.
I heard about that.

I had already seen the same tour in Germany. The London crowd did not know the new album – they only danced to the old stuff. The German audience seemed to know both the old and the new stuff.
London is also a market that has got people who are fiercely defensive about what they like – fiercely pigeon holed. You have the roots crowd and you have the dub crowd. Now the dub crowd – if it's not a certain way they ain't taking it. You could call it dub but it doesn't matter – if it's not their dub – like a tune like say Johnny Clarke the one that goes "all over the world"…

Blood Dunza…
Yeah if it's not a Blood Dunza or a song that Shaka would play then forget it. Then you have the lovers rock crowd – if it's not a smooth type of lovers rock like say Aswad Roots Rocking then don't come giving them nothing else. And of course they've got the various stereotypes – and I guess rightly so because London was like the biggest reggae market for years. Even bigger than Jamaica. Not only the biggest reggae market – London is a place where most artists don't feel they've made it until they can play and conquer a London audience.

There's the cliché that for London youth reggae is the music of their parents whereas in say Italy listening to reggae can still be a radical parent alienating move?
Well that's probably right but slightly wrong as well because in Germany a lot of the audiences parents were into reggae – although probably a different kind of reggae. Outside of England Germany was the next biggest world market for reggae. I remember touring there in '88 when the only other people other than us touring where like Steel Pulse, Aswad, Dennis Brown, Marleys, Tosh. But the audiences were hungry for reggae! Unlike the current Germans they didn't make dreadlocks on their heads or anything – they didn't absorb that. But they were taking in the music and they really loved the music. In fact they had a different attitude in the sense that if you were playing reggae and you didn't have dreadlocks they didn't quite believe you. There were purists like that. And if you weren't black then "no you can't be playing reggae" whereas the younger ones now they accept that a reggae player could be without dreadlocks and might be white or Indian.

This was when you were coming over with Macka B?
Our first tour abroad was the whole Ariwa Posse. The Posse – which consisted of all the artists for Ariwa - would travel in a bus that was made for 8 people but with 16 or 20 of us! We would come over and you would have the warm up band – say Aquizm – backing say Alan King Pin and Slim Linton, Sandra Cross, Ranking Ann, Sister Audrey and Macka B. We did that a couple of times and then by '85 two things happened that changed that. One – Sandra had a massive hit with Country Living. So we went on the road and she was supporting first with the Wild Bunch and then halfway through we realised from the response she was getting from England in particular because of Country Living that she shouldn't be supporting. So by the next tour she wanted to do her own show so that kind of broke up the original Ariwa Posse tours but we went ahead. Somehow or other Macka B was the one who stuck to it when we were on like £50 a person each gig and while some people complained about it he was quite cool so he built up his name.

We were just talking to Jahcoustix, and many of the generation who sing reggae in Germany now – the first name they will call in terms of early exposure is Macka B.
Well we were selling records in Germany. No doubt. To be honest if you talked to people like Gentleman he and a lot of German artists would tell you the first concert they went to is Macka B and Mad Professor. We are the people who influenced a lot of the current reggae people from Europe to become artists. The other day Dreadsquad said "You know what made me start playing reggae? I saw you and Macka B in Poland". But like I said: we went through on tight budgets. Because as Ariwa I decided I'd build a label where if you came into me as an unknown – a zero entity – by the time we worked on you three, four years you would become a star and you would become a hit somewhere. And I think we succeeded in the years I was doing it until I got fed up.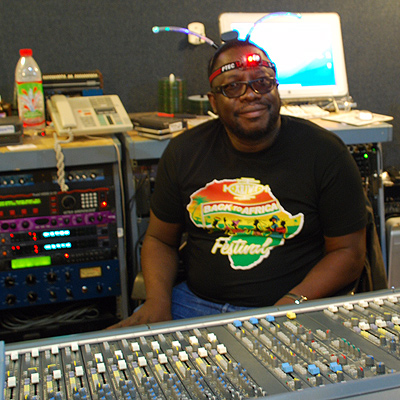 Your 80s contemporaries in manufactured pop like Stock Aitken and Waterman were making their singers similar promises – stick with me and I'll make you a star.
In a sense but the business model was probably Motown for both us and Stock Aitken and Waterman! We were all looking at Motown. People like Diana Ross and Stevie Wonder went in as unknowns and they came out known. Sandra, Pato, Macka B, John McLean, Kofi who we think of as known people or cult names – if they had stuck to it they would have become even bigger. People like Thriller Jenna who left in frustration because it wasn't happening quick enough – suddenly within two, three years people all over the world were asking about Thriller Jenna records and saying she is a legend – but she's done nothing since. So there's that side – the building of the names – but there's also that a lot of them end up buying houses and owning property. Because that was the next thing with me – I made sure every artist no matter what they were on could earn enough money to buy their own property. I think about 80% of the artists that were on Ariwa ended up with careers where they could tour or work if they wanted to and ended up owning property.

Is that model no longer workable? If I signed to Ariwa tomorrow could you promise me a house?
I would certainly embrace the values but the whole landscape in the UK is different. And even myself is different. I'm not so hands on with artists anymore because I developed my own show and I took my eye off the ball of developing artists. But in the early 80s we were the label, the publisher and the promoter of the touring artists. We would invest money into an artist, jump in the bus and hit France, Belgium, Switzerland, Holland. Playing at places like Milky Way (aka Melkweg in Amsterdam) and there was no one else in the UK doing anything like we were doing.

So when you look around at reggae as a global phenomenon do you feel proud?
(laughs) I had a part in it. But I too have evolved into being an artist and less of a manager and a producer. I don't produce so much and I definitely don't manage anyone. I'm sure a lot of artists I used to manage like Macka B and Sandra – In fact Macka B more or less said it the other day that he wished we had retained that model we had before. Because it was a solid model and I also think as an artist you need a body of people or a company to indemnify you from some of the outside pressure. Like you as a journalist could come with a TV camera and say "What do you think of so and so?" and if an artist isn't careful he could say the wrong thing and it could expose him. Whereas if you have a company shielding you -I wouldn't say talking on your behalf – but guiding you, then it is good. I think a lot of artists wish we had retained that and I think a lot of them who have failed to capitalise on the global expansion of reggae now really see what I was getting at. Because now they see it is happening and they are not a part of it – they see Germans and Polish and French people touring everywhere playing reggae and doing what we are doing. When we were hitting some places – even with lovers rock – some of the places like Germany they were telling us "We don't like love songs. We want to hear about Jah and Rasta." They were telling us that and now they are making love songs. All we had to do was continue. But a lot of my artists then had no patience for one. And two, they always had advisors who knew better than me. They all had advisors telling them "Professor is wasting time with you", "Professor is getting rich from you".

Well, everyone in music has a friend who knows more than the people they work with…
And there are always people who think that because you are still in business – I get it even now – they think "How come you are not out of business like the rest of them? You must be thiefing somebody". But at the end of the day I know I genuinely run a business in what I deem as fair terms. I do business not just so that the artists make money – but that I made money. And you know something? It's very important that I make money! (laughs) Just like the artists! But I don't want to make money and the artist doesn't make money. I think it should be fair. We should all eat from success.

So, as someone who has studied this subject, what happened with Motown? Some of those artists broke free of Motown and some of them, like Stevie Wonder went on to be really big without Berry Gordy while some of them did things in the media spotlight that, as you said, a company could protect you from?
One of the things that happened with Motown was more or less what happened to us. Wherein people from the outside started to criticise the label. It was a black label with its own theory on what makes a fair deal. One of the criticisms Motown started to get is that you cannot have more than one aspect of an artist's career – that you cannot be the label and the publisher and the touring. Somehow the people who made the laws in the music business said this was unfair and a conflict of interest if you had too much control of an artist. So that's how they squeezed Gordy, yet with Gordy methods look at the artists that Motown produced – Stevie Wonder, Diana Ross, Michael Jackson, Commodores, loads. A lot of them after Motown did nothing. A lot of people after Motown did worse. Because at the end of the day, while Gordy was paying people, say, six percent of 100 someone else like CBS would come and say "Look, we'll pay you 20%" but they don't say of what. So the logic of the major labels is to bamboozle the artists and play with figures. I have learned that in the music business. You can dress something up and show an artist and just by calling the figure it's like "Shit! 20%!" 20% of what? Is it of retail? Dealer price? What's dealer price? Look, artists are meant to sing. If you want to confuse an artist it's not too difficult. There are so many ways you can swing it. Whereas what Motown was doing – this is what I learned – was quite basic and straightforward! (laughs)

You must be one of the most well-travelled ambassadors for reggae – would you agree?
Yeah I think so. Back in the day, I could tell you, I was one of the first to do Brazil. I did Argentina first. I did Peru first. I did Ecuador first. Costa Rica, Mexico. I did all of those.

Jimmy Cliff did Brazil first.
Jimmy Cliff would have done Brazil and people like Dennis Brown. I'm talking more people out of the UK.

So is there anywhere left on your list? It must be a small list now…
Loads! Funnily enough I was talking to this girl in the crowd and she came from this island next to Sardinia called Corsica and she said "You've never been to Corsica!" I said "Hmmm… You're right! I've never been to Corsica… I have to do something about that". And she said "You've never been to Noumea". So I said "You're right, some people have been threatening to bring me but nothing yet!" So that's two on the list. Then there are loads of places along East Africa that I've never been.

What would you say has been your strangest festival experience?
The strangest was probably a festival in the mountains in the South Island of New Zealand that I did a few years ago called Illuminati Festival.

OK!
I didn't know what it meant and I don't know how I got the gig but I shouldn't have got it! And it was a strange bunch of hippies. Nice vibe but very strange! I didn't check the terms of the gig properly and when I got there and asked for a dressing room they said "This is your tent and you can stay there". Then I realised one big mistake we had made which was we didn't cover hotels in the agreement and that not only was that my dressing room but that was also the room where I was supposed to spend the night! And in this tent were lots of strange insects and creatures crawling around from the New Zealand wildlife and I knew I couldn't spend the night there. Now one thing as an artist is that you're not a snob, but to do your job properly you have to be in a certain comfort zone. It doesn't have to be four star – it could be one star – but cleanliness is important. The next mistake we made was – I don't know how this happened, but the terms of payment was three weeks after the gig. And I was thinking "Oh God, if these people don't pay me I will have to get a solicitor". It wasn't as if I could just run down the road and call them. But luckily I had no problem with them on the financial side. It was cool. But I had to leave and find the nearest town to Christchurch and book myself a hotel.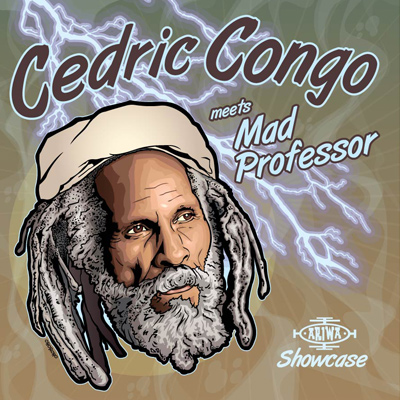 You put out an album with Cedric Myton of the Congos in 2013. How did that come about? How long has that been in gestation?
Probably a couple of years. I've got albums in the can for longer like the Luciano album which isn't out yet and we started that with Luci in 2010. Cedric we started in 2011. There's a couple of albums from that as well, even though it started off as one. I've known Cedric for years. He was always trying to break through. Obviously he was one of the splinter members of the Congos – him, Watty and Ashanti Roy. These were some of the first artists I ever recorded as individual people. Congo Ashanti Roy and Cedric in my front room in the early 80s trying different things. We met in Australia a couple of years ago and we said "We've got to do something". So he said "Alright" and he came to London and we started to record. He had loads of songs and he put them down. We were going to make it a whole Congos thing but it never came round to that. He thought he'd just do Cedric Congo – a good enough name for me – no problem.


So what's happening with the Luciano album then? When's it coming out?
I've mixed half of it. I was about to mix the other half but then I had to redevelop the studio. We just gutted out one studio and rebuilt another studio. The front studio is a little bit bigger and we've got an annexed back studio now with another 2 inch 24. We just put everything how it should have been done years ago. Not so many wires, things wired in properly. I just took the time and just went on this whole spending a lot of money thing!

Why did you decide to do this now?
You need challenges as an engineer. As an engineer you need to have tools. I need a desk where when I have a sound in my ear I turn a certain knob I need to be getting to that point in my ear – or at least by plugging in a couple of things I need to get to that sound. I wasn't getting that. While the records were sounding good it just wasn't happening. I needed to spend some time on that. And I guess for the past few years I looked to Africa. I spent money and time in Africa so I just thought this year "Hold on a minute – let me look at the UK and what I'm doing". I came back from the festival end of January, looked round and said "OK, I'll ease off of the Africa thing, look at Ariwa and rejiggle it". And out of that came a new console – an SSL G Plus – and put in a Studer A800 and a next two inch machine. So the front room is a totally analogue studio – spring reverb – everything. No effect is newer than say 1998. Everything else is real 70s and 80s. Then the rest of the stuff that was in the front room we put in the back room.

So who was the first to christen the new (old) set up?
I guess that was last week. It was the Samba Dub experience – our Brazilian dub project. It's showing the relationships between samba and reggae and cumbia and salsa and all those styles. It basically shows that from Africa to the Caribbean to South America the slave journey – while you couldn't speak the language or do many things – one of the things came through. It didn't come through accurate but it ended up as samba, reggae and cumbia. Because when you strip these tracks and listen you will hear – when you strip it right down a basic samba track is more or less the same as a basic reggae or cumbia track. The rhythms are so similar to each other and that was the whole idea we were drawing on. Dub is a skeleton of it so we stripped it all down to a skeleton.

Speaking of dub – you had a visit from Rory Stone Love recently.
Me and Rory we always catch up. We go back from a little while ago. Rory's probably one of the most international Jamaican producers who listens to everything else. Not every producer from Jamaica wants to listen to stuff other than from America or Jamaica but Rory reminds me of Pablo. Pablo would come to town and he would say "Bwoy I want to do a session" and I would say "Bwoy I'm out for the next three weeks" and he would say "Bwoy, Professor, I'm not going to go anywhere else. I'll wait till you come back and we'll record". Both Rory and Pablo were fascinated by UK artists – in particular females. People like Aisha and Rasheda they go crazy about.

What Rory has done with the Jah9 album – there is clearly some UK influence in there.
Yeah man! So me and Rory met up in America, we met up in Israel and he was always saying "Professor I like your stuff and I'm coming down". We've got a few projects in mind man. Because he's listening. And for me it's always good to hear someone from Jamaica who is not just after some money. He's not a money man – he's a music man.

Now that you've done two Back To Africa festivals in Gambia – when is the next one planned?
I don't have a next one planned. I put so much energy and money into rejigging the studio and doing the Ariwa thing that I can't have a next Back To Africa festival. Mentally my head isn't there and financially I don't have it. When we did Back To Africa we did something I have really wanted to do as an African in exile so to speak. We always want to go back to Africa. One of the things I've learned from all this is – if you are from Scotland and you spend six months in London and go back to Scotland there will be some things from London you will miss when you go back to Scotland. You will never be the same Scotsman as the people who never left Scotland. That is what happened to us now. It's good to go back and discover and embrace but as Africans in the UK, the US and the Caribbean we will never be the same as Africans in Africa. We have moved on. We have developed and that little development is the difference between us and the Africans who have never left. It's been a great learning process but there are certain things I can't handle like the bartering system. Like if someone's selling a phone in England we are accustomed to saying the phone is £500 and if someone doesn't want to pay the £500 then that's it. But in Africa if a man's selling this phone – the phone doesn't have a price. You say "How much is the phone?" and he will say "How much do you want to pay?" and then you get into this long argument about how much! It's just certain little differences where it's going to take time – either you change them or they change you or you remain in your coconut shell and they remain in their coconut shell. (laughs)

So would you consider doing a festival somewhere else – like maybe in South America?
Yeah, I've got that in mind. I've learned a lot and invested a lot in the festival in Gambia and I would love to do another one even in Gambia later. But I think there's going to have to be some government support. I've learned a lot about Gambia since. I think it's fine to go but it's different if you go and spend a week on holiday and have no other ties. But when you go and people know you as a festival guy it's even harder to go as a holiday. Because now when I walk through the airport at least ten or twenty people will say "Ah! Professor!" and then you have to explain to them why you can't give them this t-shirt you're wearing and why your shoes are your shoes! There's a lot of that and sometimes I just want to go and have a holiday and I don't want to be negotiating nothing. I ain't buying nothing and I ain't selling nothing. I'm just on holiday. Unfortunately after two festivals it reached that stage where I can't go on holiday! (laughs)