Review
Album Review: Dubblestandart & The Firehouse Crew - Reggae Classics
06/28/2019
by Gardy Stein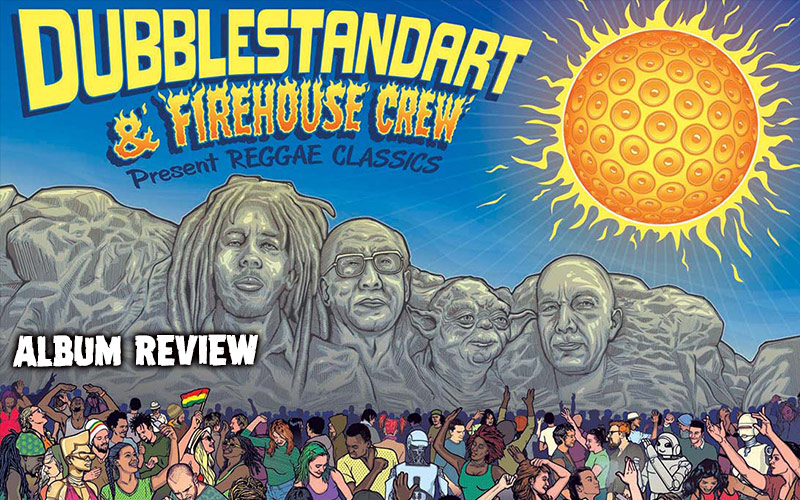 Summer is the time of sun, heat, music, outdoors and beaches! Taking this truism literal, the Dub connoisseurs of Echo Beach slap out a string of releases right now that cater to the ears of both novices and veterans of the genre and thus audibly nice up our summer. The label's "Serious Classics" series include recent releases such as UK's More Rockers with their Dub Plate Selection Vol. 1, Berlin's Noiseshaper with a King Size Dub Special and Italy's Almamegretta with the beautiful In Spiritus Dub.
With Dubblestandart, Austria now joins the ring, presenting Reggae Classics in a sizzling collaboration with Jamaica's Firehouse Crew and producer Devon Denton. Recorded in Kingston's legendary Anchor Studios, instrumentalists like Paul "Wrong Move" Crossdale, Georg Miller, Bongo Herman and Danny "Axeman" Thompson laid down the riddim tracks for six classic hits covered by the clear voice of Paul Zasky, then dubbed by Robbie Ost on original analogue equipment in Vienna's GoEast Studios.
Thus, 12 audiophonic treats have been created, rounded off by another track called I And I Know, its charme considerably added to by the voices of singer and songwriter Mackeehan, Voicemail and Cedric Myton. The songs covered are as carefully chosen, reflecting a deeper message of critizism and rebellion, still as topical now as during their creation 20 or 30 years ago.
I'm No Robot (originally released by the Twinkle Brothers in 1981), Steel Pulse's Babylon The Bandit (1985) and Matumbi's Hypocrite (a bit faster here than its 1978 original) all focus on the wrongs of the system and those perpetuating it, and it's frustrating to see that the likes of Trump haven't learned a thing from their political predecessors or human history.
In an equally heavy, meaningful manner, Dennis Brown's Malcolm X is quoted here in a way that is praiseworthy instrumentally (especially in its dub version), but doesn't reach the emotional immanence and urgency that Mr. Brown's voice was able to bestow upon the song.
A little less earthbound is Fly Me To The Moon, a rather unknown piece of Burning Spear, which wins in atmosphere due to the spherical mix. The uplifting beauty of Jah Jah See Dem A Come makes me aware of how wantonly I neglected this Culture staple - thank you, Dubblestandart, for bringing it back on our radar!
Closing with In My Space, the track spans back to the beginning of the release, using the initial riddim of I'm No Robot for an excursion into words and vocals of Mackeehan and Cedric Myton. A special mention deserves the multi-layered cover artwork. How many robots do you spot in the crowd?
Dubblestandart created a very personal tribute to founder Zasky's idols, a carefully crafted release well worth listening to - best done with a cool drink at the (echo) beach!
---
Release details
Dubblestandart & Firehouse Crew - Reggae Classics
DIGITAL RELEASE [Echo Beach]
Release date: 06/21/2019
Tracks
01. I'm No Robot
02. I'm No Robot (Dub)
03. Babylon the Bandit
04. Babylon the Bandit (Dub)
05. Fly Me to the Moon
06. Fly Me to the Moon (Dub)
07. Jah Jah See Dem a Come
08. Jah Jah See Dem a Come (Dub)
09. Hypocrite
10. Hypocrite (Dub)
11. Malcom X
12. Malcom X (Dub)
13. I and I Know feat. Mackeehan, Voicemail & Cedric Myton
14. I and I Know (Dub)
15. In My Space (Lexicon Dub Mix)
Featured artists
Mackeehan
/
Voicemail
/
The Congos