Denver Felukè Smith's Healing Continues - Charity Concert
09/21/2017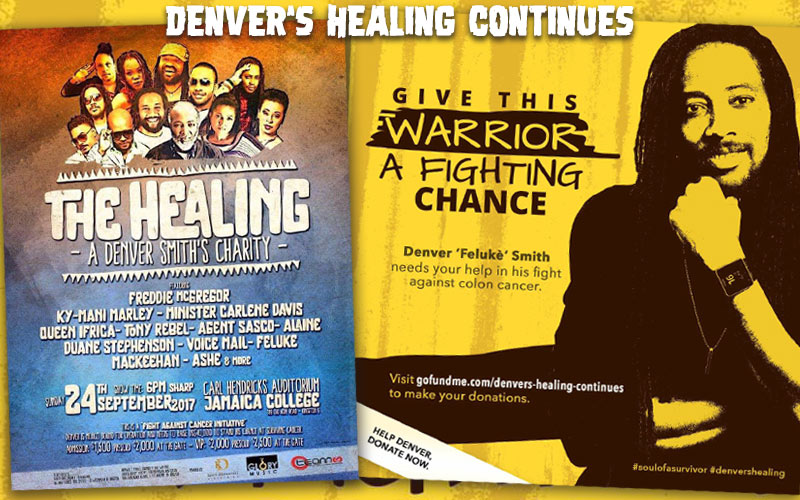 Denver Feluké Smith still needs your help in his fight against colon cancer.

This saturday a fundraising concert will be staged in Kingston, Jamaica.
The event is called THE HEALING - A Denver Smith's Charity and features Freddie McGregor, Ky-Mani Marley, Queen Ifrica, Tony Rebel, Assassin, Alaine, Duane Stephenson, Voicemail, Mackeehan, Ashe and more…

If you can't make it to the concert, please use the gofundme campaign to donate. CLICK HERE TO DONATE!
Denver's Healing Continues - campaign details:
"I want to thank all those who helped and supported me over the last several months, through donations, calls, visits and spreading the word about my time of need. Even the smallest of gestures was appreciated.

With the funds raised earlier this year, I was able to travel to Mexico where I received two (2) months of intravenous treatment. Though I had to stay longer than initially planned, the progress was dramatic with scans showing disappearance of two of the larger tumours and a small but visible reduction in size in the largest on my colon.

I have continued home treatment for the 2 months since my return and the improvements have continued. Based on the latest scans, I have been advised by Dr. Castillo that after the 4 months of treatment, I am now eligible for surgery to remove the remaining tumor from my colon. The surgery, which will be done in Mexico, would be followed by repeated intravenous treatment as before.

The estimated cost for the surgical procedure is US$25,000 which includes fees for the surgeon, the anaesthesiologist, and the hospital. Additionally, another US$15,000 would be needed to cover airfare, intravenous treatment and accommodation for the period after. In all, I need to raise approximately US$40,000 over the next few weeks.

For those of you who may be interested in supporting in a different way, I will also be staging a fundraising concert on September 24 at Stella Maris. This would likely be your last opportunity to see me perform in celebration of my improved health before I return to Mexico so feel free to come out and bring your friends."

CLICK HERE TO DONATE @ GOFUNDME.com and watch the video below for more details: