Review
Album Review: Phat Cat - Jamdoll
04/15/2017
by Dan Dabber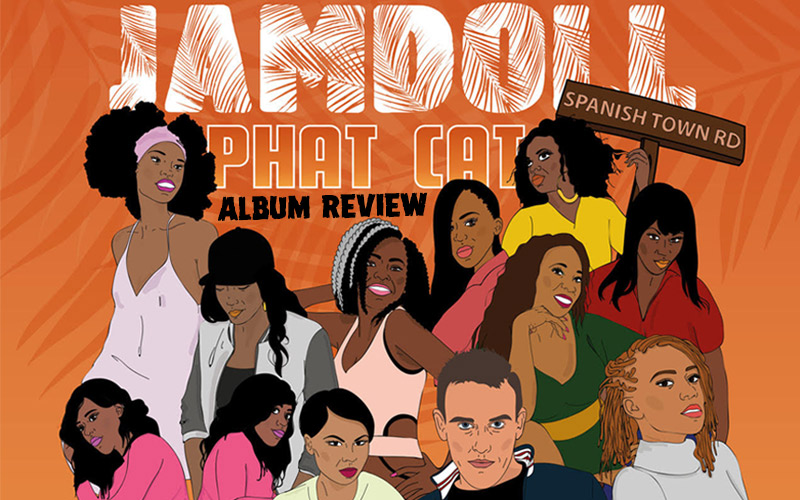 Phat Cat, who came up in the Geneva soundsystem circuit in the early 2000's, likely faced obstacles throughout his career unique to being a dancehall artist in a part of the world more known for its killer reggae riddims. Those circumstances would add to the challenge of releasing his brand new album and first full length, Jamdoll. There appears to be no label attached to the project, so Phat Cat presumably had to make this 18-track release happen for himself: chasing down riddims and guest artists, handling paperwork and administrative tasks, and, of course, writing and performing heaps of music. The dedication and courage it takes to tackle such a project is commendable. Even though Phat Cat was not on my American radar prior to this review, I was immediately intrigued by this artist and his latest project because of his European origins and because of the work ethic he needed to have completed Jamdoll without the assistance of even a small record label.
I was also interested in the project's theme since concept albums are rare in the global reggae/dancehall scene. The title, Jamdoll, combines two words - Jamdung, which is a slang term for Jamaica, and doll, which refers to a pretty girl. Furthering this lady-centric theme is the presence of female guest vocalists on almost every other track, and cover art that shows Phat Cat modelling before a harem of those female performers, including long-established Jamaican acts like Stacious, Macka Diamond, and Ce'Cile. Racial and gender imbalances come together on the cover in a surreal way, visually leveling the playing field between Phat Cat and the big name artists he has tapped to establish his credibility on the album. But upon listening to Jamdoll, it becomes obvious that the singjay from Geneva has undeniable musical talent of his own, and that, despite being an outsider attempting to break into the market, Phat Cat understands much of the science behind dancehall. His melodies, cadences, song arrangements, and vocal textures are mostly in line with current trends in Jamaica.
Jamdoll is primarily a dancehall project, but there is a definite reggae presence as well, evident on tracks like Teenage Again, Jamdoll Lover, Feel Good, and Nerves Rocking. With an album chock full of capable guest artists and Jamaican-style riddims, it's surprising that my top selection from Jamdoll, Carry On, is not reggae or dancehall, and it features zero guest artists. Carry On is a trap song built from 808 drum kits, creepy synths, and hi-hat rolls. The lack of Jamaica in the riddim seems to bring out even more Jamaica from the artist. Phat Cat's flows on the track are relaxed and nearly radio-ready, with hair-raising melodies that land him somewhere between Snow and Post Malone.
Although there is a tune on the album called Club Banger, the real banger is Oops, which features Zimababwean artist Sasha Rainbow, who proves that the Jamdoll concept (or at least the Jam part) is flexible. Sasha smashes it, playing the perfect counterpart to Phat Cat, who approaches the track with deep, Suku-esque vocals. The backing track for Oops has a militaristic, horn-driven vibe, accented by vocal samples that have been chopped and pitched up to a point beyond recognition. On a similar upbeat vibe is TD Cam Wine, which features Macka Diamond. An Afrobeats-infused riddim with a slick back-and-forth between the two artists, TD Cam Wine is the kind of beat perfectly suited to Macka Diamond. She seems to recognize this, bringing everything she has for this track and leaving Phat Cat playing second fiddle to a master.
There are a few great tunes on Jamdoll, a hint of the potential that Phat Cat has, but the majority of the album is less than memorable. Much of the problem is that, with little experience in the global dancehall market, Phat Cat has yet to find a distinct voice of his own. In lieu of an original approach that synthesizes his influences into one congruent sound, the Swiss artist skillfully impersonates established artists, mixing up many styles but never really discovering one of his own. On certain songs he sounds like Suku or Bay-C, while on others he sounds like Collie Buddz or Damian Marley.
Phat Cat may also be wise to scale down his future efforts in the name of efficiency, as there is a consistent issue with "overdoing it" on Jamdoll. The concept of the album is unnecessary and somewhat confusing, and the presence of so many guest artists actually takes away from Phat Cat's performance. When the top-billed artist has a chance to shine, his writing is overwrought, often including unnecessary refrains and extra verses that wouldn't ordinarily appear in a dancehall tune. Given how well Carry On turned out, it might be in Phat Cat's best interest to take more of a Drake approach and apply what he has learned from dancehall to a different genre. That would be a much more achievable, though less courageous goal than attempting to break into the global dancehall scene as an outsider from Europe.
---
Release details
Phat Cat - Jamdoll
DIGITAL RELEASE [Phat Cat Sound]
Release date: 03/30/2017
Tracks
01. Intro
02. Make The Dust Dance
03. Bad Gyal Wine feat. K-Queens
04. Oops feat. Sasha Rainbow
05. Teenage Again
06. Real Love
07. Lambaada feat. Ce'Cile
08. Club Banger feat. Sassy Silva
09. Jamdoll Lover
10. Feel Good feat. Chengeto
11. Light Me Up
12. Gospel Gun feat. Gaza Kym
13. Badman Profile
14. Nerves Rocking feat. Blessed Stephens
15. Carry On
16. Juicy Like Fruit feat. Santina
17. TD Cam Wine feat. Macka Diamond
18. Ready To Go feat. Stacious
Featured artists
Ce'Cile
/
Macka Diamond