Review: I Octane & Macka Diamond in London, UK @ More Life 2015
05/27/2015 by Angus Taylor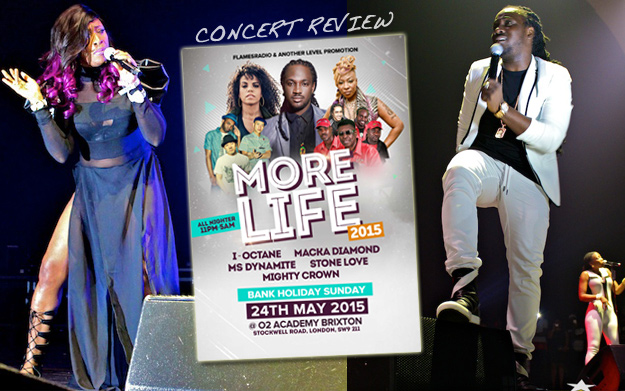 Flames Radio and Another Level's diverse dancehall co-promotion More Life took place on Spring Bank Holiday Sunday, at the atmospheric yet muddy sounding Academy in Brixton. 43 year old sound Stone Love, bawdy deejay Macka Diamond and broken-toned dancehall/reggae hybrid I Octane each represented a generation of Jamaica's heritage. Mercury prize winning London singer/rapper Ms Dynamite and clash conquering Japanese sound Mighty Crown highlighted the music's far reaching influence and international appeal.

During the press junket at Red Bull HQ the preceding Thursday, the promoters explained that More Life was a fresh concept. There wouldn't be hundreds of unknown artists, no bulging guest list, and the event would run on time.

That said, London's Flames Radio team had a leonine share of the evening to spin a mix of bashment and one drop (mainly Jah Cure specials) before any billed acts appeared. As co-sponsors, they were audibly relishing the chance give dancehall a platform. "They fight down bashment party but we nah switch" the excitable DJ Face shouted repeatedly from the stage.

So when Jazzy J and Genius of Stone Love eventually arrived at twenty past one to a now full house, they took no chances. They concentrated on high impact, wide reaching sides: starting with Bob, Dennis, Barrington and Tenor Saw up to Mavado and Chronixx.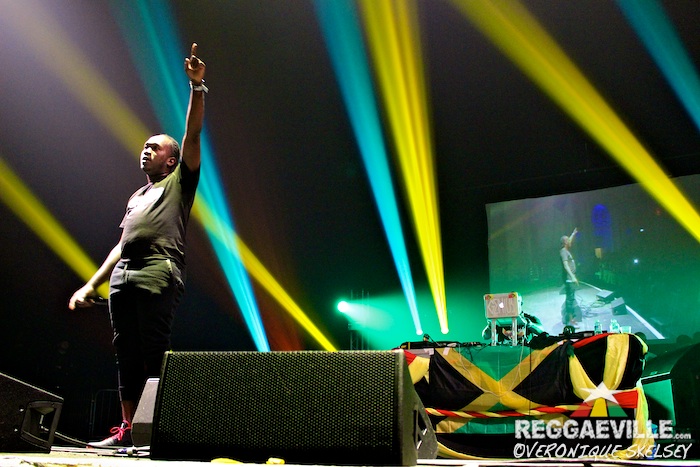 Rory and the older crew were elsewhere but the younger end of the movement knew how to entertain (considering a free dance in East London's Victoria Park had been shut down by the police it was a privilege to actually see Stone Love that day).

Ms Dynamite, who doesn't make reggae yet cites it as an influence, was the most daring addition to the bill. Dressed in white with red doc martins and red jacket, backed by DJ Free on a laptop, she opened with hip hop break out hit Dy-Na-Mi-Tee then dived into UK garage and jungle. Since this was predominately a reggae/dancehall show it would have been nice to hear some tribute to the parent music - either sing a Bob, a Dennis or one of her compositions over a classic Studio 1. She brought her own supporters who were singing along down front but by sticking rigidly to her standard set she didn't connect with the rest of the crowd.

Any fear that a Japanese sound might be similarly out of touch with the vibe was obliterated when the seven time world clash winners swaggered on and got the biggest response of the night. They judged the mood perfectly: coupling Ninja's choice of tunes and dubs by Buju, Busy and Chronixx with humorous patois banter from mc Sami T. "Some kind of bad mind who no like Japanese play reggae. What kind of fuckery that?" was his intro to Sizzla's Solid As A Rock. Mighty Crown are used to playing to 40,000 people in Japan so, ultimately, perhaps, Brixton Academy wasn't so intimidating ("This is a memory place - we went here to see Buju back in 1990-something on the Til Shiloh tour"). Standing atop the speakers and doing martial arts kicks to the drums, the Far East Rulers left indelible memories of their own.

Macka Diamond, wearing in a long black dress that somehow failed to cover her thighs, was visibly enjoying herself. Her set was spent molesting security, bringing on some ladies far realer than any Dove commercial, answering absent critics of her age and most importantly interacting with her devoted fans. One thing she didn't do much of was deejaying – either her distinctive voice didn't carry or the mic was too low - but it was entertaining all the while.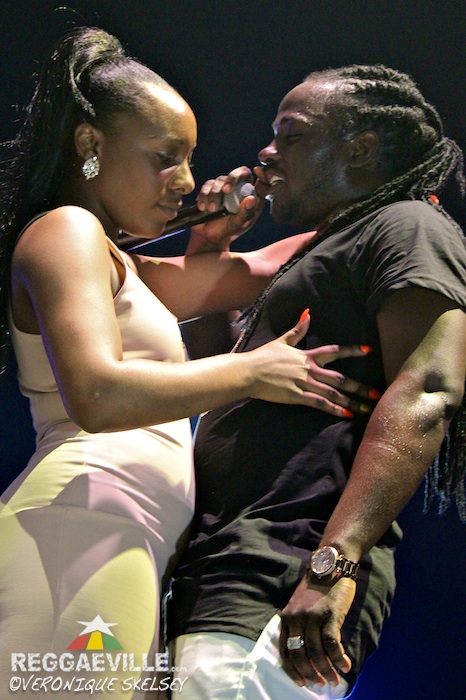 The white clad I Octane has closed an Academy show before and was a dependable conclusion. Straddling styles, tempos, and topics, he, like Stone Love and Mighty Crown had something for everybody. His grainy, yearning timbre suits hard partying (Buss A Blank), reality (a superb My Story) and love (Once More and LOVE YOU - serenading a blonde who impressed with her winding as Mighty Crown did with their selection - albeit clearly a plant from Blackout dance school). He apologised for having no band – due to visa issues - yet brought a backing singer to bolster the big choruses of his hits. Once again a speaker box was scaled because "the whole stage is my stage".

Despite a risky line-up and no live musicians Mighty Crown and Octane were thrilling, Stone Love solid and Macka Diamond and Ms Dynamite, interesting. It's a shame Brixton Academy sound is so bad when straying left or right of the engineer's desk, although the red gold and green lighting looked very impressive. Leaving at 4.30am there was a buzz after Octane's performance – even if bed was probably on most people's minds.


VIEW THE PHOTO REPORT HERE!