Review
EP Review: Lutan Fyah - Touch Di Road
01/10/2020
by Steve Topple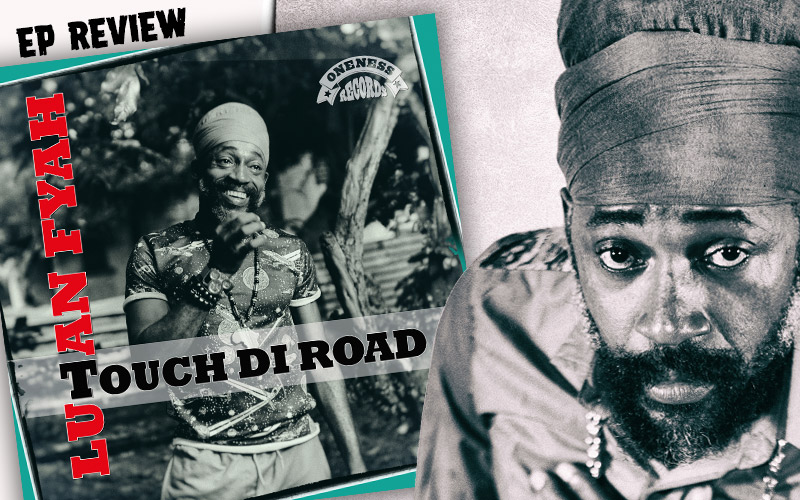 It only seems a matter of minutes since the legendary Lutan Fyah released what may have been his seminal album, Longest Livah. But now, he's already back with a brand-new EP. And while the former took Lutan into new musical territory, the latter sees him firmly go back to his 'roots'.
Touch Di Road, out now via Oneness Records, was if I'm honest a surprise release for me. This is because Longest Livah is probably still fresh on many people's rotations. So, it may well be a measure of the man that he managed to turn around one project so quickly after another; also writing and recording the EP's six tracks in just two weeks.
But the proof of the pudding is in the metaphorical eating. And with Touch Di Road, Lutan has created a delicious 'after dinner' treat, carrying on where Longest Livah left off.
The EP opens with Still A Bless Me which sets the tone for the rest of the EP well. Lutan avoids the classic one drop, but opts for a bubble rhythm and some ska horns to keep us in Roots territory. But the track is more intricate than that. A syncopated bass generally keeps to an almost stop time pattern, creating a break which is utilised throughout the track. Synth horns take the track into Funky Soul, as do the Gospel-laced backing vocals.
But it's Lutan's performance which is truly masterful. Rhythmically complex, he covers a large pitch range throughout. Particularly impressive is the rate he spits at: around six syllables a second at one point which, for a vocal performance, is quite something. The high standards on Still A Bless Me are a constant throughout Touch Di Road.
Gone Too Far moves into more Dub/Roots territory with its use of synths, a clear one drop and jazzy Ska horns. But that melodic stop time break makes an appearance again, hinting once more at the Funky Soul Lutan. She Got Stoned is in a similar vein, although the bass is Rocksteady-syncopated, often mimicking the vocal rhythm.
The title track Touch Di Road takes the EP back to more traditional roots, albeit with a smoothed-out, soulful sheen. There's less syncopation, Lutan's melody glides across bars – but that stop time break comes back again. It's almost as if he caught a funky bug on Longest Livah that he just cannot shift.
Watch Over Me features the impressive vocals of Royal Blu. The Soul influences across this Roots-based track are clearer again: breezy, bluesy electric guitars lilt in and out; a Hammond organ is just out of earshot; a variation on the one drop allows the drums to branch out into funkier, more complex territory and the bass performs an intricate riff which only stops for breath on the third beat.
The EP finishes with Strange Things. It's perhaps a sum of Touch Di Road's parts: Soul meets Roots with some Dub thrown in for good measure. Musically, it's a complex affair with multiple uses of musical devices from all these genres. And, as with the whole EP, it works.
Two Dub remixes round off the record proper, which again seems fitting with Lutan's aim for the project. It's very apparent with Touch Di Road he wanted to revisit the territory many people know him so well for. But he clearly also wants to continue the fusion of styles that worked so effectively on Longest Livah. The EP's production from Moritz von Korff, Benjamin Zecher and Umberto Echo is first class. And of course, what's a constant in both releases is Lutan's searing lyrical content.
Lutan takes aim at all manner of issues. Standouts include Strange Things, where Lutan discusses the state of Jamaican (and broader) society at present – everything from the negative impact of "technological atrocity", to capitalism, via "family against family" – concluding "where is the love for humanity?". But, as with much of his music, he comes back to maintaining a faith that things can change. Also, of note is She Got Stoned, which almost picks up where I-Wayne's 2005 hit Can't Satisfy Her left off.
Perhaps the unintentionally most poignant track is the anti-war/conflict Gone Too Far; all the more relevant given the current situation in the Middle East. Lutan rips apart politicians who all so easily take us into war, and also cause us to fight amongst ourselves on a social level. It's a superbly executed, searingly pertinent track.
Overall, Touch Di Road is Lutan on top form. Musically he has produced something that will please both his hardened fans but also those who found him via Longest Livah. Lyrically, it is as good as any of his previous works. The EP has cemented his status as one of the most reliable, versatile and talented artists going. Not that Lutan needed any of those things cementing, anyway.
---
Release details
Lutan Fyah - Touch Di Road
DIGITAL RELEASE [Oneness Records]
Release date: 01/10/2020
Tracks
01. Still A Bless Me
02. Gone Too Far
03. She Got Stoned
04. Touch DI Road
05. Watch Over Me feat. Royal Blu
06. Strange Things
07. Still A Bless Me (Umberto Echo Dubmix)
08. Gone Too Far (Umberto Echo Dubmix)
Featured artists
Royal Blu