Review
Album Review: Lutan Fyah - Music Never Dies
03/18/2017
by Gardy Stein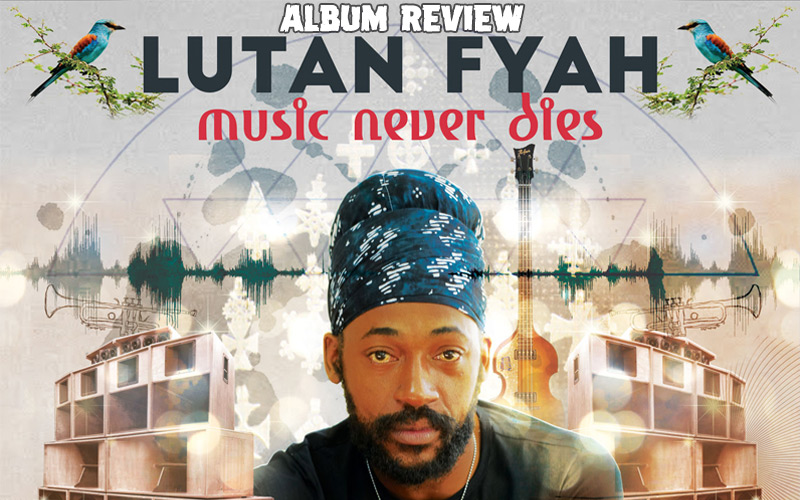 Birds, instruments, a speaker wall, a frequency display, ancient symbols, intricate geometric patterns and the artist himself: already on the cover of Music Never Dies, Lutan Fyah spans a wide range of topics and influences. These are musically distilled into the remarkable outcome of four years' work that marks the 16th release for the artist and his first collaboration with I Grade Records. The Virgin Island label should be well known to Roots lovers for its production of more than 30 albums to date, including Livicated and Portals by Akae Beka. Little wonder that the master Vaughn Benjamin himself is the only feature of the album, sharing the mic with Lutan and Leaf Of Life in So Di World Ah Run. But wheel up, from di top!

The title track opening the release is like a sun rising. Warm, rich and filled with light, Music Never Dies combines perfectly balanced tempo, instrumentation, backing vocals and lyrical delivery with a hookline that has you smiling and singing along in no time. What a way to start an album! Although it is probably one of the highlights of the 13 tracks included, all of the following have something special in store as well. Kick It Inna Africa and Too Much Ramshackle for example, two repatriation hymns, talk about the yearning for a place where daily stress and injustice can be left behind – Africa! Further elaboration on Rastafarian lifestyle can be heard in Beat Them (the phat remix of which closes the album), Perfect Storm and Nah Go Down: "If them talk the talk and no walk the walk, Jah a go beat them!"

Another of my personal favourites, Put A Fyah In De captivates through the gentle instrumentation and Lutan's tender vocals. Paying his respect to any Real Woman out there, this song follows an innovative rhythmic pattern, this innovation being one of the factors that make this whole production so exceptional. Make sure you close your eyes and listen to the music behind Mr. Fyah's commanding voice - the little sonic surprises in instrumentation and riddim construction are well worth your repeated attention. Whether the rolling thunder in Bredrin Still, the brass harmonies in Take That Back or the elusive xylophone in Test A Money, the production team of Zion I Kings (Laurent "Tippy I" Alfred, Andrew "Moon" Bain and David "Jah David" Goldfine) really did a great job arranging and producing the tracks, using all live instrumentation in the recordings realized in both Jamaica and St. Croix.

Thus, Music Never Dies is a release that highlights both the high-quality music issuing from the Virgin Islands and the versatility of Lutan Fyah, an artist that has steadily grown into one of Jamaica's most talented, conscious and authentic ambassadors of modern Roots Reggae.

---
Release details
Lutan Fyah - Music Never Dies
DIGITAL RELEASE [I Grade Records]
Release date: 03/17/2017
Tracks
01. Music Never Dies
02. Kick it Inna Africa
03. Beat Dem
04. Put A Fyah In Deh
05. Real Woman
06. Nah Go Down
07. Bredrin Still
08. Take That Back
09. Perfect Storm
10. Test A Money
11. Too Much Ramshackle
12. So Di World Ah Run
13. Beat Dem (RMX)