Review
Album Review: The Foot Of The Mountain
03/31/2020
by Steve Topple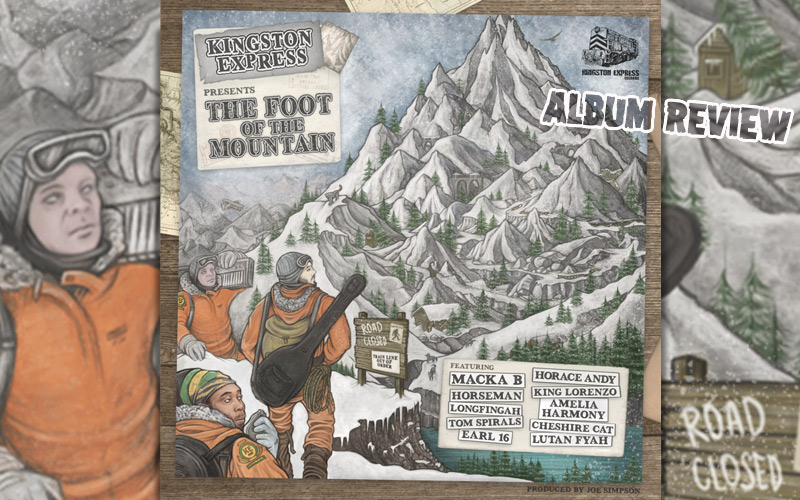 It's always exciting to see some UK-grown talent releasing new works. 2019 was a good year: from the utterly compelling Smorgasbord that was Eva Lazarus x Mungo's HiFi's More Fyah to Solo Banton's extremely endearing Old Raggamuffin. And if UK-based Kingston Express's new album is anything to go by, 2020 is looking promising, too.
The Foot of the Mountain, released via Kingston Express Records, is a strong effort from this Birmingham band. The production by Joe Simpson (who also takes the reigns of the guitar and bass) is superb, and the mastering from Ed Rome deft. But it is of course the music and featured artists which really make their mark.
Kingston Express are an extremely skilled group. Alongside Simpson, Matt Herbical is on keys duties; Winston 'Horseman' Williams does drums (along with vocals on Ready Steady Go and Moving); horns are via David Fullwood (Zion Train and Ital Horns) and Josh Wilkinson (Kioko); Overproof Sound System's Paul Knight is on percussion and backing vocals are from Amelia Harmony and Steve Ital. The group's strong connection shows through the intuitive timings of the intersecting performances.
It's impossible to totally single out tracks from the album and its ensemble cast. Cheshire Cat features on Blam Blam and This Time. The former is a driving, bass-orientated Roots/Dub hybrid which goes heavy on the bubble rhythm keys and heavier still on Cat's low baritone. The latter is a lighter, more melodically upbeat affair where he uses the upper end of his vocal range.
King Lorenzo also puts in two appearances. Moving sees him team up with Horseman on a compositionally interesting track. The use of the minor root, then fourth and fifth doubles up as not only building momentum but also create a slightly unsettling tone; reflecting the lyrical content. And Lorenzo's voice is delightful: crisp, clean and full of interesting intonation. Equally strong is the more ambient-feeling Dub/Roots cut So Long.
The always on-point Lutan Fyah gives one of the more impressive vocal performances on At Any Time. It's a modern Roots track, complete with Funky Soul-inspired electric guitars, organs and some heavily elongated Dub reverb on the percussion and synths. The complex chord progressions also reek of Soul; the cleverly composed melody feels like a classic already, and Fyah's vocal is as to be expected from him: intense, expressive and utterly compelling.
Another artist making a double appearance is Macka B. Block Them sees Kingston Express go stripped-back and classic on the sound, with the root to major second chord progression being dominant. The bubble rhythm drives the track, as does Macka B's laid back, but pointed vocal. He shows similar prowess on Straight From The Pram, which is a more brooding cut, the focus shifting onto the bass accompanied with more intricate orchestration. Lyrically potent, Macka B delivers a solid narrative about how the system is corrupting the youth from birth. Stirring work.
Ready Steady Go sees Earl 16 team up with Horseman. Kingston Express move into Dub yet almost Neo Soul territory. The bubble rhythm and one drop are there, but don't dominate. Earl 16's controlled, lighter-than-air vocal, and it's layered backing counterpart, is more Neo Soul than Roots, as is the other instrumentation. It's also a credit to Simpson and Rome's production and mastering, as while Roots musical devices are there Ready Steady Go is finished in such a way not to let them control the track.
Longfingah's Fire Red Hot is more Dub-orientated Roots, using the always reliable root to dominant seventh chord progression to give an almost rebellious sound. His vocal is pure, preaching Roots which works perfectly with the call and response horn section. Meanwhile, Feel Alright with Tom Spirals takes The Foot of the Mountain into Reggae-Pop. It's pure, winding, chart-friendly but Dub-drizzled fayre – harking back to the glory days of Bitty McLean: infectious, feel good yet still well composed and executed. And Spiral's rapid fire, perfectly enunciated singjay-come-rap bridge is particularly impressive.
The album's last cut is Stranger Things, featuring Horace Andy. It's another brooding, evocative piece, with the rasping melodica taking centre stage. The somewhat eery arrangement, sparse yet smothered with reverb to fill the sound out, compliments Andy's jittery, cautious vocal. It's a curious piece, but somewhat endearing – putting you in mind of the Revival movement.
Sadly, there's one negative about The Foot of the Mountain which sticks out. It's that of all the artists featured on the album, there's only one woman amongst them. There's not exactly a shortage of talented artists out there who Kingston Express could have worked with; in the UK Lazarus being one of them. In 2020, despite whatever the reasons were for the unfortunately obvious gender imbalance, it's not really good enough. Which is sad, because it detracts from what is otherwise a solid project.
Somewhat ironically on that point, one of (if not the) stand out tracks is Not Easy featuring Amelia Harmony. It's a haunting Roots piece, with elements of Soul and Dub laced into it. The sparse, Motherland-inspired percussion and stripped back arrangement give breathing space for Harmony's effortless vocal to glide around Kingston Express's accompaniment. She exudes passionate, smoky Soul vocals with are interspersed with flickers of singjay. This heavily ambient, unsettling cut is a searing highlight.
The Foot of the Mountain is a well-delivered, classic piece of UK Roots/Dub. Solid performances from all the artists serve to enhance the exceptional talents of Kingston Express. And the quality of the production is first-rate. It's a thoroughly classy affair, with no musically wrong-footed moves. Moreover, it's diverse enough in its musical grounding to appeal to listeners of various tastes. It's just unfortunate that the musical diversity didn't extend to the artists' gender. But it's a niggle amongst an overall chorus of approval.

---
Release details
Kingston Express - The Foot Of The Mountain
DIGITAL RELEASE [Kingston Express Records]
Release date: 03/27/2020
Tracks
01. Fire Red Hot feat. Longfingah
02. Block Them feat. Macka B
03. At Any Time feat. Lutan Fyah
04. Blam Blam feat. Chesire Cat
05. Moving feat. King Lorenzo & Horseman
06. Feel Alright feat. Tom Spirals
07. This Time feat. Chesire Cat
08. Straight From The Pram feat. Macka B
09. Ready Steady Go feat. Earl 16 & Horseman
10. So Long feat. King Lorenzo
11. Not Easy feat. Amelia Harmony
12. Stranger Things feat. Horace Andy
Featured artists
Lutan Fyah
/
Longfingah
/
Macka B
/
Horseman
/
Earl Sixteen
/
Horace Andy