Interview with Lutan Fyah & Khabir Bonner
09/27/2013 by Angus Taylor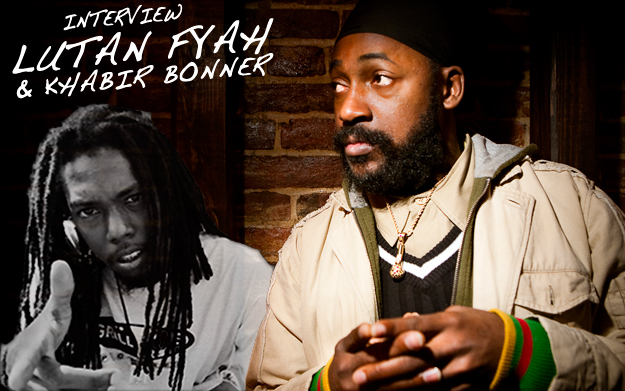 Lutan Fyah has just released his tenth studio album Life Of A King.

Combining roots reggae with conscious hip hop, gospel, rave music and rock, we think it's one of the best of his career.

Reggaeville spoke to Lutan and album producer Khabir "Grillaras" Bonner about the project and where it fits into their respective stories.


LUTAN FYAH

His Grandfather's sound system
My yard was the ringleader yard in Spanish Town. Every youth in the community came there to play table tennis, scrimmage football, to play music, deejay or sing, play domino, bingo, or gamble. The sound system was there and I was the boy in the family that liked what was happening with the music. So they would always put me on a beer box to mix and be the warm up selector. I was about five or six years old.
My grandfather had a link with personal Coxsone. In those days when a song was released only special sounds got it before everybody else. I knew all songs that were made in Jamaica from mento, rocksteady, ska, everything. I buck up with this heartbeat of music.

At my yard we used to see Papa San, Lieutenant Stitchie, Major Worries, Lady G, General TK - artists that were in the community. When I was a little boy there was a day when they said Dennis Brown, Alton Ellis and King Jammys were there. The posters were up saying "Dennis Brown is coming tonight" but I never got to see him because I was gone in my bed. I used to squeeze out of my bed and come in the dance as a little baby! I got sent back to bed about forty different times!

Choosing music over football
It was an easy choice. In football after a certain age group you can't make it again. This was Jamaica and my thoughts were so big. I didn't want to limit myself to this island so when I saw me not playing in the Champions' League I decided "No, football is not for me anymore". At that time I had just started looking at the TV and seeing real football and I was wondering what I was doing all along. I needed to talk to forty or fifty thousand people at a time doing whatever it is I am doing.

Rastafari
It was my last year in high school. Through the study of the bible and mankind's history I came to a realisation that Haile Selassie I is the Almighty. Then, through intuitive knowledge, we calculated what was happening around us – what was before, what is and what is to come. So we knew that vision of Haile Selassie is the new vision of Christ. That makes us Rastafari today.

Being a footballer that everybody pampered and treated like a baby and then suddenly a natty dread it was a big change in my life. It's not that my friends became haters but they were doing their normal usual things and I had become a man among them doing and saying different things. So I had to create a different personality as a man, a Rastafari living a particular culture for the upliftment of my people and the balancing of humanity, so I became like a father figure among them. And we grew to do what we are today.

Getting his start at Buju Banton's Gargamel studio
I saw Buju on TV talking about his new studio so one day I went there. I approached the gate and he said (scarily accurate impression of Buju) "A who that? What the I them want?" I said "Music we come fi deal with Buju". Buju said "Come check I man Wednesday for the audition." I went on the Wednesday and I got the same thing. I had to go and come back again. But I was one of the lucky ones in the crowd where the engineer kind of knew me from school days so I got let in.

Gargamel is a stern personality. Gargamel always kept everything firm. There was no form of run in or run out middleman kind of thing with Buju, so to me Buju is a kind of superstar kind of brother. Buju is a young icon. Buju is the teacher, really. When you want to see professionalism you go where Buju is.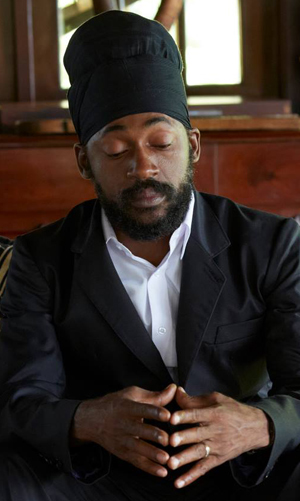 Working with Fatis Burrell
Turbulence was doing well and me and Turbulence went to school together. I was at the studio one day when Turbulence was working with Fatis and introduced me to him. I fling a song and from that day became Fatis artist!

Working with Fatis was how I became a workaholic. You'd go to the studio and if it was ten rhythms you had to sing on ten rhythms for the day because he would always thump you saying "Hey man the more you sing on the better because it gets more genius out of you. You cyaan run out of words. Music is wind".

I love to keep working because I think the more I work is the more I do my work better. And then when I do my work I expect to earn. But most of what I do I do not for money. Money comes from time to time and when it comes I appreciate it. I'm a workaholic kind of artist. I just work!

Going to England to record with Jah Warrior (who released the album Never Surrender My Faith this year)
In the year 2000 I went to England to sing because I am a workaholic. I was in America at the time so I just jumped on a flight and they gave me a six month visa. Jah Mason introduced me to Jah Warrior. I went to Jah Warrior's studio and he said "Let's do an album" and I said "OK, I want to sing!" We did some work and I never heard any of those songs but I do know we did a lot of singing and we liked what we did. I was frightened to see a Jah Warrior album come out! But I have got no problem. I am cool. I am working.

Falling in love with Europe through football and reggae
The first time I went to Europe I thought it would be the Europe I read about. Here in the Caribbean we mostly would hear about the stories of the World Wars. We'd watch the World Cup on TV and through football we'd learn most of the European countries' names.

The first time I came to Europe I came to Hamburg. The next day I went to the stadium to watch Hamburg and Hertha Berlin play because it interested me to watch a football game in Europe while I was there. That stadium was like a fortress! It was the first time I had sat in such a big crowd of 45,000 people. I don't know when I am going to have a next experience like that. Hamburg defeated Hertha Berlin 2 – 1. I can remember games from long time!

But when I visited the music scene I realised people connected to our music scene. What we do in reggae music is a part of these people's culture because they make it a part. So I realized I have to make real music, good music, sufficient music and enough music because these people loved the music so I have to give them more. I come from a cultural background. I am a Rastafari so we keep the music within the thought and the vision of Rastafari.

I saw Johnny Clarke and Horace Andy at Garance festival in France. That was the first time I had ever seen these veteran artists sing. Horace Andy was like "Skylarking! Skylarking!" That song is a song that we heard from we born but we never heard this man sing before! I was like "AAAAAAAAAAAAAAAAAAAHHHHHH". It was amazing, man. That was one of the best shows I've ever seen.

Africa
The first time I went to Africa was Gambia in 2009. It was a struggle to reach but wow it was great. Every time I have been to Africa it was like I was born again. My smile becomes brighter. I am happier. I am gassed up when I come back.

Recently we went do a video shoot in Kenya. Mombasa. Fort Jesus! The elephant and the hippopotamus and the lion! The beautiful people and beaches! The monkey and the zebra! I saw these things on TV, man. I give thanks for this musical privilege knowing that I'm just another brother.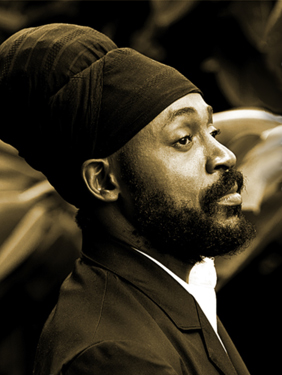 Working with Khabir Bonner on Life Of A King
Khabs is a brethren from the early days. When we used to walk around trying to do our recording he was one of our young Rasta friends who let us in the studio and gave us rhythms to voice on. We both grew and became mature and we kind of understand each other. We always had an intention to do an album and we just got together over 16 months, we worked hard and completed it. It's a project. A complete project.

I would call it a roots groove kind of album because if you check how we mixed it we tried to make it sound like it's an on stage live sound. We wanted to recapture the roots and bring back that original raw reggae groove for the people again in a modern style.

Living the Life Of A King
It means to be a disciplined man. It means to live in peace and strive and work hard to preserve world peace. It means to love your brother and your sister. It means to make sure the sick are nourished, the infant cared for, the aged protected, the ignorant mind educated. It means to be a father. It means to be a leader who raises standards by which he himself aims for and by which he judges himself.

It is a life of total responsibility. Because being a king it means people entrust you with responsibilities. I was just a normal brethren playing football around and singing and then people realised that this man can stand up and be a responsible man. So they look up to Lutan Fyah and they gave me a responsibility to make sure that I do a particular kind of music that they respect me for.

His forthcoming album with I Grade Records in St Croix
That album is going to be one year from now - 8 or 9 months after today. That is going to be even more raw rootsy. Roots and culture Rastafari love peace messages on that album. I Grade is known for conscious music so we keep it like that fully.
St Croix is like a nice parish in Jamaica. The vegetation is green and it's quiet – not an overpopulated full of cars kind of place. I am going there tomorrow to do a photoshoot and vibes with Midnite. We are going to do an album together to be released in the future. Midnite is a friend of mine for over ten years.

I first met Vaughn from Midnite in California in the early days when he was budding. He said "I like your subject matter. You sing about different things" and I said "YOU sing about different things!" So we created a connection and it was not much phone calls or emails but telepathically – when I'm ready, he's ready. When he's ready, I'm ready. If there's a project to get done just call Vaughn and he's ready in five minutes and whatever. I love that brethren like that and he shows me the same love. We're like musically connected. I'm always on his side and he is always on my side. He is a great brethren and a great mind. When I reason with Midnite it's like a different world! You rarely see souls like that.

The future
I am a workaholic. I want my music to go everywhere people are dancing. Once it's a reggae groove that's my kind of music. Dubstep, one drop, all of them. It's my music.


KHABIR "GRILLARAS" BONNER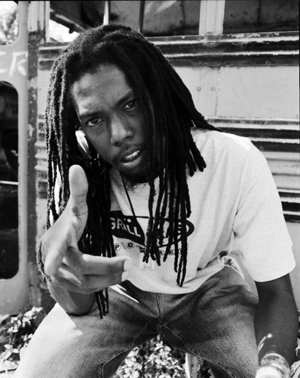 The nickname Grillaras
Somebody gave me that name because people used to see me and notice that everything I do I go hard in doing it. Grillaras is like a proficiency. It's like a way of getting things done. Anything we do we try to do it prolific to the best of our ability where creativity is concerned. It's someone that is very determined and very focussed on the task at hand. We dot every I and cross every T. That's what a Grillaras is – somebody that is really driven.

Is he related to Richie Spice and Pliers?
Yes, all of them are cousins of mine. But to be honest I didn't really know them. My great grandfather had seven, eight or nine kids and we spread off and there was some kind of segregation in the family. Half of them I don't really know. I met Richie Spice through the music through being at Harry J studio at doing projects. He was one of the first people to record for me on my Good Times way back in 2004-2005. I knew through my great aunt that is how he was related to me. There could be more out there because as I say, I don't know half of them!

Making Life Of A King
It has been a privilege working with Lutan Fyah on both a brethren level and a spiritual level because we really connected well in doing this work. It was like water flowing – it was that natural. When things just happen majestically. You have an idea in your head it comes out exactly how you want it to come out musically and lyrically. That was the experience working on this album. I have done several before and this is one of my favourites.

The album's eclectic roots sound
My approach to music is – I wouldn't say different because nothing is different, the world is round and it just goes around in a circle – but I always try to do things that are not really being done. If people think there is a formula to reggae I always try to do the unthinkable by adding some things that most people wouldn't add into a rhythm. Notice on the album we have jazz-like, we have hip hop-like, we have reggae, but it has a speaking, it speaks out. That's how I try to produce music – it comes from my heart.

I am my own biggest critic so when I try to do something by myself it's very difficult because I am so critical of my own work. So I always keep influencing myself to break the boundaries and the barriers where music is concerned. Most of our music we try to do it timeless so it does not fit in a time. You could play this album three four years from now and the topics and the rhythms will still be relevant.

How Chronixx got involved
Chronixx is a youth where when you're dealing in Jamaica you can see him rise. Being a producer I used to hear about Chronixx but I never really knew him until my friend Goldy, Fabian Francis, carried him to the studio to voice the song Oh What A Mini [The Mini Song]. I noticed he had this nice voice and I liked his enthusiasm as a youth – because he's sparky and he's excited and that was a good vibes.

He came back when he was established or "bust" and he gave me back the same vibes! I said we had this album with Lutan Fyah and with Lutan Fyah I wanted a man he can attribute to and say Lutan Fyah helped his career. So it kind of connected – the two of them from Spanish Town - so me and my brethren Goldy made it possible. Chronixx sang this hook on this verse and it just connected. It was real. It was a real thing. The things that he faced with the success that he has now and the things Lutan has been through over the years. It's just work and it just flowed like water.

How Mr Lexx got involved
The combination of Mr Lexx and Lutan Fyah on paper it sounds odd! But we had an idea and a vision. Who could come and do something on this track that we are so unused to? Mr Lexx jumped out at me and he is a brethren I have always wanted to work with. But when I approached him he was listening like "Yow, are you sure it's really me you want on that track???" so I was like "Mr Lexx, now, watch nothing" and when it was finished he was like "Yow, it really come out good".

This is kind of how we work. We kind of have a real mad man style! When we start out producing something enough people don't understand but when it finishes they understand. When I produce a record I try not to do the same thing over and over so when I move onto the next project I won't be using the same techniques from the Lutan Fyah album. I will always be searching for doing things differently and uniquely to the project I am working with.

Future projects
I have two projects in the pipeline. One with Jah Vinci where we're doing the same kind of roots music with a little more hip hop contemporary feel. It's not really so much jazz. It's hip hop but it's rootsy with a lot of emphasis on the heaviness of the drums – that's what hip hop brings. Then I'm also trying to do a project with Jah Mason who is an artist we grew up loving like Lutan Fyah. The Jah Vinci one is already started and we have a couple of tracks for that already so I feel like I'm going to get that one out of the way first.