Review
Album Review: Mr. Vegas - Bruk It Down 2.0
09/24/2013
by Gardy Stein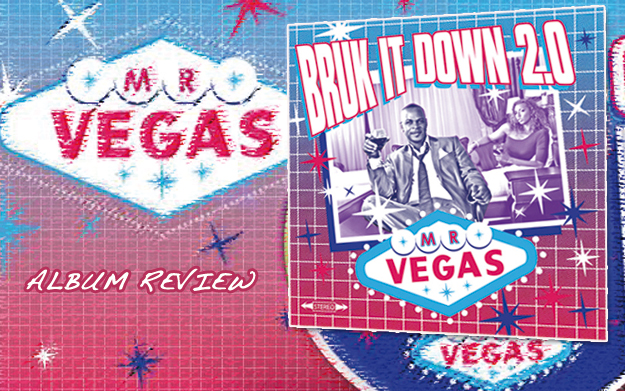 Clifford Smith a.k.a. Mr. Vegas is back on the dancefloor with the second album on his own label MV Music. Whoever expected the artist to take a more Roots-Reggae-stance after last year's release of Sweet Jamaica will be disappointed, however. Bruk It Down 2.0 is every byte a representation of the Dancehall-DJ who paved his career with hits like Nike Air and Heads High.

While the first tune Busta Bottle has a fresh flow to it and is ridden by Mr. Vegas in his characteristic flawless vocal style, the next three songs Freaky Freaky (on the updated Black Widow Riddim), Give It To Har and Twerk have nothing really new to give us - neither musically nor lyrically. The good thing about them is that their choruses are very compatible with lots of booze, so you can party hard and still be able to sing along!

Good Body Gal and Bare Tingz have comparably clever lyrics ("when you a fall in love, mek sure you no fall too deep…") and very well placed and produced riddims. The underlying music in Grimey Girl will satisfy cross-over-fans with dub-steppish bass and an experimental 2.0 version of Frankie Paul's 1983 hit Worries In The Dance. The so-far-missed consciousness glimpses through in the track Two Face Friends, bigging up real friends to the backdrop of a riddim that revives the glorious days of 90s dancehall music.

A nice surprise is the soca-remix of title track Bruk it Down, a tune that has proven extremely party-fit since its original release last year. Featuring soca-singer Alison Hinds, it wins in Caribbean flavor and will certainly make us dance throughout the cold winter-months ahead.

The following two features (Vamos featuring El Boy C and Take Off featuring Terri) might enthuse Raggaton- and Dance-Pop-fans but certainly are no ear-candy for Reggae/ Dancehall purists, whereas It's A Beautiful Life can definitely tie in with former successes such as I Am Blessed. Not all that new to the listeners (it was included in the previous album as well), the present remix is a more agile version, peppered up with some bass by legendary producer Clevie.

After the melodious Slow Jam (and a quite annoying Run Up And Down – except you really like shouting, that is), the album ends with a wonderfully relaxed Wet Party featuring Flourgon, a tune which brings the 1967 hit On the Beach by The Paragons to fresh glory (and NO, it is not as bawdy as its title suggests!).

All in all, this album is probably not suitable for a feminist conference or a romantic evening at home with champagne and candlelight. It is however a great choice to have fun, spice up your next party and… bruk it down!
---
Release details
Mr. Vegas - Bruk It Down 2.0
CD / DIGITAL RELEASE [MV Music]
Release date: 09/24/2013
Tracks
01. Busta Bottle
02. Freaky Freaky feat. Lukie D
03. Give It To Har
04. Twerk
05. Good Body Gal
06. Bare Tingz
07. Grimey Girl
08. Two Face Friends
09. Come Here Bubbler
10. 9. Bruk It Down feat. Alison Hinds
11. Vamos Feat El Boy C
12. Take Off (Time To Hit The Floor) feat. Terri
13. It's A Beautiful Life
14. Slow Jam
15. Run Up And Down
16. Wet Party, Feat Flourgon
Featured artists
Lukie D