Review
Album Review: Luciano - In The Name of Love
06/01/2018
by Gardy Stein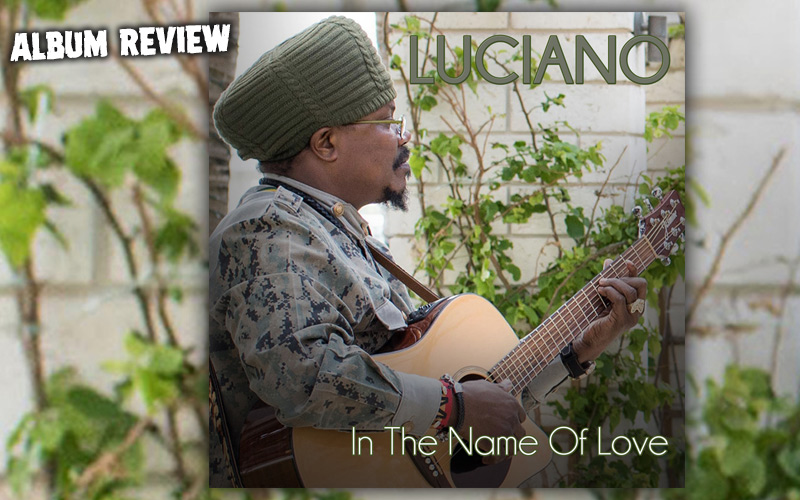 It's no secret that Reggae music has many ties to Gospel. Not only did many Reggae artists take their first musical steps in church choirs, but also have messages praising God or of universal love, and certain melodic patterns common to both genres.
Luciano aka The Messenger combines the two, delivering In The Name Of Love, produced by him and Anthony Cargill under the wings of their recently launched label Mountain Peak Records: "The album has been orchestrated to touch the minds of people, because (…) we need to address matters that concern the well-being of our people, the lifestyle and how we're living" says the singer who, from the very onset of his career, ceaselessly creates lyrics and melodies to uplift, inspire and encourage reflection.
The spiritual connection is made clear from the first song Wade In The Water, a Gospel classic originally sung by Ramsey Lewis. Up next, the equally masterfully recorded Hear Oh Lord is the first of many tracks dedicated to the Almighty. Jah Send Your Blessings, Leave It All Up To You Oh Jah, Stand Up For Jah and the acoustic Serve Jah all touch on the human wish for divine assistance.
Other issues broached are the lack of individual freedom in Bondage, the problem of violence in Jamaica (Haul And Pull Up), and, of course, love (Better Place). The latter subject is explicitly taken up in the title track in a pure piano-version and a more Reggae-based remix. Special mention goes to The Prophet Rides Again, a cover of and dedication to the work of the great Dennis Brown. My personal favourite, however, is Ooh La La La, an anti-war-tune that presents Luciano at his best, both vocally and riddim-wise.
In the Name Of Love is a very conscious, spiritual album promising comfort and soothing to those troubled by the wrongs of the world. According to Luciano, it is only the tip of the iceberg, with many more works in the making!
---
Release details
Luciano - In The Name Of Love
[Mountain Peak Records]
Release date: 05/25/2018
Tracks
01. Wade In The Water
02. Hear Oh Lord
03. In The Name Of Love
04. The Prophet Rides Again
05. Better Place
06. Leave It All Up To You Oh Jah
07. Ooh La La La
08. Serve Jah (Acoustic)
09. Don't Walk Away
10. Jah Send Your Blessings (RMX)
11. Haul And Pull Up
12. Bondage
13. In The Name Of Love (RMX)
14. Stand Up For Jah