Review
Album Review: Lovd Ones - Thicker Than Blood
07/28/2014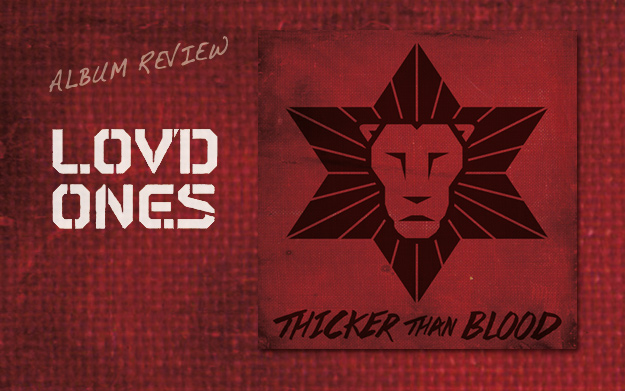 The Lovd Ones project is an eclectic set of tunes in a pop meets hip-hop meets West Coast meets East Coast style reggae style. What is "East Coast" style reggae you ask? The band is based in Orlando, Florida which gives them clear allegiances toward New York and its mixture of musicians and styles. There are times on this album that influences from Born Jamericans are there, and other times a West Coast/Jawaiian/ Jack Johnson type influence is felt both in the vocal presentation and in the music.

The set opens with the song Fiyah which has a strong bass line interspersed with wah-wah guitar effects as the breakdown asks "if you got that light put it in the air tonight". Sizzla joins Lovd Ones for My Lord, a hip-hop groove of the type that he typically shines brightly on, and this is no exception. For Never the style is reminiscent of SOJA in its instrumentation, vocals and keyboard sounds and the message is still militant, "never gonna give up".

The carpe diem spirit continues on Don't Let Go featuring Horizon whose lower range complements the falsetto of lead singer Benjah, again addressing turbulent times in life over an interesting groove, that uses delay and drum sample effects to sing, "if you can't see through the storm, hold on." How Many Times uses acoustic guitar sounds as a backdrop to drive a hip-hop/pop groove that the lead singer raps over to bemoan the number of times one has to go through the same lessons.

Slow Down is a deep roots groove with guest guitarist Gonzo from Tribal Seeds providing some licks here as part of a cautionary tale to take it down a notch. Warm Eyes changes tempo three times, the first is an R&B synth sample-driven reggae groove that alternates to a poppy guitar groove and dubs out to return to the R&B/reggae bass line, all to pay tribute to a romantic love.

The love theme continues in the song sequence with The One, dedicated to the love of one's life. It possesses a strong story line, a driving reggae groove and clear message with a well-sung and conceived, chorus, it should be "the one" the DJ's pick up on.

On Rally Round the Lovd Ones reshape old school-styled baselines with a pop sensibility using vocal and air horn sound effects.

For Morning Son Lovd Ones enlisted Luciano to contribute vocals on a pop-infused groove. The message is to keep moving in the right direction, toward "the father's dominion". Acknowledging that today is a "day that you have made" Luci pays tribute in a deejay style while Benjah soars through high-pitched sun salutations. For "Rio De Paz" [River of Peace] Sonny Sandoval of P.O.D. joins the "Ones" for a Spanish-English cry for justice to stop the violence and corruption in Brazil's favelas.

As the set winds down, there is a supreme, dubbed-out groove on Through Bars that provides a sonic bed for a sad tale of an opportunity gone bad from a female perspective. Hold Onto Hope has a driving kick drum sound with a dancehall groove that transitions to an acoustic guitar driven pop vibe, then back to the driving drum groove.

The album's concept hits home in Babylon Land which may explain its diversity; serving as an antidote to all the social ills of babylon, Lovd Ones are throwing all that they have got as producers, songwriters and performers at this entity. Reaching six minutes in length, the song has a live setting vibe and features E.N. Young from Tribal Seeds on vocals.

Sail Away uses solely percussion and acoustic guitar to provide a stripped-down setting for the lead vocals to ask "do you want to sail away with me? today?". Using beautiful imagery of an ocean escape, this song features vocalist Leilani Wolfgramm to list the names of Hawaiian islands that could be part of the journey.

Lovd Ones has a lot going on, a diverse selection of tunes, with many guest appearances and moods, an interesting effort fusing a wide range of styles and messages.

---
Release details
Lovd Ones - Thicker Than Blood
DIGITAL RELEASE [Jahmen Music Group]
Release date: 07/15/2014
Tracks
01. Fiyah
02. My Lord feat. Sizzla
03. Never
04. Don`t Let Go feat. Horizon
05. How Many Times
06. Slow Down feat. Gonzo
07. Warm Eyes
08. The One
09. Rally Round
10. Morning Sun feat. Luciano
11. Rio De Paz feat. Sonny Sandoval
12. Through Bars
13. Hold Onto Hope
14. Babylon Land feat. E.N. Young
15. Sail Away feat. Leilani Wolfgramm
Featured artists
Sizzla
/
Luciano
/
E.N Young