Review
LMK - Musical Garden
10/02/2015
by Gardy Stein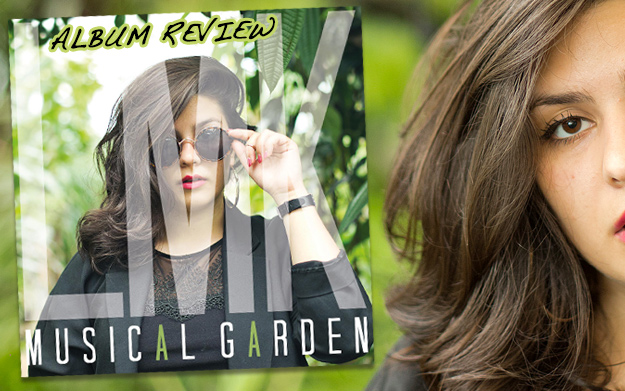 Be prepared for a gust of fresh wind out of Lyon, France! In Musical Garden, we are presented with a sonic experience reflecting the realities of the bustling life in multicultural European metropolises. No doubt, its urban beats will appeal to a young audience worldwide. And who is the artist behind the Soulbeats Records release? She might be called a French Sara Lugo or a female Protoje, but in fact she defies any description: LMK. I first stumbled across the pixie singer about a year ago, while writing a review for Taggy Matcher's brilliant album Sing A Song on which she is featured. She's a bit of a mystery, actually, and until today I haven't found out about her real name or what LMK stands for. But in a way, this is secondary because it allows us to focus completely on the music she throws at us here – message over messenger!

The first tune is a revelation already. On a riddim created by L'Entourloop (who describe their output as "Hip Hop ina Yardie Style"), All I Want To Do is a self-confident introduction of the young singer. What message! What vocal range! For the next three riddims, Fogata Sounds take over. "Turn up the sound, selector, you have no choice!". With what they call Rubadubstep, they provide the perfect soundtrack for LMK's delivery of Realise It, Cry Me A River and Best Of What You Got, the latter a feature with Bermudan singer/ MC Troy Berkley.

Dubmatix certainly needs no introduction. The Canadian producer who has rippled the airwaves most recently with The French Sessions is responsible for So Bad, a melodious musing on the love LMK feels for her Mr. Right.

Love Is The Key comes with fat beats by Supa Sound, delivering its universal message with a sweet hook line and conscious lyrics. It is one of the three tracks that are taken up again acoustically in the outro, a wonderful opportunity to enjoy LMK's voice pure and simple (as much as her accent is cute and her vocals are enjoyable throughout, though, I really wish she'd done a few lyrics in her mother tongue French as well).

Simplistically, above mentioned producer Taggy Matcher combines drum, keys, brass and hand claps to a driving backdrop to which LMK rap-sings I Say No. Second feature of the album, Davojah joins in on Music Is My Life. The message is similar to track 1, the riddim by Little Lion however widens the scope of the release by some Roots vibes. Speaking of widening: A Dancehall Drama by Salaryman D&B will satisfy the Drum'n'Bass lovers out there.

With Musical Garden, LMK is well on her way to win an international audience – at the mere age of 20! Make sure you are a part of it cause, honestly, there is no sweeter way to be conquered by exciting new music.
---
Release details
LMK - Musical Garden
DIGITAL RELEASE [Soulbeats Records]
Release date: 10/02/2015
Tracks
01. All I Want To Do
02. Best Of What You Got
03. Realise It
04. Cry Me A River
05. So Bad
06. Love Is The Key
07. I Say No
08. Music Is My Life
09. Dancehall Drama
10. Love Is The Key
11. Listen (Acoustic Version)
12. Cry Me A River (Acoustic Version)