Review
Album Review: Lloyd Brown - Therapy
02/29/2020
by Steve Topple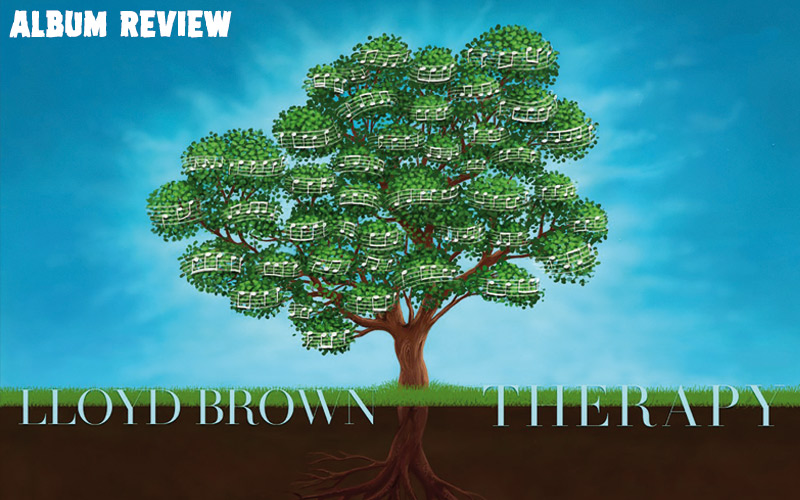 Lloyd Brown has had a career spanning four decades. For some artists, that may mean that their best days are past them. But judging by Brown's latest release, with him that is simply not the case at all.

Therapy, released by Jet Star Music and Phoenix Music International, is a poignant, deeply personal project from Brown. Musically it's a classy, well-constructed affair covering a range of genres and styles. But you get the feeling that musical prowess wasn't Brown's main goal with Therapy. Because it's a masterclass in storytelling and how to build a compelling narrative via music.

The trickiness comes in the form of selecting Therapy's stand-out moments.

The title track is a raw, unfussy Roots cut. The stripped back instrumentation and slick engineering focuses the attention on the five, then six beat driving bass clave and the prominent kick one drop. The general percussion and drums are quite syncopated, hinting at Roots' golden age. Interestingly, the electric guitars mimic the bass clave at points, which leaves the offbeat Roots duty to the keys on a bubble rhythm. A Hammond organ gently riffs and runs in the background, and all in all, this focuses Therapy on Brown's vocal.

He has impressive dexterity, combining complex, rapid-fire rhythmic combinations on the verses with a smoothed out but pointedly phrased chorus. It's a well-executed opener for the album. And musically, it also sets the tone for other Roots-based tracks: Talking to You featuring the infinitely skilled Ras Charmer; Just One of Those Choones (a veritable Reggae/Pop anthemic track); Make Your Move with the soulful Rafeelya and A Different Kinda Crazy, which leans towards Ska.

The Usual Suspects is the first departure from Roots. Dispensing with its devices, Brown moves into almost dirty Hip Hop territory, with the kick focusing on the upbeats and synths picking up the third and fourth. But you get the occasional Roots flourish, with the heavily reverbed electric guitars skanking on the bridge and chorus. Ska horns make repeated calls and responses. But then, the lack of prominence of the bass (which is also distorted), adds a Trap/Drill element to the mix. Brown delivers an impressive vocal/singjay, and the whole track is an unsettling, grimy cut.

Rooftops is a moving, gorgeously composed, almost Lover's Rock ballad, with writing credits going to Diane White and Caroline Williams. Rooftops' introduction of strings for the first time on Therapy bring a whole new vibe. The heavy orchestration is engineered perfectly so as to compliment, not distract from, the vocal. And Rooftops theme, about humble self-confidence and self-affirmation, acts as a counter-point to what follows on the rest of the album. Burning an Illusion featuring Stacey Phipps expands on the Lovers Rock; removing the Roots devices altogether with composer Peter Hunningale taking the track into Soul.

But the album takes its most marked twist with the Peter Gabriel/Kate Bush standard Don't Give Up, featuring Harmonie Deja. Thematically stands in stark contrast to the previous track; marking a seeming internalised battle in Brown.

While he hasn't deviated musically from the original, ambient Prog Rock track, its inclusion is telling. The Gabriel/Bush original was about the widespread, working class deprivation that existed under 80's UK prime minister Margaret Thatcher. But given the album's themes of mental and spiritual well-being, it's not clear whether Brown included it for political reasons, or for the track's ambiguous sentiment, which could also be about mental health. His and Deja's performances are more than worthy of Gabriel/Bush, and the track is an inspired move. Brown seems to have a thing for Gabriel's Prog Rock, as the musical style and devices return somewhat on Your Light, although Roots is the dominant force.

Therapy finishes with All I Have. Again, penned entirely by Brown, for me it's probably the standout track. It's a devastatingly haunting piece of work: stripped back Ambient Rock, which again leads you to believe Gabriel is an influencer for Brown. The repetitive, offbeat focused drums and almost bare percussion line are solid throughout. The piano, on simple half time walking chords is engineered to be just out of earshot. But the track then builds, as strings gradually come in, first on breves and semibreves before roaring into a syncopated, double and triple time staccato ensemble. Brown's is vocally at his best, showing clever use of phrasing across syllables and real light and shade. All I Have is a fitting, unsettling, introspective conclusion to the album.

What Brown has created in Therapy is brave on numerous levels. Musically smart, the composition and arrangements are what you'd expect from the roster of talented songwriters. The production and engineering are also first-rate, enhancing each track and positioning them in the musical genres the writers intended them to be.

But it's Therapy as a sum of its parts which lifts the album above just 'excellent'. Brown has constructed the themes, and then ordered them in way that is utterly compelling. He's a masterful storyteller, and you're completely transfixed as a listener, and also completely on Brown's side. It's a searing, affecting, wholly moving affair which reaches to your very core. Moreover, you're left somewhat changed after its climax. Therapy is the work of a genius at the top of his game. Powerful, unflinching and heartfelt. An instant classic.


---
Release details
Lloyd Brown - Therapy
DIGITAL RELEASE [Riddimworks Productions]
Release date: 02/28/2020
Tracks
01. Prologue
02. Therapy
03. Just One Of Those Tunes
04. Talking To You feat. Ras Charmer
05. A Different Kinda Crazy
06. The Usual Suspects
07. Make Your Move feat. Rafeelya
08. Rooftops
09. Don't Give Up feat. Harmony Deja
10. Burning An Illusion feat. Stacey Phipps
11. Your Light
12. All I Have
Featured artists
Ras Charmer