Interview with Roberto Sanchez [PART I]
04/25/2014 by Angus Taylor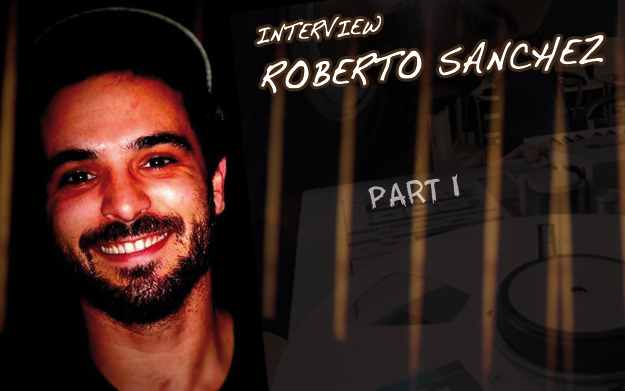 It's now a common observation that popular culture has become fixated on its past. Cultural figures such as the music critic Simon Reynolds and the documentary maker Adam Curtis have recently drawn attention to the way access to so much musical history has enabled younger generations to look backward rather than forward.

This tendency has found plenty of expression in reggae music – which has throughout the decades recycled perennial rhythms in new and inventive ways. Many producers, particularly from outside Jamaica, have attempted to recapture the essence of the music's so called "golden age". Few have done it in such a startling and critic-silencing way as Roberto Sanchez.

Multi-instrumentalist and producer Sanchez was born on April 8th 1977 in Santander, Cantabria, northern Spain. His family were active in his locality's folk music. His grandparents uprooted to Cuba during the Spanish Civil War. When they returned rice and peas became a fixture at the family dinner table.

Roberto attended Colegio Jardín De África (Garden of Africa School) in Santander, learning flute and singing in the choir. He also studied piano at the Conservatory of Music between the ages of 8 and 12. But it wasn't until a school-friend's brother introduced him to Bob Marley that he picked up the guitar and diligently practised reggae chords.

He formed his first band, Lone Watti with Borja Juanco in 1994, and connected with the burgeoning reggae scene in nearby Bilbao. Roberto undertook pilgrimages to London to buy rare vinyl and analogue equipment to build his own studio. He toured in various ensembles, performing with big Jamaican names.

In 1997 he began producing as A-Lone Productions, opening his Lone Ark Muzik studio one year later. At first he focused on his own friends and local artists, then UK mainstays like Afrikan Simba and Kenny Knots. Over time while freelancing as a musician and engineer for other labels he made links with Jamaican legends like Edi Fitzroy, Rod Taylor and California-based veteran Earl Zero. Sanchez began to attract international attention when he produced Zero's critically acclaimed "showcase" vocal-meets-dub album And God Said To Man. Issued in 2010, it recaptured the 1970s Greenwich Farm sound in prodigious fashion.

A concert backing London singer Alpheus resulted in their 2011 rocksteady and ska album From Creation, showing that Roberto was as comfortable re-inhabiting the sounds of pre reggae beats as roots. Branches and Leaves, cut in 2013 with under-recorded veteran Milton Henry represented a move forward to the early 80s Wackies sound of New York (which had inspired Roberto to collectively name his Lone Ark musicians as a Riddim Force, after Bullwackie Barnes' house band.)

2014 looks to be a big year for Sanchez. A second album with Alpheus is imminent as is his collaboration with London based Jamaican veteran Earl Sixteen. Roberto has even released a solo record with French group Rockers Disciples. A collaboration with Linval Thompson has been in gestation for some years.

Angus Taylor conducted part one of this epic interview last year as part of his work on the liner-notes for the Milton Henry album and part two more recently. Angus spoke to a man of similar age who had taken a parallel journey into reggae, meeting a lot of the same people along the way but instead of writing about the music, had created it himself.


PART ONE: 1977-2013
REGGAE MUSIC

Tell me how you first got involved with Jamaican music.
I have two older brothers. They stopped going to music school when they were 13 and 12. My father wanted me to go there but I was only 7, so I was a little bit fed up that they tried to make me learn the technical part of music and I just wanted to play football! Then I discovered reggae when I was 13 and I went back to music and I discovered I could play Bob Marley or Max Romeo songs on the piano and with my brother's guitar. So started thinking of doing my songs. This was something I'd always had in mind. There are some people who are just interested in playing the instrument, but from the beginning I was thinking of creating something. I just had a tape recorder at home to record myself playing guitar, doing covers and trying to do my own thing, and that's how it started.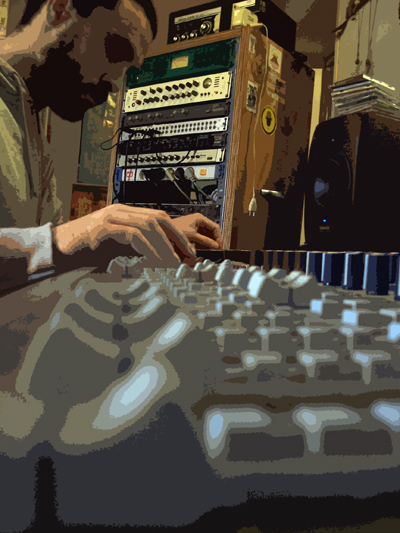 Who exposed you to reggae music?
It was one of my friends at school in the Garden of Africa. He had a brother who was surfing and was able to travel to different countries and brought some Bob Marley cassettes.

But the one who put me seriously in touch with the roots of Jamaican music, producers and artists, was a guy from Bilbao when I was 15. He was called Jaime and he had the first reggae shop in Spain, in Bilbao only one hour's drive from my home. My father used to drive me there to pick up cassettes. Jaime was involved with Iñaki from BDF [Basque Dub Foundation], that's how I met him too. They were organising shows like Augustus Pablo or Prince Lincoln in Bilbao during the late 80s and 90s. That was like, wow! I started going in '95 or '96, something like that. They were really the people who were taking care of reggae.

In Spain the reggae was not brought by the Jamaican people like in the UK. It was something that they tried to import and was played in the Spanish way; that means it was not really reggae at all. They were the only people who took reggae seriously; bringing artists from Jamaica and from UK. And in Spain they never used to say "reggae", they used to say "riggy" and that hurt. They associate reggae with spliffs and sun and palm trees - that's something we have to work against.

What was your way into making reggae music with other people in Spain?
We started like many other people, doing a local band. It was 1994 and we started doing covers from those Lee Perry Black Ark productions, trying to imitate the Meditations and vocal groups like that. It was called Lone Watti. It was a teenager band. We just got together and started investigating.

At that time we didn't have internet here. When you got an album it was the album of the year. If we got any King Tubbys album or any Scientist album from UK, from Greensleeves pressing it was like "Wow! Woo!" It was the whole year, you know? We started discovering where the sound of the guitar is coming from, the "tchuk, tchuk". It was difficult, believe me! It was hard work but we were students, we had a lot of time, we never had family then, so it was quite easy to spend time on investigation.

We soon discovered that a big part of the sound is coming from the studio. So we started being interested in the technical part of the music, the 4-track tape recorder. We bought a mixing desk, a really small one, and then we rented a garage, and started recording our own compositions and covers. We ended up being four or five with a studio, and we made a group just for the studio. It was called Better Collie. We stayed like that for three years, then some of the friends left because of work. I kept going with my friend Borja Juanco, and we made a duo called Loud & Lone. Then we split up and I built up the studio myself.

THE LONE ARK SETS SAIL

What was the first tune that you put out?
The first tune that I put out seriously, with international release and properly pressed, was in 2004, called No Competition, but by then we'd recorded like 15 albums with local artists. We had albums with BDF, Loud & Lone; different singles. Maybe the first tune was one called Breaking the Rules in the year 2000 with BDF. It was my composition but it was a 7" with BDF and it was played and released by Aron Shamash in London.

Aron Shamash is a good friend of mine. He gave me my first chance to write about reggae music.
Oh man, nice! I knew that he was involved with Twinkle but we made amazing tours together with BDF. I was the keyboard player and he was the other one and wow man, I learned a lot from him. For example when I went there, the first time playing with BDF, he was playing a special keyboard, a really cheap one from Roland called XP-10. I was impressed because by then I used to have my Hammond organ, my friends stopped being my friends when I asked them to move the Hammond ! (laughs) They were like "No, no man. We're not going to help you anymore! Our backs hurt!" So he showed me that keyboard. When I went back to Spain I bought one for £150. From that moment, believe me, wow! Every band in Spain had that keyboard! So it was him! And many producers in Spain are using it now. It's crazy! It's for the bubble sound, the "ooh-ah-ooh, ooh-ah-ooh".

Tell me about touring and the live side of it. How did you get into that?
From the beginning with Lone Watti we started doing shows in the region. Then we started linking with Iñaki, with BDF in the Basque country and some other people in Barcelona and when they heard our productions they were really impressed, because as I told you, the things that people were doing, they called it reggae but it was half reggae, half pop, different. So it seems like we were the first recording people and band to do things more or less close to the original sound. So we started to bring that sound more and more into live shows and with BDF we started doing bigger tours in Spain. In the year 2000 we did a nice tour with the Wailers band and from that moment we started as backing artistsfor Earl 16, Alton Ellis, Anthony Johnson, and many others.

> I don't enjoy listening to my own music <

You'd already released many albums before you decided to do an audio production course. What did it give you?
It was really good in all terms. In terms of knowing the business, of course, but most of all it was really interesting in that it gave me a really good idea of what it is building an album or what it is building a single. I think from that time I got the idea that building music has got to be something that passes the test of time. It's one of my aims because I felt it from the first time I heard African Roots from Johnny Clarke, and I keep feeling it now. That music passed the test of time, and I wanted to build something that passed the test of time. It's not about fashion or something like that. I don't enjoy listening to my own music anyway. It's something you create, it's not like listening to some other music, you know?

THE UK CONNECTION

Even though today you are known for all analogue live instrument recordings you made some digital rhythms early on, didn't you? You supplied one of your old rhythms for the song Deya Now on Solo Banton's second album and I was surprised when Solo told me that it was one of yours!
(laughs) From 2000 when I opened the studio I started working for different producers. Each time getting a better sound, always focussed on roots music, live instruments. It was always tape, with analogue equipment but in 2005 people started bringing me dubplates for mixing. I bought my first computer in 2005. They were spending a lot of money buying dubplates from artists, where they changed the lyrics and took their name on the dub; "This is Johnny Clarke for Dreadrive Sound System" so it was a strange kind of dubplate. I didn't like that. I preferred the special mixes.

So I told them "A little bit more money, I can build a rhythm for you, cheap, and you will have that for your life. You are bringing something to this music." Those Dreadrive guys were really in love with Bush Chemists, who I met in 2003, and Russ Disciples. They started bringing me productions and it was more an exercise.

Before whenever I heard the Octopad or the Clap or Simmon's drums it was not for me. The Live & Learn label started introducing Simmons in the mid-80s and I didn't like it. But these people and my brother Dubby Ambassah from Crucial Ruler started bringing me the idea of building digital roots. And Dougie [from Bush Chemists] opened my eyes, because I saw him building rhythms and I noticed it was roots. He kept the idea of building steppers but the bass-line was there even though it was played with a keyboard, and the chop, from the piano. Singers like Pablo Gad went on those rhythms and sounded good. So from time to time I built digital rhythms but I never released anything until the Solo Banton song. It was not my plan to turn digital. I got the feeling from them!

When did you first start to record with international reggae artists?
I think it was in 2002, with Afrikan Simba and then Kenny Knots. The first tune with Afrikan Simba was for my first album for Lone Ark. Lone Ark is my solo project and I made my first album in 2003. He made a really nice tune, it's called Natural Beauty, really nice late 70s-style steppers. Then I recorded that rhythm called No Competition, where I do my own vocals. They did different styles - Afrikan Simba's extension of my vocal, like a deejay cut, then on the flip side you've got Kenny Knots doing Praise Jah.

Sergio from Heartical label in Paris came to the studio in the year 2000. When he heard the rhythms he said "Hey! I'm in contact with many international artists. You can ask them to voice your rhythms". Believe me, I never thought of this. It was like he opened a big, wide window. Then one or two weeks after that he called me from London saying that he was playing the rhythms to Dennis Alcapone, and some other singers and he told me "Hey man, this can be done!" From that moment I started thinking of voicing artists, and it happened like that. It was quick. It was really, really nice, something special.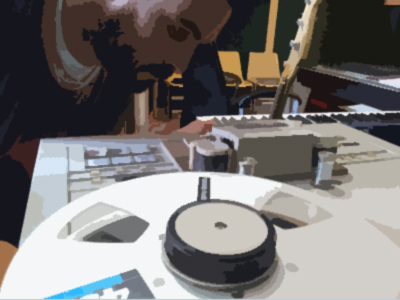 EARL ZERO

How did you start recording recording entire albums with Jamaican and British artists?
I started voicing 10"s with international artists. Then I started releasing some 7"s as well as some LPs for my group, but I realised that artistically and also in the business part it doesn't make sense to go for only singles. In the artistic part you develop the ideas more because working with Earl Zero or Alpheus for an album, as a complete work. In 2008 I started thinking of doing albums. I received the first song from Earl Zero and I felt really good. It was called Root of David and it was released as a 10" with different vocal cuts, and I thought it would be amazing to complete an album with this artist. If you release something, with a cover, it's a pack of songs; the songs can stand on their own but if you put them together in an album it's a bigger thing, it's stronger. I go back to the idea of the sound and the work trying to pass the test of time, and I hope I can with some of my albums. I hope so with Alpheus or the Earl Zero, I hope so with the Milton one. I hope if we have a listen in 20 years' time we can still feel things.

LINVAL THOMPSON

You've done some work on an album with Linval Thompson which has not been released yet.
It was 2007 and we'd started thinking of bringing a different artist to Spain. We set up a kind of agency for ourselves just to deal with artists and so on. We got in touch with him and we found that it was possible to bring him here for our tour and also some recordings. So he came and we did just a couple of tunes and a tour. But he was impressed with the studio and the sound of the band, and we were mixing the songs and trying to capture back the sound. So he told me "Hey! I'm going to send you back some stuff from back in the day to be mixed again but with new artists I'm recording in Jamaica right now". I said "OK Linval, cool, thanks" but I thought "Wow. It's one of those things people say and I'm not going to receive anything".

A couple of months after I received an envelope from Greensleeves UK. I was impressed "Greensleeves is writing to me – wow! What's happening?" I opened the envelope and I found a pen drive full of rhythms man! From Johnny Osbourne, Wailing Souls; open tracks, it was the tapes they used to bring from Channel One to Tubbys and so I started calling him and doing mixes for him. We realised that the relationship was growing, so we brought him back a couple of years ago for the next show. When the date of the show was close he called me from Jamaica saying that he was trying to release an album by himself in France and he wanted me to mix it. So I say "OK man, just bring it for the rehearsal. We'll be at the studio, we can open it and in my computer I can start mixing it". But when he reached my town I said "Hey mate, give me the tracks so I can listen to them" and he started laughing and saying "No, no. We have to build the album now!"

So I had to build the album in one week, the whole thing. So we started recording and it was like a nightmare! It was really nice and one of the best experiences I had in the studio because we built songs. I was playing guitar, and he starts singing a line [sings perfect imitation] "Jah Jah is the Lord" or whatever, so I quickly got the chords and wow! We'd build a rhythm quickly, I'd play the drums, play the whole thing, and that's how we did the album, twelve songs. Then he was dealing with a friend's label to release it. It was supposed to be released by last summer at the same time he was touring in Europe, but he never got the visa for the tour and the whole thing went down. Now the album is stopped and that's why I've never released it.

MILTON HENRY

Tell me how you linked with Milton Henry for the album Branches and Leaves.
I heard about Seb Carayol when I was in London with Dougie. He made the picture for Kenny Knots' album. I got his email for some reviews of my 10" he did for Natty Dread, so I asked him for pictures of Earl Zero for the album because I wanted my designer to do a drawing. It was so nice because he never asked for anything, he just gave me the picture and I gave him some records and so on, even though I really appreciate his work as a photographer. When I finished the album with Zero I was talking to him on email and I told him I was thinking of a next album with different artists like Prince Alla. He told me "I'm in touch with many artists who could be interesting for you". One of the artists on the list was Milton Henry. You know, there is something really special about Wackies for me, about the sound. I phoned him and we talked about doing an album.

When we talked about the Earl Zero album a couple of years ago you told me at that time you wanted to investigate Freedom Sounds, Greenwich Town Farm sound in what you were doing. With this project did you want there to be a Wackies sound?
More or less, I started like that. I recorded the whole album in 4-track and that gives the sound a different vibe. Even though some people don't think the format is important I really think so because you can hear it! You can feel it! If you pay attention. So I started in 4-track trying to capture the compression and the low-fi sound from Black Ark and Wackies and in some ways the rhythms are built with that kind of thing in mind but of course they also have my own vision. It goes more in that direction but also some rhythms keep the Greenwich Farm style in some way. It was amazing for me to see that Milton is in fact one of the Greenwich Farm artists – he is coming from that area too no?

He went out that way to rehearse with Bertram Brown and Prince Alla.
I already recorded with Rod Taylor and I'm looking forward to working with Prince Alla who for me is the voice of Greenwich Farm. I would love to work with him. Anyway, Milton is going to sound more like Wackies in terms of technical compression and low-fi sound. It's like watching an old picture – not seeing all the details is beautiful for me. It's the same thing with music. I don't like it when it's too clean like a hospital production. I'm really impressed by Soul Syndicate and the Greenwich Farm sound of artists. If you go deep into the lyrics you find they've got a way of writing. I would like to keep going with that style. This album with Milton Henry is half Wackies, half Greenwich Farm.


I was surprised by some of the rough mixes you sent me of the album because they sounded like they are from the early 80s Wackies era – which I know is not your favourite period. So it sounds like you are moving very slowly in time towards the modern day!
Yes, moving into it because that's the feeling I get from part of the Wackies rhythms I like. Because of the lack of equipment they were doing the rubadub that sounds really crisp in Channel One but with their equipment it sounded like it was done in Black Ark five years before. I liked that idea so when I went back the Milton's first album and I heard Them A Devil I started investigating the early 80s rhythms. Something strange in the Wackies albums is that you've got that mix, those rhythms that sound more like late 70's, you've got a quick rubadub rhythm, so I got the idea from that album. Every time I record an artist I go back to his discography and I try to get the tones for all the songs to build the rhythms to be more effective because that way you are sure that you are moving in the tones that are good for the artist.

Did Milton come to you or was he sending files remotely?
No, it was different from working with Linval or Sixteen. When I record with people on the other side of the ocean, whether it's US or Jamaica, it's different. You've got to do that work to make sure the artist is going to receive the proper rhythm because you cannot have time with him to discuss the tempo or the chords. So with Milton I had to send him the rhythms and he voiced them. It was a good thing because he voiced them at Wackies. It's not something really special in terms of technical quality, because it doesn't matter finally if it was recorded there or at another studio but for myself, happiness (laughs). Something amazing, no? Then I had to fix some little things after hearing the voice, like arrangements, some horns, some things like that.

Do you know anything about his lyric and song writing process?
No, man. He is coming in August for the festival and this is the first thing I'm going to ask him. For me, the good thing about Milton is the quality of the lyrics. It's not the same thing with Linval. Linval is all about sound and not lyrics; loving in the morning, loving in the evening. But with Milton you can listen, and for me I'm not an English speaker so I have to listen ten times before I understand properly and can start thinking of the meaning. But it takes me twenty more times to understand everything because it's poetry.

Tell me a bit about some of the effects you've used. For instance I think I can hear a bit of high-pass filter?
I got a really nice filter from a French guy who is building his own equipment and I'm using it a lot. I used to use the space echo for the delay, it's a fake delay, and the spring reverb, I'm using two of them. I'm using space echo but I'm also using the great British spring reverb. Then, as I told you, the rhythms were built on 4-track, on tape. All of the instruments, even those that sound like early synth, are analogue, we did everything in analogue.

> 'original' is a word that really I don't like. <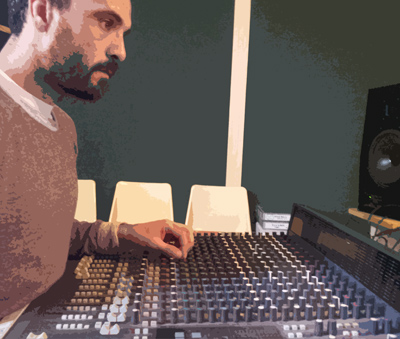 The Alpheus album From Creation had some classic rhythms but it also had some original rhythms. What's the history and provenance of the rhythms on the Milton album?
They're all original, but you know 'original' is a word that really I don't like. 'Original' comes from 'origins'. The origin is the Big Bang and that's the only origin. It's like the beginning of the earth or something like that, you know? What I mean is that everyone is copying the other. Jamaican culture is not my culture, I'm a Spanish guy. So this is something I'm trying to learn from the outside. When I do originals I have the best teachers in my records, so I get the feelings from there. For example Let Go The Ego, the idea for that song comes from a Niney production called Babylonians. If you compare them maybe you're not going to see the link but there's a link, there's something I got from that song and to build the rhythm. Rastaman Prepare, that song is similar in some ways to another Milton song from his album at Wackies called Them A Devil.

The other inspiration I have on this album is something that Pablo and Everton Da Silva used to use for their productions, which is the string synth. It's an analogue one, but it's a synth. I use it for one of the songs called Hold My Hands and another one called Crisis. You know Wackies, they use it from time to time. You know In The Light, the Horace Andy album? On In The Light you've got many of these keyboards.

Yes. You hear it on some later Freddie McKay tunes as well.
Yes. And I get the feeling from there too. Then there's an album by Pablo with a singer called Delroy Williams. I love that album, it's like a masterclass for strings. It's crazy (laughs).

Tell me a bit about the photograph on the cover because this was a very conscious decision to use a photo of a young Milton rather than of Milton today.
I understand that as it is a new production, maybe people will expect a new picture but in my career and the things I've been releasing, I don't try to think too much about people and for me it makes sense with the sound. The texture, it's raw, like the music, no? So I felt more comfortable with that picture even though people can criticise it for being old, but I don't really care.

You don't think that maybe people will see it and think it's a reissue?
Yeah! But for me, that's what I'm trying to do. Believe me, I feel my work has done well when I hear things like that. I would love to release it without my name on or anything. Imagine… just Milton Henry; and if people think it's a repress I'd be pleased. Believe me, that's my aim!

STAND BY FOR PART TWO OF THIS INTERVIEW ON ROBERTO'S PROJECTS IN 2014