Review
Album Review: Lee Scratch Perry - Science, Magic, Logic
04/21/2017
by Gardy Stein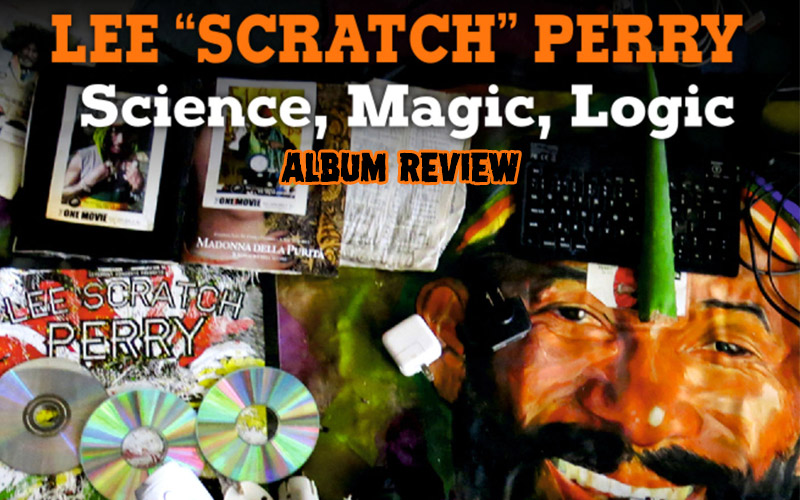 It's a thin line between genius and madness, they say, and no Reggae artist verifies this phrase as much as Mr. Lee "Scratch" Perry. Despite his impressive age of 81, the singer/ producer/ artist/ painter is as active and creative as ever. Mere seven months after the release of his last work Must Be Free, here he comes around with a new album called Science, Magic, Logic.

As always in his late productions, it is hard to say if genius or madness prevail – feeling one's way through the 12 songs is as surprising as it is annoying and tiresome at times. Some tracks consist only of words and snippets of sentences uttered randomly, interspersed with loony laughter, meowing and wild curses; others tell a tale, but as soon as it seems to make some sense, it takes twists and turns hard (or impossible) to follow. Geneva holds a special place in the scorn of the little man. Whether in the melodica-infused Negril or the industrial Me & Raffaele, for whatever reason the city and its government is "mashed down", pissed and shat upon. Worse, Curse Evil has the rather strange subtitle "most of the Dreads a joke", while Fireball Come Down From Heaven further irritates with its lines of "dead locks" and "burn up the Natty dreads, burn up their heads, burn up their legs". Deliberate provocation or metaphorical wordplay? Who can tell…

Formidable artist he may be, I personally never considered Perry a gifted singer, and tracks like Upsettin Power Station make me wish the vocals would have been left out. Vocally, melodically and lyrically the best tolerable track is Show Me The Way To The Black Ark, but maybe I'm just incapable of perceiving the artistic splendour in the others.

The music at least is worth serious consideration. Raffaele Ferro, Italian producer and member of the band Dubital, has created a wide array of styles and moods, picking up some Blues in Miserable Satan, Jazz in Only One God and even technoid beats in Voo Dem or the title track Science, Magic, Logic (which has a more relaxed Dub-version as well). All have in common a heavy focus on drums, giving the album a welcome swing forward.

A must-have for his fans, an interesting discovery for those curious to get to know his works and plenty of fodder for his critics, Science, Magic, Logic is continuing the astonishing journey of this exceptional mind. Definitely not a mainstream-Reggae-album, it might be considered another sonic experiment – find out for yourself whether or not it deserves to be called successful!
---
Release details
Lee Scratch Perry - Science, Magic, Logic
DIGITAL RELEASE [Jam Ra Records]
Release date: 04/21/2017
Tracks
01. Negril
02. Upsettin Power Station
03. Show Me The Way to the Black Ark
04. Curse Evil (Most of the Dreads a Joke)
05. Fireball come down from Heaven
06. Me & Raffaele
07. Miserable Satan
08. Science, Magic, Logic
09. Science, Magic, Logic (Dub)
10. Voo Dem
11. Tales of the Unknown
12. Only One God