Review
Album Review: Lee Scratch Perry - Rainford
05/31/2019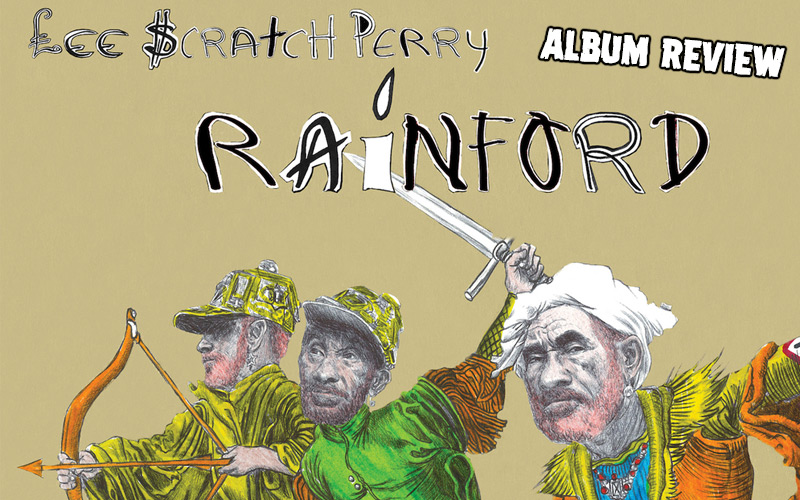 Question: What would do if you came home to find that your house guest had buried your expensive television set in the garden?
Answer: Forgive him.

Well, according to David Katz's superb People Funny Boy biography of the artist Lee 'Scratch' Perry, that's exactly what Adrian Sherwood did to his house guest Perry. And so, with this Rainford album they ride again, to produce a quality 9-track album on Sherwood's 1981-established On-U Sound label. This compilation, which was assembled in Jamaica, Brazil and London over a 2 year period, follows their successful collaboration on the much lauded Time Boom-De Devil Dead (1987) and The Secret Laboratory (1990) album releases.

The album opens with a characteristically curious Cricket on the Moon track, with Perry advising all to repent, as he screeches to a solid reggae rhythm. However, given his close affiliation to all things natural, some may be surprised that the cricket sound at the entrée is a techno product rather than the genuine article. This is followed by Run Evil Spirit, as Perry imports his heroes Superman and Spiderman to banish stressors and evil spirits, with the help of some sax and a female vocal chorus that serves to supplement Perry's limited vocal range. Next up comes the cello-tinged Let It Rain, as Perry gives rein to his rhyming vocals in the search for rain. Thereafter, the House of Angels emerges as one of the best tracks on this compilation, with some solid and sweet percussion mixing with the all too rare returning female choristers. The Makumba Rock track then kicks in, with some brilliant brass giving the solid rhythm some welcome spiralling sensations, as Perry wails to the demand that: I want my mummy, I want my Daddy. The African Starship track then slows the pace, with some flute and trumpet touches, as Pilot Perry calls in Marcus Garvey, His Imperial Majesty and Rastafari to support the claim for an African King in his Starship meanderings. Next up comes another strong track, as Perry has a cut off the money worshippers, via his plans to have a 'black magic party tonight' in the track entitled Kill Them Dreams Money Worshippers. The artist's scatological leanings surface when he recommends that we 'poop on them' and I'd swear he namedrops his old adversary Bunny Wailer as the track winds to a close. The mood lightens in the album's penultimate Children Of The Light track, which is hugely embellished with some more succulent sounds, courtesy of the percussion and chorus inputs. This sets the scene for what enables Sherwood to describe the album as 'the most intimate album Perry has ever made'. On the album's closing Autobiography Of The Upsetter track, set to a bouncy beat, Perry introduces us to his parents – including his father, who he alleges was a freemason - before embarking on a roll call of associates, including Duke Reid, Bob Marley ('can you help me, Mr. Perry?'), Susan Cadogan and Max Romeo. His spells walking backwards and burning the Black Ark Studio also get an honourable mention!

Reflecting on the relationship, Sherwood has concluded that: 'Nothing that's good comes easy'. Well, that may or may not be true. But when it comes to Lee 'Scratch' Perry, he has a point. Relatively recently I asked Perry what he considered to be his greatest achievement. The upful sage replied: 'It nah come yet'. Sherwood may argue that this album is it.

---
Release details
Lee Scratch Perry - Rainford
DIGITAL RELEASE [On-U-Sound]
Release date: 05/31/2019
Tracks
01. Cricket On The Moon
02. Run Evil Spirit
03. Let It Rain
04. House Of Angels
05. Makumba Rock
06. African Starship
07. Kill Them Dreams Money Worshippers
08. Children Of The Light
09. Autobiographgy Of The Upsetter