Review
Album Review: Lee Scratch Perry - Back On The Controls
05/13/2014
by Angus Taylor
Scratch fans will certainly get their money's worth across two discs.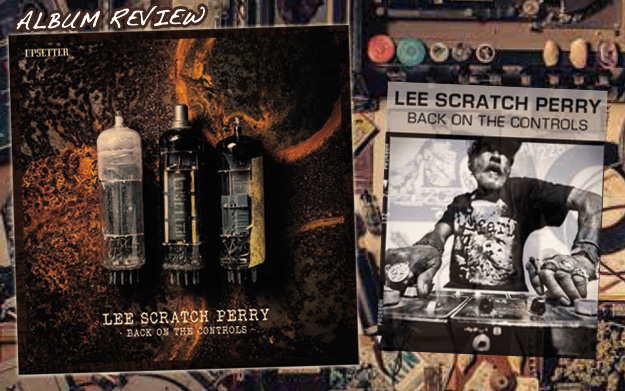 After Lee Perry left Jamaica and the ashes of his Black Ark studio in the 1980s he spent some time in England working with cutting edge dub producers like Mad Professor and Adrian Sherwood. Now based in Switzerland, his surreal spoken word showmanship has attracted a new generation of knob twiddlers whose rhythms hark to his glory days in the 70s.

He has begun a second album with French duo Easy Riddim Maker - the follow up to 2013's respectable Humanicity. And he has reconnected with England for this double disc heavy vinyl pressed showcase with Daniel Boyle of Rolling Lion studios. Perry's un-reasonings ride on cloudy stormy Black Ark indebted backings played by Boyle's super-group Rolling Lion All-Stars recorded befogged and refracted through the kind of analogue equipment Scratch used decades ago.

The title Back On The Controls suggests the wishful thinking of patchy 2010 Mediacom Congos collaboration Back in the Black Ark. Yet here, credited as co-producer, Scratch seems to have been intimately involved in the building and mixing process (as evidenced by his request "I want to listen again" at the finish of opener Rastafari on Wall Street). The productions are thick, booming and soupy: the opposite to sharp metallic continental clarity of ERM. They are unashamedly Ark-centric in use of antique spring reverb, delay and percussion but avoid the signature track bouncing, while the heavily compressed kick drum sound adds a modern UK roots dance feel. Over thumping patterns by Style Scott and Horseman, Boyle and the band create ominous moods caressed by Serbian stalwart Hornsman Coyote's trombone and bombastic eerie backing vocals from guitarist Hughie Izachaar and Christine Miller.

It's a positive that Perry's repetitive, preoccupied mumblings are often cloaked in the mix. Yet there is a seriousness to what you can hear - with little of the humorous wordplay of Humanicity - which fits with the fire and judgment of the music. He issues a somewhat belated demand that we Do The Dubstep, rhymes "pope" with "rope" and "permanent" with "firmament". He declares the end of the third world at the barrel of his "ganja gun" on a solid remake of his classic Blackboard Jungle (later there's a similar retread of Words of my Mouth).

Showcase LPs usually number around six vocals and six dubs. Boyle and Scratch have created a full album's helping of each - 12 A sides and 12 B's. If you're not into masculine, righteous roots and dub or Perry's patter – be warned: the vibe can get a bit monotonous for one sitting. The increasing trend among young international reggae producers towards recreating vintage sounds may also prove divisive - particularly for forward minded people who were actually alive in the so-called golden age. But unlike some Scratch projects where the legend feels like he was wheeled in at the final stages – this time the hand of Perry is on this collaboration featuring the UK Europe and Jamaica's finest musicians. It's a high point for latter-day Lee Perry albums and Scratch fans will certainly get their money's worth across two discs.
---
Release details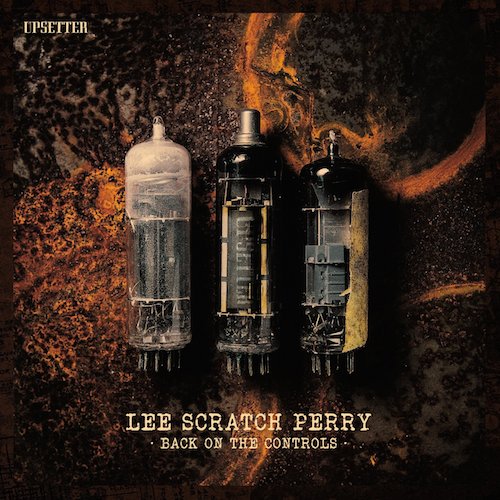 Lee Scratch Perry - Back On The Controls
CD / DIGITAL RELEASE / VINYL [Upsetter]
Release date: 05/13/2014
Tracks
Disk 1:
01. Rastafari on Wall Street
02. Wall Street Version
03. Po Satan
04. Po Dub
05. Tug O War
06. War Dub
07. Do The Dubstep
08. Do The Dub Version
09. I Believe
10. Believe This Dub
Disk 2:
01. Sound Of Jamaica
02. Sound Of My Dub
03. Blackboard Re-Vision
04. Blackboard Du
05. Land Of Dub
06. Land Of Dub Version
07. Copy This & Copy That
08. Copy My Dub
09. Come My Dub
10. Come Up Version