On The Road with Lee Scratch Perry in Ireland - March 2019
03/31/2019 by Gerry McMahon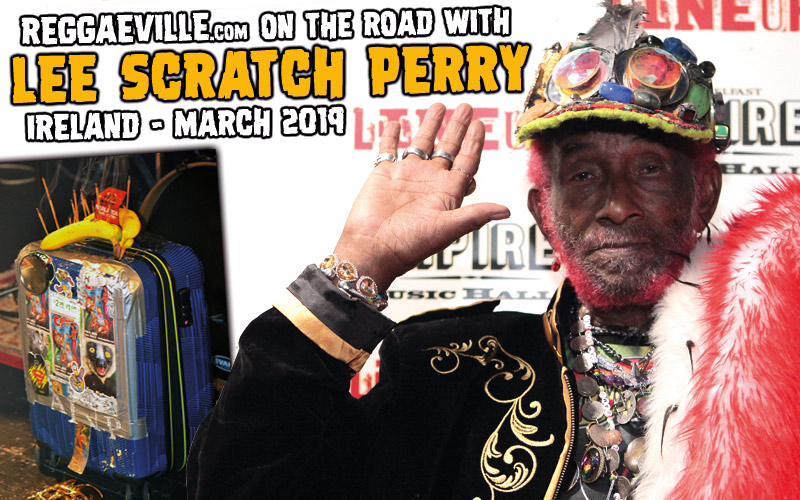 Lee 'Scratch' Perry is currently on a (yet another!) 26-date tour of Europe. On the Irish leg of the tour, Reggaeville had the pleasure of accompanying him from gig-to-gig on his cross-country treks. This was a real privilege, as the reality is that much of what enabled reggae to emerge as a distinct and popular genre can be attributed to this generous and gregarious Grammy winner.

From his sizeable impact on what many adjudge to be the best of Bob Marley and his Wailers, to the creative cultivation of the Congos, Max Romeo, Junior Byles, Junior Murvin, the Heptones and subsequent collaborations with a load of luminaries, including the Beastie Boys, George Clinton, Keith Richards and the Orb, Perry's mark in music and dub will long outlive him, you and me.

For many, his eccentricity is as much his hallmark as his great history. Hence, what choice did Rolling Stone magazine have but to rank him in their '100 Greatest Artists of All Time'?

Prior to taking the stage, the living legend that is Perry was asked by the promoter how he would like to be introduced. With a withering stare, he responded that he 'needed no introduction'. How right he is.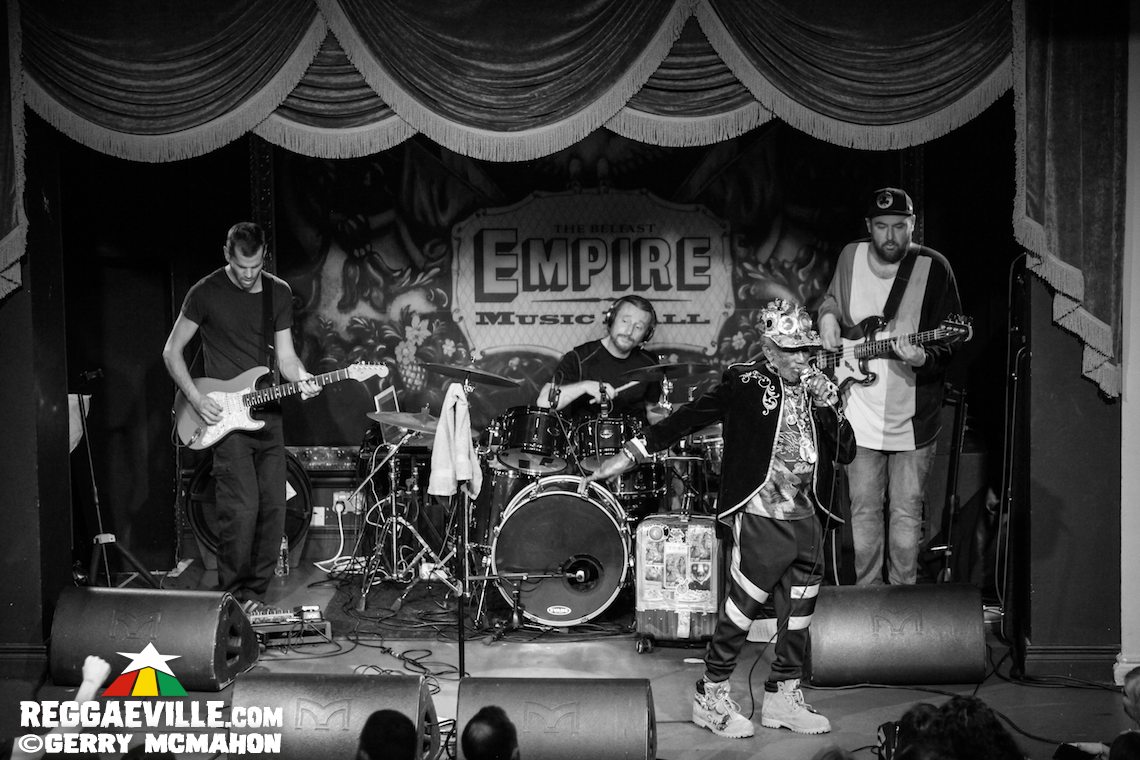 Reputedly reformed via an abstinence from alcohol, meat and marijuana, Perry's propensity to stand some of these assumptions on their head reflects his unpredictability, serving to make time in the company of this genuine genius a pure pleasure.

His recent annual pilgrimage to Ireland was comprised of five sell-out shows: in Derry, Belfast, Galway, Cork and Dublin. However, such is his tendency to rotate in a different orbit to the rest of us, that he had to be reminded on occasion by his audience as to which city he was in! This is equivalent to the exchange which ran: Lee: 'What time is it?' Answer: 'It's 12 o'clock Lee'; Lee: '12 o'clock – is that day or night?'. And yet, this octogenarian - who boasts that Superman is his hero - continues to function, perform and produce music of the highest quality.

Travelling separately to the shows were the new Upsetters, a top-notch French-based band called Easy Riddim Maker (ERM). This talented trio released a cracking good album with Perry back in 2013, called Humanicity. The band's line-up now includes band leader cum drummer Olivier Gangloff, with the easy-going Thibaut Levy on bass guitar and the considered and contemplative Sebastien Kohler on lead. Interestingly, the aforementioned Gangloff's extensive skill-set extended to the use of computerised vocal, guitar, percussion, synthesiser and dub inputs, enabling Perry's shows to present with instrumental variety and some extended flourishes! As a result, Perry frequently acknowledges the fact that 'my new band sounds very good'. And so they do!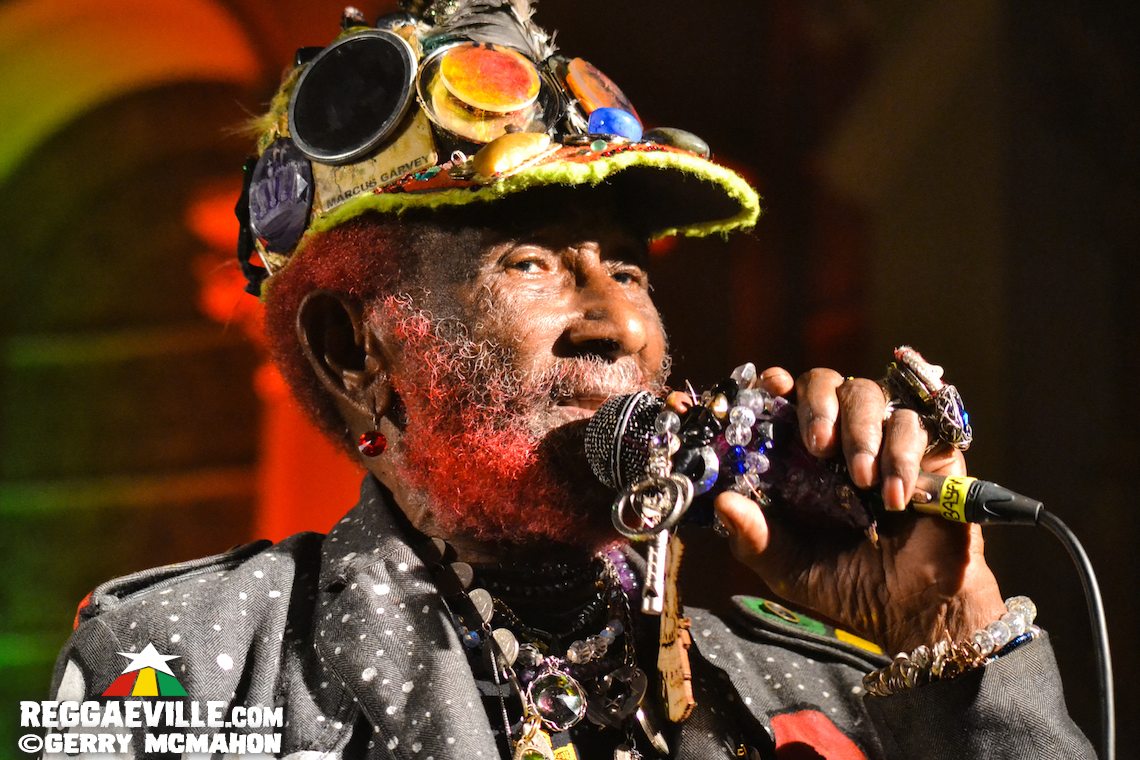 The show set - of around one and half hour's duration – has much audience interaction with some lyrical variation from night to night, reflecting Perry's avoidance of boredom and his capacity to rise to any occasion. Heating the metal cross and the other trinkets that adorn his personal microphone before taking the stage, Perry then launches into 18 standard set staples. The set kicks off with Rockhead before Perry enters to the sound of Crazy Baldhead. Thereafter the show is comprised of: Justice For The People, Adrian Sherwood's Scubba, Kiss The Champions (from the Time Boom album), the renowned Blackboard Jungle, the timeless Police and Thieves, Devil Dead (also from the Time Boom album), the crowd pleasing War Inna Babylon, Purity Rock (from the Panic in Babylon album), Jesus Perry (an ERM/Gangloff composition) , the need-no-introduction classic Sun Is Shining, Inspector Gadget (from the Secret Laboratory album), the extensively covered Catch Vampire, New Riddim (another Gangloff composition), the audience adoring Roast Fish and Cornbread, whilst Chase The Devil and Secret Laboratory serve as the encore, bringing the show to a close.

Of course these top tracks are frequently interspersed with Perry's inputs along the lines of: 'I want my ginger wine', 'Do you like my boots?', 'Say no to cocaine', 'Queen of England go to hell', 'Freemasons go to hell', 'Cigarette is the devil, Ganja is magic', 'Don't be anti-God', 'I don't do Dancehall any more' and 'It's a fantastic show', allied to a host of expletives of a political, scatological and misogynistic variety, that would leave others in jeopardy with their audience. But not Perry, whose eccentricity serves as his 'pass card' when things might otherwise get risky and rough.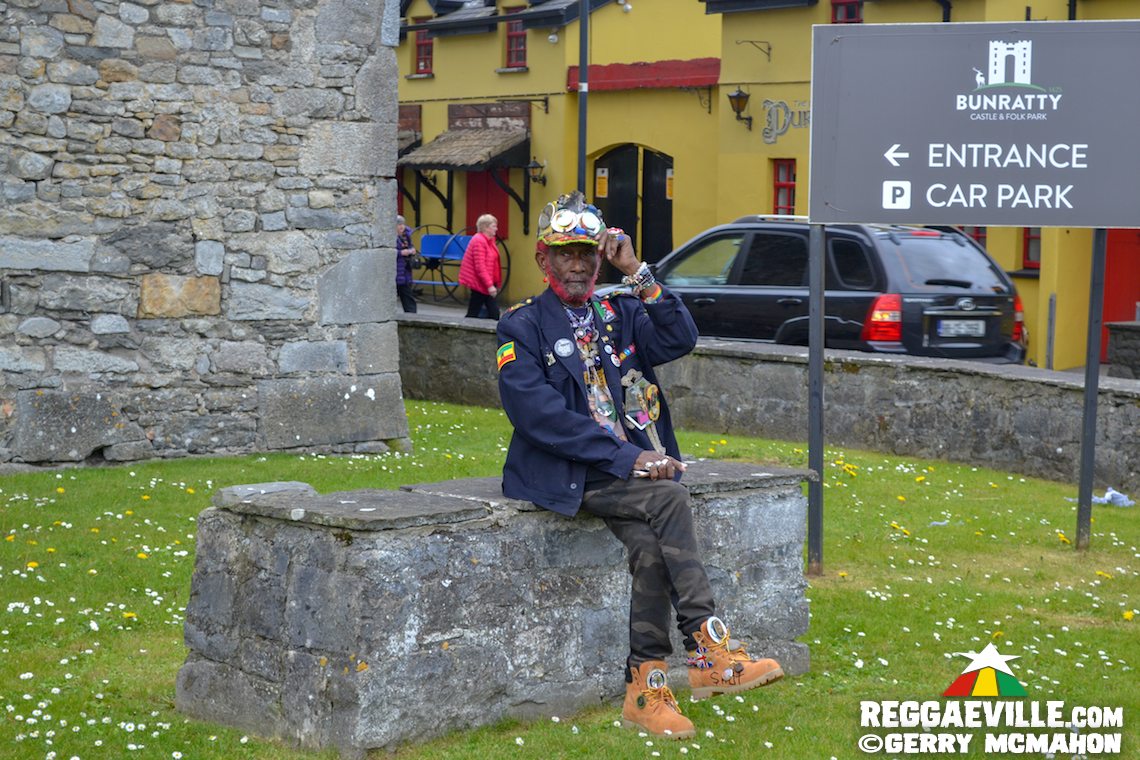 Despite his age, the long journeys and the fatigue that follows a live show, Perry made himself available to all at the post-show parties. Indeed, at these events his antics often surpassed those on display on stage at showtime, as he held court until the early hours of the morning. Truth be told, he was often the last man to leave the premises! Long may he thrive and his health hold, enabling his influence to persist far into the future.

MORE PHOTOS OF LEE SCRATCH PERRY IN IRELAND - MARCH 2019 HERE!