Interview with Lady Saw
11/21/2014 by Gardy Stein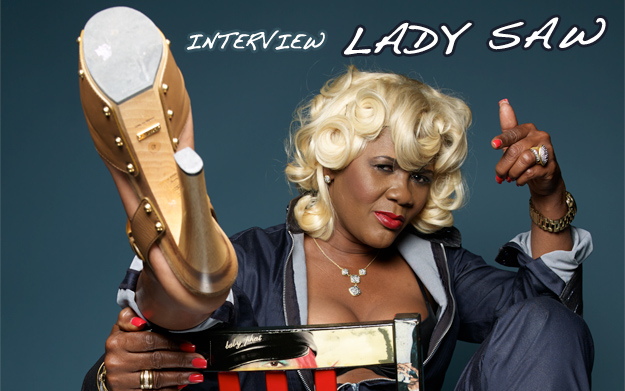 Talking to people is the only way to really get to know them. The things they've been through, the decisions they take, the reasons why they are who they are can only be understood properly if you put yourself in their shoes. Much more so if you want to know the real person behind an image people show publicly. In the case of Lady Saw, it would be more than underrating to reduce her to the outspoken performer of the songs she has come to be famous for – the successful artist is just one side of this adorable person! Her new album Alter Ego is a fabulous opportunity to let Marion Hall introduce you to her suaver side, to the soulful singer she is. In the very likely case that this opus only aroused your curiosity about her further, hold your breath and read through this interview. In a very personal and intimate account, Miss Hall shares childhood memories as well as recent developments in her life with us, making Reggaeville aware of what Alter Ego means to her and the plans she has for the Lady Saw Foundation:

Your new album has just been released - how does that make you feel?
I'm very excited about it. It's a masterpiece! I think I've done good with this one. To get Mr. Beresford Hammond on this album, it's like a dream. He's an icon, you know, and the same thing goes for Ali, formerly of UB40, and my sister Estelle. Estelle is such a darling, down to earth and real. To get her on that - beautiful! And Flo Rida! Come on... (laughs)

Did you meet all of them in person to work on the tracks?
I sat with Mr. Beresford Hammond... what I did was, I wrote this song and I asked him to do it with me. I wasn't expecting a yes, but the thing is, a lot of people tell me: "You don't know your power, Marion. Use it!". I'm like, I don't know because I'm shy normally. So, when I went to Mr. Beresford Hammond, I was blown away by his admiration for me and the way he put me up here (holds her hand up over her head). He said "Your talent exceeds my expectations and that of a lot of people... you're not just Lady Saw!"

With Ali now, I wrote with Ali... I wrote with the whole UB40 crew in St. Mary, at Oracabessa, they have a house there. I've done songs with them before, and when I asked Ali he was like: "Send the track!". He was in London and I was in Jamaica, so I wrote it and sent the melody and he called me back and said "You almost killed me on that, high five! You did good!"

And Estelle, I met her in New York, I met her in Jamaica, I always go to see her, I talk to her, I call her, we twitter, you know, she's a friend. So I asked her and I sent the track to her and she did it. Flo Rida, I met in Jamaica... Flo Rida, the thing is a dream. When I first did Heels On,Flo Rida was the person I wanted on it! I asked my manager James to put him on the track and he was like "Oh my God, you can't afford the man, he's expensive and you have to do all these clearances." And then, surprisingly, he came to Jamaica. I was on Sumfest, mashing up the stage, and he came to my stage and said he wanted to meet me and take pictures with me. So everything fell into place. Then I told my sister to ask him because I didn't get to go to his performance the next day, and I was surprised that they called me and we talked about it. Then I said "How much is it?" and he said "Nothing! I'm a big fan of yours! I just love your work and your person, having a pure heart and your soul is beautiful..." So, everybody just loves me, it's something that I can't explain.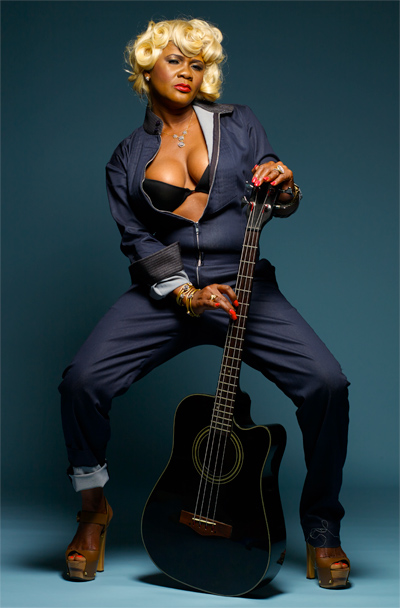 It's so good to hear that! What gave you the inspiration to produce an album called Alter Ego?
I grew up in church, so I was always into singing. When I started out, I started singing, but at that time, a woman wouldn't get a break like that, as a smooth singer. So I noticed the guys were doing all these aggressive things, and I tried it! And that's how I... that was the thing that gave me the breakthrough, being a DJ, a hardcore one. So that's why I left my singing aside. But the real thing is, I grew up on Country and Western music. My Dad was always playing Country songs, and Dolly Parton and Kelly Rogers were my favourite. I used to go to the bars and press Kelly Roger... that's how I have this old Soul in me and the Blues, I love Blues and Jazz. I always wanted to do something different and I think I reached a stage now, like I broke down all the barriers and the stigma about men dominating this business - no! I broke that down and a lot of women get to come through and get to do what they are doing... So for me now, I reached a stage or a level now that I can break away from Dancehall if I want. I can do something else! So I said: Ok, I want people to really know the other side of me! That's how I came up with this, saying to myself: You know what Marion, all the young ones they are fighting for your space in the Dancehall industry, they are causing a lot of havoc and trying to argue with you every day, so just step away. Mr. Beresford Hammond told me: "Step away from the Dancehall and do some other music, because you don't know your talent!" Sly and Robbie said that too, so all of that inspiration led me to do something else.

Talking about stepping away from the Dancehall business, what is your plan for this year's Sting?
(laughs) You know something, I won't be doing Sting this time around. I did Sting because of Joe from Downsound Records. I knew Joe for a while and he has always been good to me, like honest, he's a business man. He books you for a show, you get your money. No argument.

▶ BECAUSE I NEVER LOVED STING

So he was the reason why I did Sting. Because I never loved Sting, over the years it was never my type of show. I try to stay away from anything that's degrading to women. I never liked it. I never loved watching women argue with women, so over the years I always stayed clear of it. But then... what happened was I was going through some personal things in my life with my partner. I was with him for 17 or 18 years and something happened.... he went and he ended up in some cheating thing and it came out publicly. So when it came out, I realized that these females, three females, came at me like they think they have something over me now, so they could talk to me in any way. So they start spreading a lot of rumours, spreading lies that I was fighting against them and such. Two of them were with me and I helped them in the industry, so that is how the clash at Sting came about. I didn't want to do that! I didn't want to argue with no female, that's not me! But they kept talking, talking, pushing me down; and that was when I went on stage and I said I'm ready to get this over with. And it wasn't just one person, I was ready for all three of them. But only one came out, even though I was expecting to see another one. The thing is, I apologized about it to my fans and I didn't feel good about it, even when the world was saying "Oh my God, you killed that girl!" I wasn't proud of it. So for this year, I ain't going... I'm already booked for a performance in Portmore, at a new club called Famous. Joe is a part owner there so he already booked me. I'm not doing Sting, I wasn't a great fan of Sting.

I think your album shows that you developed in a different direction. Coming back to it, I read that you are planning to have a foundation and that part of the sales from the album will go there... can you tell us something about that?
Ok. I love giving because I grew up poor. The way I grew up, I've been through a lot of abuse - I talk about it! I've been through rapes and all that, living in the ghettos, and I know what it feels like when a woman is being abused. For years I've been giving to women, I drive out, they ask me for money, I give to them, I give to poor people, to children, their mothers... but I wanted to do more. So I went to my parish where I was born and there is a factory, an old factory, but it's no longer in working condition. I noticed it's for sale and I said to myself: I'd love to buy this! It's in my community, in my district, I want to buy this place and do like a workshop for abused women! I'd like to have another part of it too where you could leave your kids in a garden section in the building where we have teachers and nurses for them, and that's how the Lady Saw Foundation came about. I want to do so much, I want to build a school, a clinic... every album sold will help, cause this album was produced by me. I didn't take any money from any record company, it's just Diva Records and VP is distributing for me, so it's my money and I don't have to talk to anyone about it! From every album sold, I will be giving a part of it to my Lady Saw Foundation. I'm partnering with my two friends, Violet Lawrence, she's in Florida, and Lisa Smith, she lives in Australia, far away. But she has a school in Trench Town in Jamaica, she's doing charity. And she's also part owner in this hotel called The Rock House in Negril. She's a phenomenal woman. And Violet, I've been working with her for years. We're doing it together and this is how the foundation is going to run, they gonna help me with it.

▶ I'VE BEEN THROUGH A LOT OF ABUSE - I TALK ABOUT IT! I'VE BEEN THROUGH RAPES AND ALL THAT

You know... I'm gonna do so good because... I went to a women conference in Montego Bay years ago, to speak. I was very shy but as soon as I stepped in, I noticed some powerful women telling me: "You are what I want my daughter to grow up to be!" and they started praising me and that was when I was relaxed. When I mentioned that I wanted to open a clinic, a school, to help the poor and do my foundation, there were so many women, they came to me and said: "I want to give you money for your foundation." What, seriously? So, I am ready to give!

What I love about the album is that you put your own statements inside, in between the tracks. And you say at one point that you could be every woman. You mention three names: Cicely Thyson, Maya Angelou and Portia Simpson. Why did you choose them?
I recorded a song for Germain from Penthouse Records, he was Buju Banton's manager years ago. He's a great producer and he's been asking me all the time to write songs for Miss Marcia Griffiths, him and Marcia asked me to write songs. And I wrote two songs, I sent one to Miss Marcia, but they misplaced it through their Email. So he kept asking me to record for him and I recorded a song about all these powerful women, it goes (sings): "I don't need no man to validate me. I love myself so much, I appreciate me! I'm an independent woman, don't need compliments from no man to make me feel complete cause I complete me" and then I say (raps) "I'm Oprah, I'm Hilary Clinton, I'm Maya Angelou, Portia Simpson..." and I keep going on and on with all these powerful women and I sent it to him. And I'm waiting for it to drop, I also wish it was on my album. So that is how I came up with that.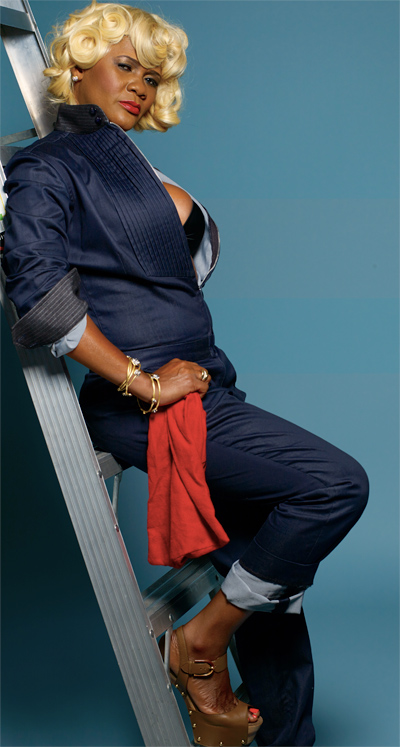 Also because, I've been through so much... there's layers and layers of Lady Saw. Like, I grew up rough, I grew up like a tomboy, climbing on the trucks to hang with the boys, to go to the dancehalls with the sound systems. I grew up with church, I grew up climbing all these coconut trees and taking off the coconuts to sell to the tourists, I grew up making brooms like my brother, I grew up doing all these things. I grew up playing football and I was the goal keeper and the guys kicked me down, my knees were bleeding and all but I said: You're not going to score a goal on me! (laughs). So, I'm a powerful woman and I could go right up there in a big conference and speak, you know what I'm saying? And I could be very aggressive on stage, but I could also sooth a young girl's soul. A young girl once called me up saying "Miss Hall, I've been raped and I'm going to kill myself." I used my story to stop this young 15-year old from taking her own life. I mean, I'm a powerful woman! For her to call me back a week after, she said "Miss Hall, it's me, I'm still alive!" that's simply because I wasn't ashamed of my past! I wasn't ashamed to say: I've been raped, but look at me now! The way I talk about sex, people wouldn't believe that this happened to me. I was wondering that day when she called me: God, why me? And I said "Oh my God, girl, you won't even get to see God's face if you take your own life!" And she said "I'm already in hell, Miss Hall." So the only thing I could do was dig up my past from way down because I pushed it away for so long... but this was what I had to do to talk to this girl, you know. I'm all women. I've been hurt, I've been used, I have loved and maybe I have never been loved by a man, because of the way I was treated, and I was lead to believe it was love. You know, my mom loved my Dad even though he beat the hell out of her and us, she stayed and then she ran away, she came back, she ran away, she came back... With my partner now... I left just like my mum and I took him back when he cries. He cheats - I took him back. But then I became somebody else. I'm like: Where is this girl growing up in St. Mary, climbing them trees? Climbing them trucks to get the canes out of the hills? The girl who ran with the boys? So, all of that makes me all women, that's what I'm talking about.

You mentioned a brother... Is your family a source of strength for you, do you have a good connection?
Oh my God, I live for my family! I remember... the way I grew up, I saw my mum washing people's dirty clothes all the time, a whole lot of things. And sometimes she would come home cause we lived in the ghetto, she ran away so my Dad took us all to Kingston and we had to go back and forth until we lived with her in Kingston... She used to wash for people and sometimes she'd come home and say "These people gave me so many clothes to wash today, and they didn't even give me lunch!" So I always looked on my mum... she was a small lady. I always said I want to take my mum out of this ghetto! We were living in one room and it was leaking. My young sister was 15 and she got pregnant, and the man was saying he didn't get her pregnant. You know, all this drama. I said to myself I gotta get them out. So I started going to the dancehall and I started going to clubs, hustling. Sometimes I'd go to the bar and put my sexy shorts on and I hustled from the men who were drunk, you know, I got some money and I bought two chicken, like the real live chicken, so I had to kill them myself. And sometimes the chicken... they were not chicken, they were fowls, they were so old! The country people bring them to town and they were old and you have to cook them with Papaya, Papaya make it soft, and old time people tell you to put a nail in the pot. So you put a nail in there to get it cooked. And I go to the market place on the street and I purchase whatever, I ask for whatever, I beg for whatever, I get my red peas and my rice and my oil and I go back home and I cook a big pot of food. My family always could count on me. "Marion is gonna come home with some food", you know. I was always out there hustling for my family.

▶ I ALWAYS SAID I WANT TO TAKE MY MUM OUT OF THIS GHETTO!

The thing that drives me to do... to be hopping this music and never give up was watching my mum washing for people. I remember one day, I wanted to relax my hair and she only had her last money and she gave it to me. And I relaxed my hair, it was on my shoulders, and I started running and my hair was just bopping around like that and I felt like a princess... I never forgot that and I said, I'm gonna make my mum rich and proud of me. So the first money I made, I bought a house for her. And I called her up and all my sisters came and my mum, she... we never grew up hugging each other and say I love you. The love I get… I don't even think I got love. My mum... you could see love in her eyes, you could see she wanna tell you something, you could see her appreciation, but she... she never grew up like that! My Dad now... he'd tell you to die, go die somewhere. He was not a loving man, he was very abusive. But what I'm saying now, my family... I have two big houses, one in Kingston and one in Ocho Rios, and I built them because of my family! So my family is in Kingston. I have another house I gave my mum, she passed away, the space is there, but they won't stay there! It's just one of my sister and her kids, and all the others are where I'm at! You know, my sister is building a house, she's building it close to me, and my Dad lives in one of my houses... people ask me "How the hell is he living in your house, don't you remember the way he treated you?" But I have a different heart. So he's there. Yes, my family and I are close, but I'm not gonna sit here and lie: they stress me out!

Yes, that's what family does!
I have to pay for everything! If somebody is sick, it's Marion - that's me. If the kids are sick or going to school – me! Somebody gotta go see the doctor, somebody gotta go to America, somebody gotta go to college – me! That's my family. I have three children, two nephews, because my brother was abusive to them just like my Dad, so I adopted them, and a little girl I adopted from off the streets. She's grown now, she's married, she went to Nashville to College and University, she's trying to get a baby with her husband now, she makes me proud! The two little boys… the older one is always seeking and searching on the internet and hooked up with the wrong type of people, he messed up himself. The smaller one, I think he's a good kid, he's just... his brother he led him in the wrong direction. I did my best as a woman, I sent them to different schools but they didn't come out to do nothing, so they disappoint me, but still... I still love them, but they messed up.

I didn't have a man to lead them. In the relationship I had, he had this young man mentality. He wasn't going anywhere, he kept having these babies on me. You know, I had so many miscarriages and he was a part of that, he kept stressing me out anytime I'm pregnant with all these women and it was all over the media and all these females jumping at me... I had to get him out of my life.

It's admirable how you didn't break on all that. You just moved on, and now bringing out an album like this... you seem to be happy and in peace with yourself!
And I'm going to do a movie, an autobiography movie! You know, I was writing a book years ago but then I couldn't find it. I was halfway through but then... I used to give interviews and say I'm writing a book about my life and then other people ran with the idea, other artists. And they started writing books so I put it off for a while and then I couldn't find it. I think it was my man at the time, I think he was ashamed of my past maybe. Why I came to that conclusion is because I started writing another book and I put it far away and he found it, and he didn't want me to do it and I wondered: Is he ashamed of my past? Anyway, good thing he is out of my life now. I'm planning on doing an autobiographical movie; when I was writing the book, my friend in Australia introduced me to a lady in LA who is into movies, and she wanted to do it, she said my life story just blew her away. But she is no longer with that movie company, so as for the recording, I'm gonna do it in Jamaica, with a local movie crew, maybe. Or, let me see... maybe lifetime will take it up for me.

My last question is about the tracks on your album. Who produced the music?
What you do is this: you call the musicians up, you sing and they will follow and make the riddim out of your creativity, so that is your creation. You pay them or if they're close to you they are like "We're good." That's what I did. The album is produced by me and the musicians in there are Ernie Wills, I worked with him, I worked with Ward 21, I worked with Teetimus, he did Heels On and Cockpit... I sing and he followed. I wrote this song, I wrote all my songs, Flo Rida wrote his part, Estelle wrote her part too and the others it's me right through. I took a few songs I liked to my DJ and he dropped the base record. I recorded Pretty Fingers for him, and he made the riddim. Pretty Fingers is about loving yourselves, ladies, if you don't have a man or you don't trust him (laughs). The other lady from Stashment Records, she produced Me & Mi X and also, Clarkee in America here, he produced Whine, the Soca song. Those three are produced by other people, and then I produced the rest.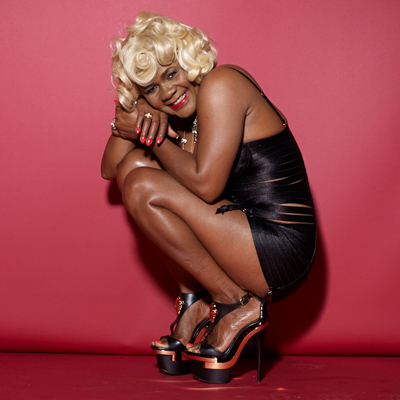 Do you have a personal favourite?
Oh Lord, I have more than one. This song with Estelle, I love it. It's different. But the song with Mr. Beres Hammond, it's about me, it's about a girl who is broken. It's about a lot of young ladies actually, not just me. When I did it, people asked me if it's about me, but I didn't want to open up about it yet. I said it could be, but it is about me! I wanted to do a video for this song and it would be like a movie... "She's now a lady of the night, she loves to be on light" (sings). It's about me and other young females who lost their way, so that's very deep for me. Hate Your Guts is another song that... it makes me feel like it uplifts me because I was allowing this man to walk all over me and make me look stupid and then I realized that I could get up and dust my shoulders off and say: "Someone else is loving me, and he does it much better!" (sings)

I didn't know where am I gonna go from here, who am I gonna be? Is there another man who is real? Who accepts my flaws? You're afraid to put your foot in that water! But when you try it you find that there are people out there, there are good men out there, you just have to take that step! So maybe I wasn't taking that step because I'm Lady Saw and I feel like a man is gonna want to be with me because of who I am and my money you know, because that was what it was about before. But there are good people out there and when somebody tells you… Look (takes off her cap)… you don't wear a weave, but he tells you you're beautiful. You're beautiful! If he says your skin is dry and he rubs it with some oil... Not that my Ex didn't, he used to, but he was doing that for another reason. He wasn't true to me. But then if somebody tells you you're beautiful, he appreciates you and he doesn't want you to pay for it… You know what I used to do? I used to go for the pretty hot boys. Cause I feel like: Oh I have the hottest man in the game, you know. But pretty is not always as pretty as it seems. You could have a pretty poodle dog or a Chihuahua, but it's nasty, you know what I'm saying? Now I need respect, that's what I'm looking for, and I would love for every woman to look for respect, for men who appreciate you. I'm happy now, I'm free. I remember when I used to wake up in the morning, I used to feel miserable, I used to feel sad, I used to cry for what reason I don't know, I was just crying! But now I laugh so much that I ask myself: Huh, is this the laughing season or something? And it feels good! When I wake up it feels good! I'm not looking at a man I don't want in my house, I'm not looking at a lying man, a man who just slept with somebody last night and now come sleep with me, no! I feel free, and I feel good about myself, mhmhm! I look in the mirror and I see: Girl, you have a banging body even though you're not working out! (laughs). And I sing… you know, I love myself!

A lot of people love you too!
Girl, I'm happy. I'm free. I'm just loving life now, and I think we should all just live, laugh, love, you know, enjoy the best food you can... When I sit at my veranda alone and I drink a glass of red wine I tell myself: Marion, you've come a long way, you deserve it.

I want to say thanks to the fans for all the support over the years, and the love. I'm so loved that sometimes I get teary-eyed. This morning I read a tweet, the man says "You have such a beautiful soul, such a kind heart. I love you!" and I felt so appreciated because, as I said before, I never used to get love at home, so when people say those things, I'm thankful. And I really need support for this album because I need to help these women too, to support them and uplift them!

Thanks so much for talking to Reggaeville. And all the best for your foundation!!!