Peter Tosh - 75th Earthstrong Celebration in Jamaica 2019
10/09/2019 by Reggaeville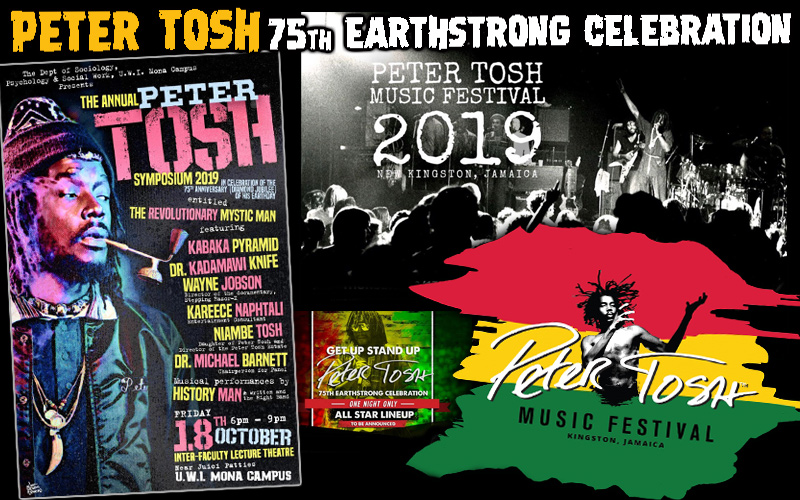 The details for the annual Peter Tosh Music Festival have been announced.

The celebration kicks off with the 3rd Annual Peter Tosh Gala Awards (by invitation only) on October 17, 2019. Check the photo report of last year's Award ceremonies here!


OCTOBER 18, 2019
The Dept of Sociology, Psychology & Social Work, U.W.I. Kona Campus Presents
THE ANNUAL PETER TOSH SYMPOSIUM 2019 - THE REVOLUTIONARY MYSTIC MAN
In Celebration of the 75th Anniversary of his Earthday featuring:
Kabaka Pyramid
Dr. Kadamawi Knife
Wayne Jobson (Director of the documentary Stepping Razor-X)
Kareece Naphtali (Entertainment Consultant)
Niambe Tosh (Director of the Peter Tosh Estate)
Dr. Michael Barnett (Chairperson for Panel)

Musical performances by History Man & Written and the Right Band

Location: Inter-Faculty Lecture Theatre Near Juici Patties U.W.I. Mona Campus. Friday, October 18, 2019 6pm -9pm.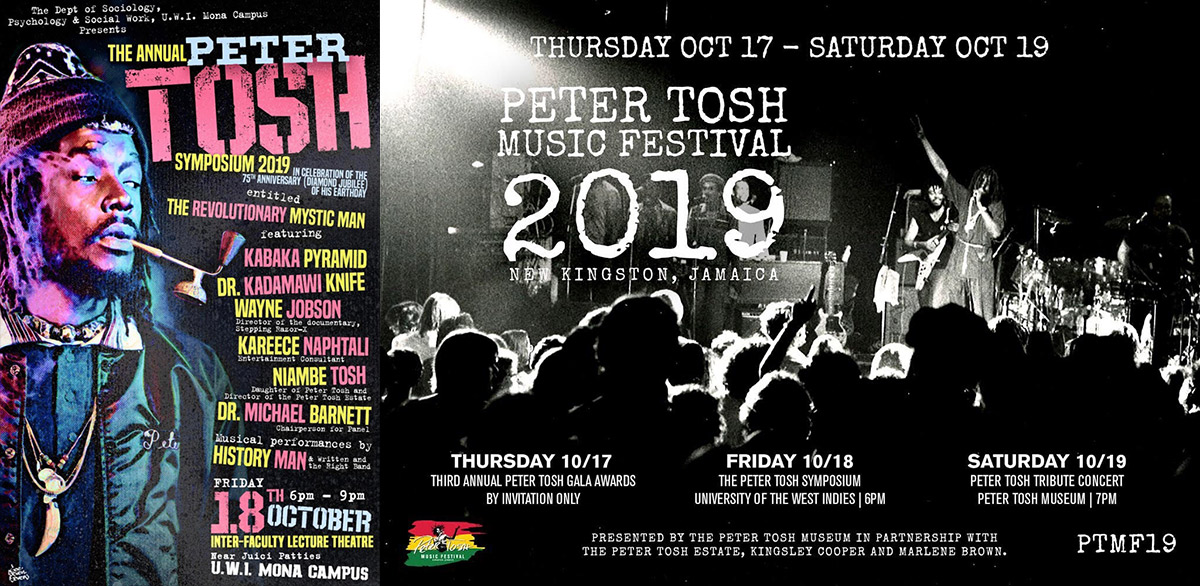 OCTOBER 19, 2019
The annual Peter Tosh Tribute Concert returns to The Peter Tosh Museum at the Pulse Center in Kingston Jamaica on Saturday, October 19th, 2019, to celebrate the 75th Earth Strong of Peter Tosh.

Tickets are FREE to anyone who visits the Peter Tosh Museum between October 8 and October 18, 2019.

LINE-UP
Andrew Tosh
Ky-Mani Marley
Duane Stephenson
Warrior King
Bushman
...more to be announced