Review
Album Review: Kumar - Kulture Walk
05/03/2020
by Steve Topple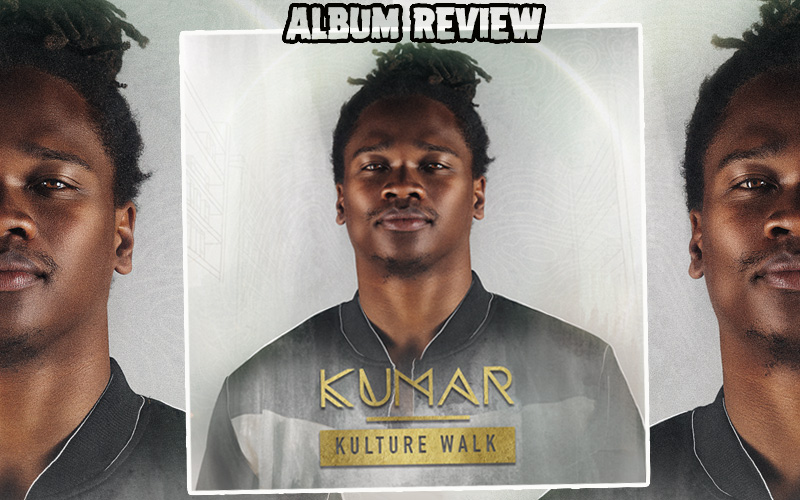 If there was ever an anticipated album in Jamaican music, it could well be the solo debut from Kumar. Now, that time has come. Because the project has arrived – and it's dazzling in almost every sense.
Kulture Walk, released via Kulture Walk Music Group, is a daring project by the former Raging Fyah member. Musically expansive, it sweeps across genres. Yet the project doesn't provide a recognisable style for Kumar. This, for many other artists who were introducing themselves to the world, could be problematic. But for Kumar, it's perfect – showcasing him as a vocalist, composer, lyricist and producer.
He doesn't shy away from his Roots grounding on Kulture Walk. Its musical influence can be heard across tracks like Dry Bones - with its one drop, half-time guitar skank, call and response horns and bubble rhythm. The bass is also authentic Roots/Dub: syncopated before dropping off on the fourth beat. But the composition goes further than this. The smoothed-out intro, with a heavy sax solo from Dean Fraser and building instrumental layering, is more than a little bit Soul. Coupled with the omnipresent, high-passed keys which at times work off chromatic (off-key) notes, and Dry Bones becomes a Roots/Soul hybrid affair – much of it courtesy of its arranger, the legendary Clive Hunt.
But Kulture Walk's foray into Soul on Dry Bones represents the album's driving force. On the divine Live Another Day, with the always on-point and delicious Chevaughn and production from Notis Records, the Roots influences are there (note the embellished one drop). But you'd be forgiven for not noticing them. The track's driving force is Rock-Soul, with its lilting electric guitars, Hammond organ, root to major fourth chord progressions and Gospel-esque, vowel-heavy call and response backing vocals.
Meanwhile, One Day borders on the Pop/RnB side of the genre – as keys runs arpeggio chords and acoustic guitars all get a bit Ed Sheeran with the driving drums, with intricate production from Walter Bonnot. Loyalty delves into soulful Lover's Rock, complete with bubble rhythm, Doo-Wop backing vocals, exceptionally 80s high-passed synth horns and electronic claps.
Then, it all gets a bit Funky, Soul-wise, across Race Of Your Own with M-1 (of Dead Prez). A forthright Hammond organ jostles for centre stage with madly riffing electric guitars. The drums are driven by the kick on the downbeats, and M-1's fine performance adds to them, brining a bit of Hip Hop to proceedings.
But it's genre-mashing which shows Kumar and Kulture Walk at its finest. Remember Me - courtesy of one of the most exciting producers of 2020, Week.Day – is a pertinent example. The drum arrangement is Hip Hop, which drives the track forward. The synth theremin brings some Afrobeats to proceedings as do the horns on decay. Then Kumar delivers a vocal sitting somewhere between Soul and a classy singjay. Sailing is in a similar vein, but it shows Kumar and Week.Day's compositional skills, as the low-passed production coupled with more elongated orchestration takes the album into Neo Soul territory. The gorgeous track is one of Kulture Walk's highlights.
The African influences on the album are also clear. It's opening full track Trading Places has a stripped-back, World Music vibe about it: the imposing, brooding snare, bendir and dundun opening is anthemic in quality and coordinates the momentum. The delicately orchestrated strings glide across the bars and Kumar's exceptionally expressive vocal makes Trading Places a highly moving and compelling track.
Grain Of Sand moves these influences into overdrive, with Agent Sasco lending his talents to the track. It's a fascinating mash-up of Afrobeats (on the stuttering, frantic percussion and pulsing, on-beat bass), Roots (the just-out-of-earshot bubble rhythm and beamed, singjay verses), Middle Eastern/North African composition (the use of chromatic semitone changes on the tinny, decayed horn lines), Dub (some heavy, elongated reverb and synths) and Soul (the heavily layered backing vocals). Yes – all that is possible in one track. And Kumar and Sasco, with help from producer Robert Livingston, pull it off superbly.
Kulture Walk concludes with Jamaica. It's a fitting end, because it amalgamates the musical parts that have come before it well. But it also has a real throwback vibe, in an almost musical tribute to the artists that came before him. As a conclusion to the project, it makes sense (taking Kumar back to where it all began both geographically and artistically). And musically, it's an intricately scored and purposeful finish to the project.
The album's thematic and lyrical content do truly impress. Kumar has a deft hand at mixing the more radio-friendly, easy-on-the-brain material (like Loyalty) with some deeply conscious and philosophical messages. Dry Bones is a perfect example of this, with Kumar dissecting the nature of the system, our mortality as humans under it and the willingness of those in power to view most of us as nothing but 'dry bones'. It's searing yet accessible work.
But it's him as an artist which is truly Kulture Walk's revelation. It would be enough that Kumar is a highly skilled and naturally gifted vocalist: rich, technically brilliant and intuitively expressive – gliding between tenor and falsetto, morphing his vibrato depending on the track and performing runs and glissandos with crystal-clear intonation. But his composition and production skills are also top-class, with many of the tracks having the potential to be hits in their own right.
Kulture Walk is an artistic masterpiece. Since his departure from Raging Fyah, it was unclear where Kumar would be headed. But the first full stage of that journey is complete. And it may well be one of the most competent and impressive releases of 2020; one that will also stand the test of time. Scintillating.
---
Release details
Kumar - Kulture Walk
DIGITAL RELEASE [Kulture Walk Music Group]
Release date: 05/01/2020
Tracks
01. Intro There Is No Movement Without Rhythm
02. Trading Places
03. Live Another Day feat. Chevaughn
04. Sailing
05. Grain Of Sand feat. Agent Sasco
06. My Life My Message (Interlude)
07. Dry Bones
08. One Day
09. Loyalty
10. Race Of Your Own feat. M1
11. Remember Me New Mix
12. Dry Bones (Piano Version)
13. Jamaica
Featured artists
Chevaughn
/
Agent Sasco