Lead Singer Kumar Bent Leaves Raging Fyah
07/10/2018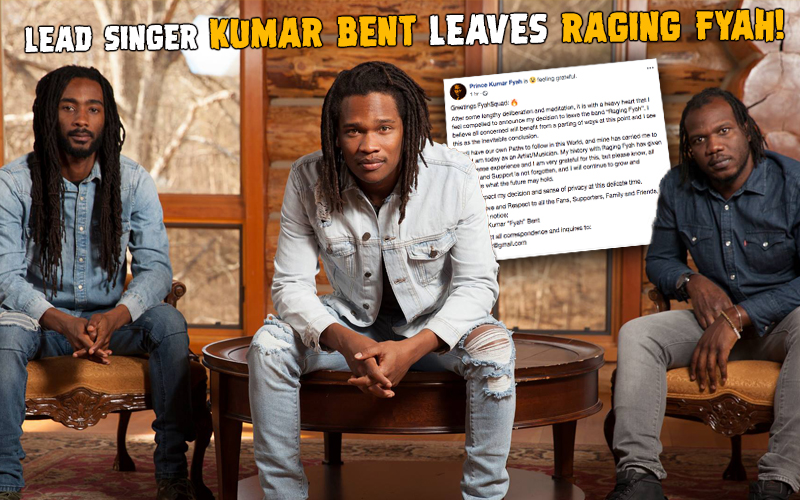 Even though there are dozens of positive sayings about changes and new beginnings that certainly contain a lot of truth, these news are a big shock.

Lead singer Kumar Bent today announced (via Facebook & Instagram) his decision to leave Raging Fyah:

"Greetings FyahSquad,

After some lengthy deliberation and meditation, it is with a heavy heart that I feel compelled to announce my decision to leave the band "Raging Fyah". I believe all concerned will benefit from a parting of ways at this point and I see this as the inevitable conclusion.

We all have our own Paths to follow in this World, and mine has carried me to where I am today as an Artist/Musician. My history with Raging Fyah has given me immense experience and I am very grateful for this, but please know, all the Love and Support is not forgotten, and I will continue to grow and appreciate what the future may hold.

Please respect my decision and sense of privacy at this delicate time.

One Love, Kumar "Fyah" Bent"

Although no official statement has been given by the rest of the group as yet it seems as if this could be the end of Raging Fyah.

Raging Fyah is supposed to tour the US end of July/August and appear on Reggae Sumfest - July 21, 2018!
UPDATE - JULY 10, 2018
Statement by Raging Fyah via Facebook:
"It is with a heavy heart that we come to you today to let you all know that our brother Kumar has decided to leave the band. We want to thank Kumar for all his sacrifice and hard work that he has put in on our musical journey. We want to let you know that the Raging Fyah journey continues."
UPDATE - JULY 12, 2018: Press Release by L3 Publicity
"Kumar Bent, lead singer for Grammy Nominated Reggae group Raging Fyah has announced his departure from the group, and the beginning of his solo career. Upcoming tour dates that are confirmed bookings will be honored, and fans can expect their new album, due in August via their label VP Records. The group will continue with Delroy 'Pele' Hamilton aka Bassie and Demar 'Demz' Gayle on the keyboards. The group will remain with Lukes Morgan as management.Kumar said "this journey has been a joy. I am thankful for the opportunities received in my time with Raging Fyah, and the Fyah Squad who are the greatest fans. This part of the life cycle calls for me to move on to the next chapter. I am confident in what is coming next." The groups website and all social media handles will remain active. Additional details about Kumar's plans and Raging Fyah's plans will be shared over the next few weeks."