Review
Album Review: Yellowman - No More War
07/19/2019
by Gardy Stein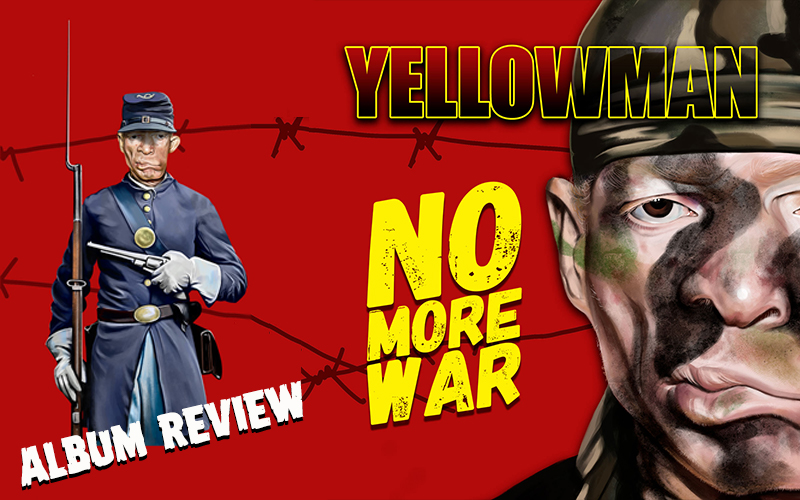 First things first: we are talking about a legend here, a legend who contributed to the foundation of a whole genre. Just like Bob Marley carried Reggae into the world, Winston Foster aka Yellowman introduced Dancehall to an international audience. Bursting into the turbulent Jamaican soundsystem scene in 1979, he was an instant hit with the locals who has always held a fascination for the extraordinary. With Henry "Junjo" Lawes, he found the perfect producer to match his style and lyrical prowess, and recorded one album after the other, what even earned him an entry in the Guinness Book of Records. In 1983, Yellowman was diagnosed with skin cancer and was told that he has three more years to live. Today, 36 years later, he is still alive and kicking, stunning the world with energetic live shows - and a new album!
Its title heralds a mature, sincere artist: No More War is a claim made by many others before him, but, really and truly, it can't be said enough. Recorded, mixed and mastered at Anchor Studios in Kingston, the real pusher behind the release is actually Yellowman's eldest daughter K'reema. An aspiring singer herself, her father is the first artist she signed on her freshly founded label Yellow Baby Records.
Not only is she sitting in the organizer's chair, though, but she also takes an active part in the creation of the album. She is featured on Better Days, Love Who You Want and Family Affair, as well as singing background harmonies on many others, and her clear, melodic voice definitely helps to smooth out some of the audible shortcomings of Yellowman's vocal apparatus. The physical inhibitions the singer suffered after a surgery took away part of his jaw do impair his voice, but can't stop him from singing, as the tender Kiss Me Each Morning and a livication to his grandchildren, Reggae Lullaby, show.
In contrast to these softer tones, the artists' Dancehall socialisation shimmers through in Welcome To Jamaica, including a shout-out to the genre's veterans, and especially in No Woman Tonight on the Real Rock riddim, a version recorded for the first time on an album here. It is evident that Yellowman hasn't lost his humour either in Sex Education and Rubber Rubber, a funny but instructional cover of Shaggy's Mr. Boombastic.
Teachings have become a significant part of Yellowman's musical convictions anyway, as the title track No More War and the pensive Religion on the joyful Nanny Goat riddim let us know - both treat important and topical issues. Apart from the omnipresent K'reema, other features include Abijah in the Ganja-tune Rootsman, and Border with the two singers Desmond Brown and Ganesh.
Musically, the album is on a high level due to a great performance of the instrumentalists involved, an impressive list sporting talents such as Wayne "C-Sharp" Clark and Dorian Nashar Green on drums, Danny "Axemon" Thompson (bass), Richard Folks and Simeon Stewart (keys), Stingray on horns and the recently deceased Winston "Bopee" Bowen on guitar, among others. And although a few tunes don't quite live up to the standards thus set (e.g. Family Affair or Love Who You Want), No More War is a must for all fans. Addressing them directly in his final Thank You, Yellowman takes a touching leave: "Hello my beautiful people and my wonderful fans, this song is for you! Thank you for your loyalty, thank you for supporting me through the years."
---
Release details
Yellowman - No More War
DIGITAL RELEASE [Yellow Baby]
Release date: 07/19/2019
Tracks
01. No More War
02. Better Days feat. K'reema
03. Welcome To Jamaica
04. Love Who You Want feat. K'reema
05. Kiss Me Each Morning
06. No Woman Tonight
07. Sex Education
08. Rubber Rubber
09. Religion
10. Family Affair feat. K'reema & Abijah
11. Reggae Lullaby
12. Rootsman feat. Abijah
13. Border feat. Ganesh & Desmond Brown
14. Thank You
Featured artists
K'reema