Interview with Yellowman - Never Surrender
07/10/2019 by Gardy Stein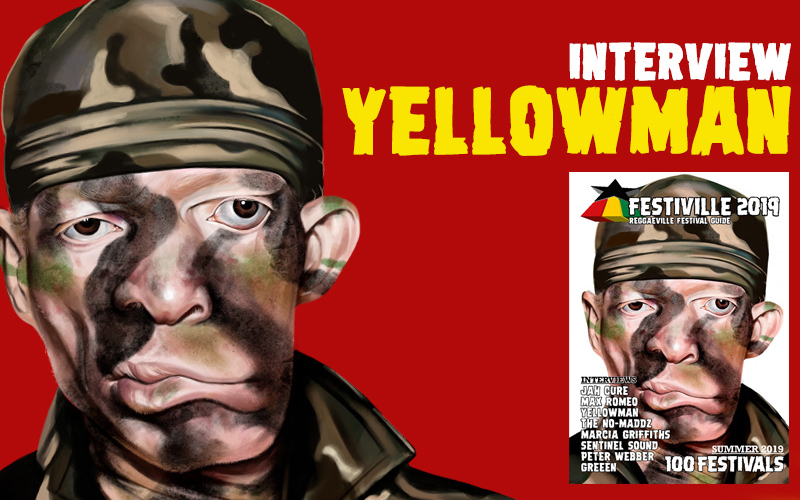 If ever there was a living legend, it's this man: Winston Foster aka Yellowman! Obviously, he found a way to transform every blow life deals him into a burst of creativity. Abandoned as a baby because of his obvious albinism which is considered a curse in rural Jamaica, he grew up in an orphanage, constantly ridiculed by his peers. But did he turn bitter? No, he turned to music as a valve for his energy, started to deejay on diverse soundsystems and, in 1979, won the Tastee's Amateur Talent Contest with his unique voice, irresistible humour, puns and considerable charm. After a stellar career in the early 80s (the fact that he produced as many as 10 albums a year even won him an entry in the Guinness Book of World Records), tragedy struck again when he was diagnosed with skin cancer in 1983 and an operation to remove a tumour robbed him of half his jawbone three years later. But did he resign? No, he dedicated more time to fitness and physical health, a fact that becomes evident in his stage shows today.
And as if the fact that he is still touring wouldn't be enough to consolidate his legacy, he went back to the studio after 15 years to release an album called No More War. Created in collaboration with his daughter K'Reema, herself an aspiring singer, it reflects his mature outlook on life. No more slackness, no slippery allusions, but conscious and instructive lyrics set the tone. Reggaeville took the chance to converse with this one-of-a-kind artist via WhatsApp, brushing on early experiences in the business, private matters and, of course, the upcoming album:
I think there is no introduction needed for Yellowman. Still, I'd like to ask you about your early beginnings. What was your motivation to start singing?
It's like... good feelings. Singing always made me happy. When I started to listen to others like Daddy U Roy, Big Youth and many more, it made me want to sing too.
The first sound you started to follow was probably Sister Ignatius' Sound, the then headmistress of Alpha Boys School. Can you tell us about your early exposure to Dancehall?
That's not the first sound I followed, but one of them. I used to start deejay on soundsystems like Aces International from St. Thomas, Gemini in Kingston, sometimes with Virgo International, Stone Love and many more.
One of the first producers you worked with was Henry "Junjo" Lawes. Can you tell us what kind of person he was?
He was a good producer. He knew the hits! He used to come to the dance and listen to the singers. When I was on the soundsystem, he would say "That is the music I want!" It was good to work with him, because he is a guy who knew exactly what the people want. We became friends also, we used to hang out after work and go places together.
I read somewhere that he even gave you a BMW once, is that true?
Yes.
Who do you miss most from back in the days? Like Junjo, many artists have been killed or passed away.
There is a lot of artists I used to know, like Dennis Brown, Bob Marley, people like I-Roy and many more who pass away already. And just recently Frankie Paul. May they all rest in peace!
Your success in the early Eighties caused a big festival like Reggae Sunsplash to install a Dancehall night in 1984, because people wanted to see you perform. How did that feel?
Yeah man, just great! Because Dancehall was the new thing in that time, so it get very popular. They have the first Dancehall night at Reggae Sunsplash, it started from there, until now. It was a good experience to perform there, my first big show in Jamaica!
And after that, you just kept recording. I read that you are also involved in charity work - can you tell us what you are doing?
Well, you know, I do a lot of charity concerts, we do them for UNICEF and for the American Cancer Society and for the Cancer Kids in America. We don't have an organisation, we just do concerts, and we do recordings and whatever the records sell we give it to UNICEF or the others.
Wow, that's great. Big respect for that! You are also very active on social media channels like Instagram. What do you think about this new way of communicating?
It's good and bad. It's good because it's easier to communicate, to reach the people. We artists now, we don't have to fight for the radio stations anymore, because we have the social media and it's more easy now to promote yourself, so that's very good. I'm on Instagram and on Facebook also.
On your Instagram channel, I saw a lot of posts about the upcoming album, No More War. The first album in 15 years! What was the motivation for this release, to pick up recording again?
Well, there's not too much good Reggae music coming out of Jamaica anymore. So, I have to bring back this style now! Because, some of the new music I'm hearing, they call it Reggae but it's not Reggae. I think it's good when I'm back in the recording scene again.
Who is the producer of the album?
My eldest daughter, K'reema! The album is released on her label, Yellow Baby Records. She started it recently, she's the creator.
K'reema is a promising singer as well, and you even went on tour with her already. Did you train her to do music?
No man, she's a talented person, so it came naturally. I didn't tell her or teach her, she just got it! She continues the legacy. But, you know, the bass player of the band, he's trying to take the legacy too. But I'm not going to allow him (laughing in the background - obviously, the bass player was following the interview).
Are any of your other six children musically inclined?
I've got two sons who are in the music as well, they are doing good. The others, no.
You mentioned the bass player, can you say something about the musicians on the album, the band you recorded with?
Well, we had to use some musicians from Jamaica, because the Sagittarius Band is too far. We live in Jamaica, they live in Florida, you know. And since the album was recorded in Jamaica, we took some musicians from there.
In your early days, you freestyled even when recording. Did you use this approach for the new album as well?
Normally, I don't write songs, I just go to the studio, I listen to the riddim, I voice, that's how I create. Some of the songs on the album, I freestyle too, but some of them, my daughter and I write them together, and my youngest son also.
Apart from K'reema in Better Days and Love Who You Want, there are some other features. Can you introduce them?
On Rootsman, we have Abijah. He is my brother-in-law, K'reema's uncle. He is a singer. Do you remember that song called Oh This Will Be A Revelation (sings)? That's Abijah. Then there is another feature on Border, that's a guy who is a detective in Jamaica, a policeman. The other guy on Border, he lives in California they call him Lavish. He looks like a younger me, you know. A lot of people think it's my son, you know? And then I got my musicians around here, I don't know what happened to them, maybe they don't take their medication or something... (laughs with people in the background)
Talking about the issues you sing about, they are very diverse. Which one is most important?
No More War, that's a very important message. It's my favourite song on the album, the message I want to bring across. I want all the people to be uplifted in peace and love and harmony and listen to the music, because music is life, you know. I also like the song Sex And Sex Education, I think it's important to talk about it, too.
No Woman Tonight is on the Real Rock Riddim - do you have a special connection to this riddim or why did you choose to use it?
Real Rock! I've been doing that song for years live on stage, but I never recorded it. It is a favourite amongst the audience everywhere I go, so I decided to put that song on the album.
What about Reggae Lullaby, who was it written for?
My daughter wrote that song, actually. It was written for my grandson.
The album cover is not finalised as we do this interview, but I saw some nice album artwork already on your Instagram channel...
Each picture held a story about black soldiers in different wars of the world.
Where did you find out about these stories?
It was my daughter and her husband, they researched it and let me know the history, about the Tuskegee Airmen, the USCT Freedom Fighters, the Buffalo Soldiers... check it out!
You mentioned earlier that you are not satisfied with the recent musical output of Jamaica. What's your vision for Jamaican music now that Reggae has been added to the official Unesco Cultural Heritage List?
Jamaican music becomes what it became already with Bob Marley and Peter Tosh and Jimmy Cliff, Mighty Diamonds, Third World, Dennis Brown, Alton Ellis, The Heptones, Lee Scratch Perry and many more, you know. It's all there!
Do you think that the return of Buju Banton will have an impact on the Jamaican music business?
Well, Buju will always have an impact, from before he was incarcerated he had an impact! But, you know, it's been a good while and I hope he will keep it up long enough.
Have you met him since he's back?
No, not yet. I'm trying to wait until everything quiets down a bit.
Apart from singing and recording, what do you enjoy doing?
Sometimes I play basketball and I do a lot of workout. I also visit a lot of friends and deal with my children and the grandchildren.
How many do you have, if I may ask?
Nine!
Wow! So you have great people around you. Another personal question, if you don't mind, did you ever try to find your parents?
No. They tried to find me but I don't know if they are my real parents. My family, that's my wife and my children and my grandchildren. And I have good musicians around me also. The bassie and the drummer... I work with them and I tour with them. We are starting a tour tomorrow, we will go to Holland, that's one of my favourite stops in Europe, and when we finish, we will start in the US with Alborosie, and after that we go to the UK and that's it.
Which artists would you like to work with?
Well, we talked to Sean Paul already, and we talk to Slightly Stoopid and some other artists, so there are things coming your way, watch out.
So you are not getting tired of music at all?
No, I'm not tired! Music is my life, you know, that's the only thing I do!
In my opinion, you are setting a really great example for musicians and singers to follow. What you've been through, and still you never gave up, I think a lot of the younger artists can learn from you and follow your path. Do you have any advice for them?
Well you know, it's just like... if you do music, it's music. No gangster thing, no crime, no drugs, just music! That should always be the first reason why you are doing this, it should just be music.