New Single & Video: Koffee feat. Gunna - W #1 Trending
11/28/2019 by Reggaeville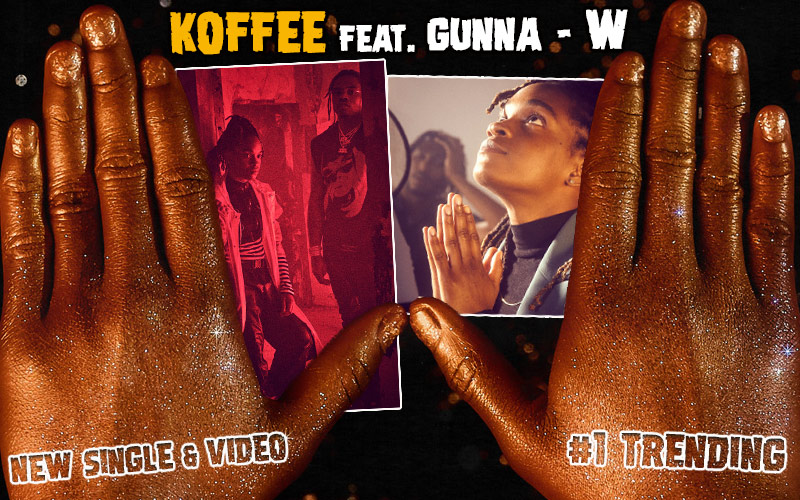 Six days after her Grammy 2020 nomination (read the news here) for her debut EP Rapture, Koffee released a new single and video. The combination with American rapper Gunna is titled W. Within 48 hours the video reached the 1 Million views milestone on YouTube and it doesn't look like it will slow down anytime soon.

It's currently the #1 Trending video in Jamaica. Milestones of 10, 50 and 100 Million views seem possible very soon. Koffee's most popular video Toast (watch it here) was published one year ago (November 16, 2018) and recently reached 87 Million views on YouTube.
In a recent interview with I-D Magazine, Koffee talked about the new single: "We did it in LA. I usually pre-write songs... I get a beat, I go home, I listen to it, I write something. But this came together in the studio. I listened to the beat and the lyrics just came to me on the spot. We had this empty verse and thought, let's get Gunna. He did it and I was blown away."

Furthermore she mentioned, that she is working on combination with Rihanna. Koffee time for Rihanna!
LYRICS Koffee feat. Gunna - W
A no news, me ina me prime
A no crime Where di dolla sign?
Money pon me mind
So me nah no time fi spend
A me style put me pon di map
Me deh pon di top
And me name Koffee-Swag-A-Lot
Dem a chat, me nah no time fi dem

Yeah a so me wake up
Money maker, no makeup
Me go straight fi di paper
Tell ya "Wait, see ya later"
Me step out, everybody look like "What?!"
Me so fresh, dem say "How you look like dat?!"
Hot up every cranny, every nook
And me slick, have every trick ina di book
Everything we do, we give thanks
Tell dem wah we do Lowe di L, take di W
One thing deh out deh fi you
And it nah come if you no go
[x2]

A no news, me ina me prime
A no crime Where di dolla sign?
Money pon me mind
So me nah no time fi spend
A me style put me pon di map
Me deh pon di top
And me name Koffee-Swag-A-Lot
Dem a chat, me nah no time fi dem

Everything exotic, all plush
Little baby got a body that I swear I won't touch
Pull up, I let her ride it, girl you know I want lust
I got her excited, I won't stop I'm in a rush
I --- her like lunch, we keep it on hush
Bought you a Benz truck, I love to see you blush
You shopping when you land see you bought a Prada clutch
We got a lot of bucks, cash longer than a bus
We some warriors
Looking at your heart through the Cartier
Peons at the top at the Aria
---- got locked, Rastafari yeah
We know wa gwan at the party yeah
We don't fear nothing, we the hardest yeah
Spending cash up front and get us all a pair
She want Gunna-Wunna 'cause the real is rare

A no news, me ina me prime
A no crime Where di dolla sign?
Money pon me mind
So me nah no time fi spend
A me style put me pon di map
Me deh pon di top
And me name Koffee-Swag-A-Lot
Dem a chat, me nah no time fi dem

Pull up in rocket, me blast off
You could never get me half off You gon get da full price
Been this real my whole life Me no err twice
All year flights Moncler, cause the weather here ice cold
And me really never check the price
I'm living my best life cause life good

Everything we do, we give thanks
Tell dem wah we do Lowe di L, take di W
One thing deh out deh fi you
And it nah come if you no go
[x2]

A no news, me ina me prime
A no crime Where di dolla sign?
Money pon me mind
So me nah no time fi spend
A me style put me pon di map
Me deh pon di top
And me name Koffee-Swag-A-Lot
Dem a chat, me nah no time fi dem

Take a look back to the Usain Bolt Tribute song by Koffee, which introduced her to the world. That was just two years ago in August 2017: