Report: Sting 2013
12/27/2013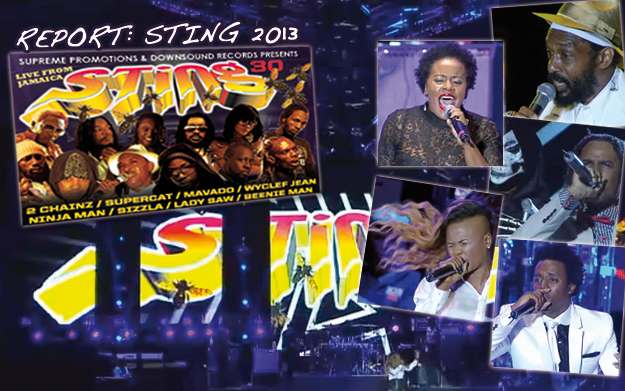 Sting 2013 - the 30th edition is history.

Thousands watched it online via the official pay-per-view online stream and surely many watched illegal re-streams of it... facebook was full of requests like "I need a Sting stream link!"

Ce'Cile tweeted: "Well mi US 40 @bringthesting going good. Glad I saw dat tommy lee show... Mi tink mi like him ... Heartfelt"
 

UPDATED - IN THE PRESS:
Sting Bans Sizzla & D'Angel [Jamaica Star 12/31/2013]
Dancehall artistes D'Angel and Sizzla Kalonji are facing the wrath of Supreme Promotions boss Isaiah Laing, after the two behaved in a less-than-complimentary manner at Sting 30 last week.
Sizzla will no longer be able to perform at Sting, while D'Angel won't even be able to enter the venue during the event. […]The ban comes as a result of Sizzla's set where he reportedly went against agreed-upon protocol to lambaste homosexuality on several occasions.[…] FULL ARTICLE HERE

Saw Says Sorry [Jamaica Observer 1/1/2014]
Lady Saw, who was declared winner of the clash, is today apologising for her behaviour on stage, calling it demeaning and degrading to women.

"There are a lot of people rejoicing for me out there after the clash at Sting, but there is really nothing to rejoice about," she said in a telephone interview with the Jamaica Observer.

"I am not happy about my performance and behaviour. I have stayed away from such clashes over the years, and always said I would never clash with another female artiste as I find it degrading to women and so I have always avoided a clash," a penitent-sounding Lady Saw continued.[…] FULL ARTICLE HERE


 
Black Ryno Dethrones Kiprich At Sting [Jamaica Observer 12/27/2013]
Dancehall artiste Kiprich was dethroned as the clash king early Friday morning at the 30th anniversary of Sting. Former Portmore Empire artiste Black Ryno surprised the crowd inside the Jamworld entertainment complex as he left Kiprich almost speechless.[…] FULL ARTICLE HERE
Lady Saw Crushes Macka, Last Diva Standing At Sting [Jamaica Observer 12/27/2013]
'War' was declared between Lady Saw and Macka Diamond and in the end Saw was the last diva standing at Sting Thursday night. "Send out the mongrel a whe she de," Saw hurled out on the microphone as she challenged Macka to the clash. […] FULL ARTICLE HERE
---


Wyclef, 2Chainz & Super Cat (joined on stage by 9-year-old Wayne J) performed from 12am to 2am, followed by Lady Saw, who was joined shortly by Macka Diamond for a clash! Lady Saw killed Macka!

Tommy Lee Sparta, Aidonia, Beenie Man appeared next and Ninjaman marked the end of the cable pay-per-view close to 4am. D'Angel joined Beenie Man and Ninjaman on stage during their sets.

Next were Mavado, Josey Wales & Brigradier Jerry & Admiral Bailey, Burro Banton & Peter Metro & Major Mackerel and I Wayne... then at 5:35am Sizzla Kalonji took over and was obviously in a war mood burning the FIRE hot!
Kip Rich entered the stage around 6:30, but before the 30,000 US-$ clash started, the pay-per-view LIVE-Stream was stopped and left thousands of viewers frustrated. Sting's facebook is full of complaints!

 
According to recent tweets Black Ryno won the clash against Kip Rich and Mad Cobra!

WATCH THE CLASH HERE: