Review
Album Review: Willi Williams - Unification | From Channel One to King Tubbys feat. Yabby You
10/24/2014
by Larson Sutton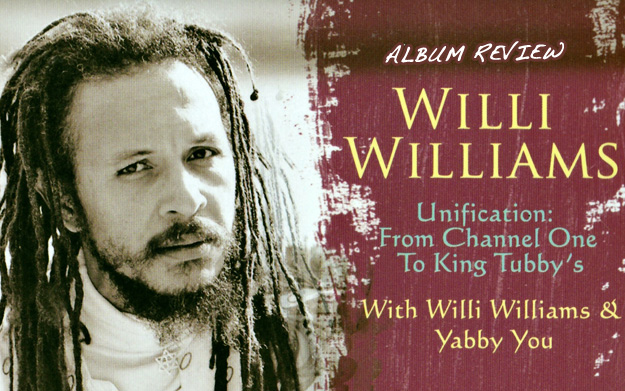 Leave it to Willi Williams to deliver a powerful reminder of what reggae music can do in this world. Granted, on his latest, Unification: From Channel One to King Tubby's, these are recordings that go back 35 years, but the social commentary contained within still resonates today. With the irrepressible Yabby You along for the ride, Unification is a stark, gritty window into a troubled Jamaica reported by two of the genre's most honest voices.

Produced by Williams and You, the 12 tracks are drawn from 1979 sessions at Kingston's legendary Channel One and King Tubby studios, respectively, with a litany of reggae's top dogs backing Williams. From Sly and Robbie and The Revolutionaries, The Gladiators, and Jackie Mittoo to Cedric Brooks, Bobby Ellis, and the Soul Syndicate, this is the sound of roots reggae at its peak being played by those responsible for some of the most important music the island has ever created. Recorded at a time when Jamaica was in the midst of a particularly violent era both socially and politically, the turbulence provided Williams both motivation and inspiration.

Opening the collection, Rock On slinks darkly, calling out to the despondent, while Home invokes the spirit of repatriation, presumably to Africa, though Williams could just as easily be challenging Jamaicans to take control of their destiny here on the rock. Thematically, there is no let-up in the messages, but rather a shifting of the targets. Williams and company speak to the children, to the poor, to the oppressed, and to the natty, and sometimes all four. The trick is that each comes with a gentle rawness, if there can be such a thing, that avoids grandstanding on the issues or taking sides and instead offers a place for healing, for sympathy, and for action. Despite the ominous tone of Armagideon Man, this is a forward-thinking, forward-moving set that implores its listeners to retain faith that better days are ahead (Any Day) given they are willing to come together for that common cause (Rally). These are anthems without the bluster. They are folk songs without the restriction to a culture or time. These are scenes from the frontlines of Jamaica, but just as easily any Third World nation, any place of suffering.

Unification more than lives up as the 'lost' classic of its billing. Amazing that with the problems of today as daunting as at any time in history, and with the capability to solve many of them inexplicably elusive, that there are not more reggae artists taking up the music of message. Perhaps this album will offer an example of not only what musicians can sing about, but also about what they should.


---
Release details
Willi Williams - Unification: From Channel One to King Tubbys feat. Yabby You
DIGITAL RELEASE [Shanachie]
Release date: 09/30/2014
Tracks
01. Natty Natty
02. Unification
03. Any Day
04. Free Dem
05. Righteousness
06. Rock On
07. One Destiny
08. Home Sweet Home
09. Daughter Of Zion
10. Children
11. Armagideon Man
12. Rally
Featured artists
Yabby You