Interview: King Kong – From Trouble Again To Repatriation
03/25/2018 by Angus Taylor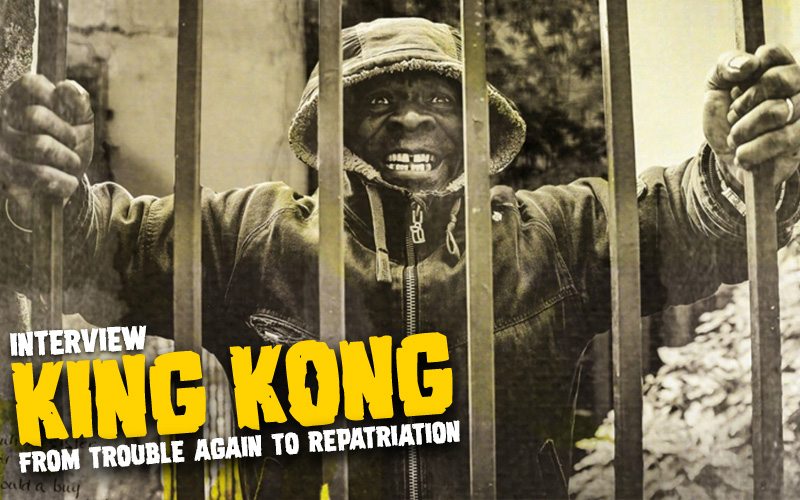 80s dancehall singing star King Kong is back with new album Repatriation, produced by French sound system/label Irie Ites. The title draws on his sighting of Rastafari and residence in Shashamane, Ethiopia, since 2007.
Having learned his craft hanging around Culture and Tuff Gong as a wayward youth, Dennis Thomas aka King Kong became one of the top singers during the digital dancehall explosion. He recorded for producers including King Tubby, Bunny Lee and King Jammy - his mellifluous voice drawing comparisons to contemporaries Nitty Gritty and Tenor Saw.
Where those two singers passed away in tragic circumstances, King Kong is still with us. But as he told Angus Taylor in this open and honest interview, he's lived a challenging and eventful life. From boxing matches with Bob Marley, to spells in prison, to posthumous visitations from former rival turned friend Tenor Saw - King Kong has seen and done it all...
When and where were you born?
I was born in 1962. Rose Lane, downtown.
What did your parents do for a living?
At that time my mum was a higgler. She sold stuff at the market. My father used to work with the health inspectors that spray the mosquitoes. But he did various jobs from one to another and in the end, he was a preacher.
Where did you grow up?
We moved to a little place named Ackee Walk, downtown. I think that's where Tivoli Gardens is now. Then we moved again to Bundy Lane off Old Hope Road, and then to Lilford Avenue off Lady Musgrave Road. That was where I did most of my schooling. I went to Providence up by Barbican area. Then to Waterhouse and to St Andrew where my father is originally from.
So your parents had split and you were moving around with your dad? Did your dad have any musical interest?
Yes, he used to play his stereo from when I was born. We had what they call a component set now. In those days he used to wind the thing and let it play and when that came out of style he got another one which was the latest. He was a person who bought records and every evening he would come from work and play and dance and give jokes and stuff like that.
What was your first experience of music?
My first experience was school, really. I was the one who got to perform something for the last day when school was giving holiday. To maybe four or five classes because all the teachers would come and see what I was doing and try to influence their class. And coming from school evening time I would stop at Campion College or KC. At this time, I was living at Lilford Avenue off Lady Musgrave Road. They used to rehearse every evening with a school band. I used to watch from the window and dream of doing that one day.
And you carried on with the music when you moved to St Andrew?
That's where it all started. About two years after I went to St Andrew, they started to form the group Culture. I had a group too named the Black Invaders so the two groups used to rehearse on the Riverside. This was like 1974, '75, '76.
Who else was in Black Invaders?
There was a brethren named Benji and a brethren named Bagga. Bagga is a pastor now, he even runs a church. And the other brother is still around but not doing music. At this time I was doing concerts like Saint Mary's College every year. This was the time with Nadine Sutherland and Horace Martin, all the little singers from that time.
Did you enter any talent shows?
I entered the Tastee - I think the same year Nadine Sutherland won.
Did you audition for any studios?
I used to do a lot. My first audition was with Derrick Morgan. He was the one that told me to go solo because I was carrying harmony in the group. He told me that I am the lead vocalist and the guys never wanted that, so the group broke up. I went solo and started doing auditions at Aquarius with Ernest Wilson, Enos McLeod at Joe Gibbs. I was going around all the places that were doing auditions.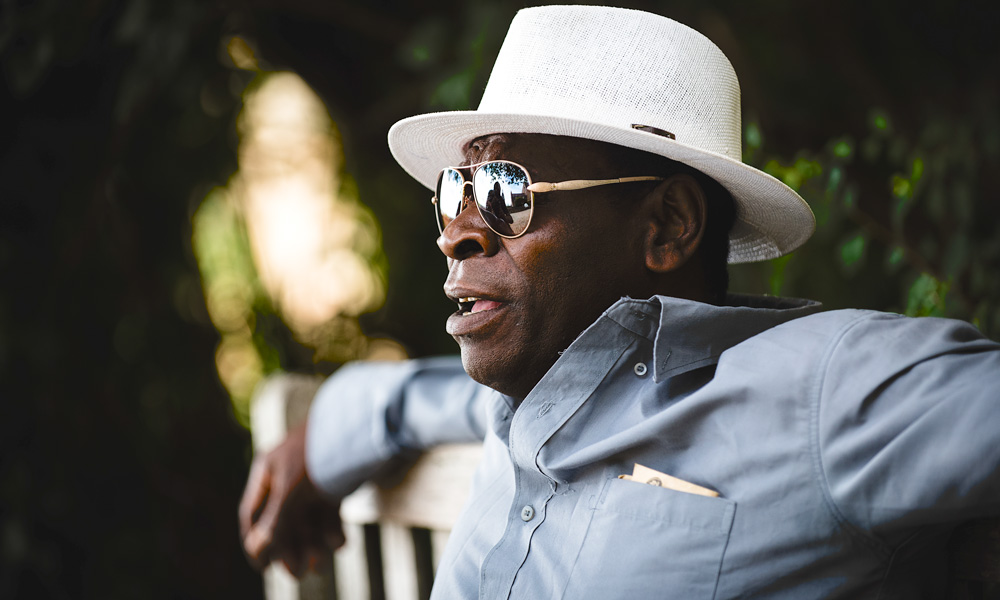 This was when Enos was the gateman at Joe Gibbs?
Yes, he was at first. And then when the thing developed he became the person who did the auditions and set you up for recording with Errol Thompson. So the group broke up and I was going to the town with Culture. So I ended up solo doing little deejays and singing anything I could.
How did you get the name King Kong?
It was from my dad. They used to call my dad King Kong and me Junior Kong. This was when I was a youth but then for some reason everybody just started calling me King Kong. King Kong just came on to me. Firstly it was Papa King Kong when I was doing music and then it was just King Kong.
You also started spending time at Tuff Gong?
The Tuff Gong era was maybe a little after rehearsing on the Riverside. Because I got in some little… not really trouble, but you know when you have friends and they get into trouble, your name is called. So I had to run away from there and I went to live in Bog Walk in Gibraltar in the country. I was planting herb with my cousin at the time. Then one Sunday there was a VW looking for weed. I approached them and they were some people from Tuff Gong. They carried the weed because it was good, so I went to Tuff Gong after about a week. That was when I met Bob Marley in the early morning. I didn't know it was Bob, so I passed him and then when I realised I went to apologise. He said "Where you come from? What your name?" I said "King Kong" and he said "Well if you King Kong, a gorilla, you haffi prove yourself this morning. You come in a man yard, you have no manners - hold them boxing gloves". So they pushed two boxing gloves in my hand and he was putting on the gloves to go a round. I was trembling because this was Bob Marley! So after that I never left Tuff Gong. I'd go for weed in the country and come back there - that was it.
And you did some recording with Familyman there? You recorded Pinkeye and Malaria in 1982 on the 56 Hope Road label.
Yes, that was where I really started getting the exercise. My job was to sweep the yard, wash the car, clean out rehearsal rooms, not me alone but all of us. So we started doing practice with Familyman and I laid some tracks with him there and then it developed from that. After Bob passed on, the studio started to function officially and I recorded some tracks with a label, well it's Tuff Gong label, but the rhythms were owned by, I think, Tony Welch who had a brethren named Lip that was going around with Bob at the time. Bob was one of the people who were trying to make people desist from negative and try to get them into a positive thing, so all these people were trying to get into music to be a producer or something like that.
How did you leave Tuff Gong?
Well at Tuff Gong things changed and started getting professional and they started having staff. Unfortunately I was one of the guys who never got a job there. And they said "Who is not staff can't sleep there on the premises" and blah blah blah. So it was like that. I didn't have anywhere to go so I ended up back on the road licking heads with the wrong people. I ended up in General Penitentiary and it really started from GP because I met a guy who said he was a producer. This was a bad guy but when I came out he said "Come and check me in Tower Hill". I met him and he carried me to Tubbys. Then it all started.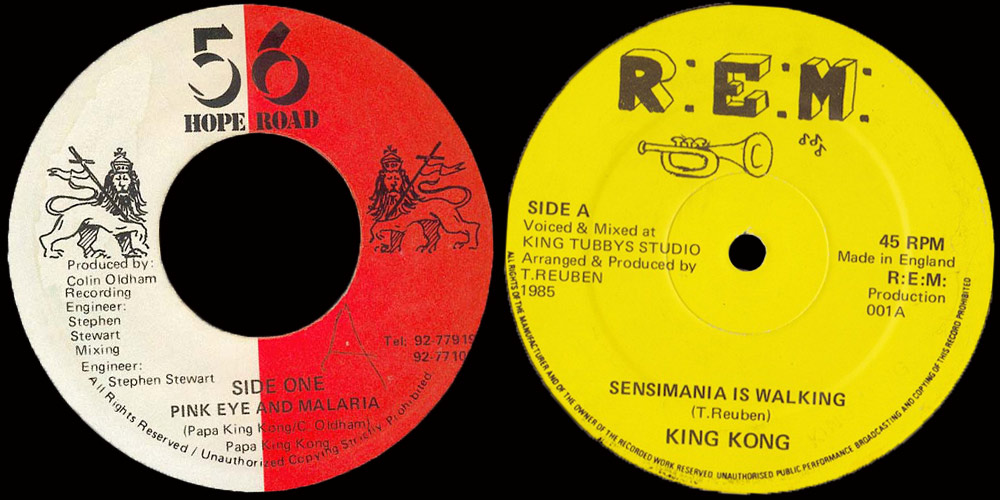 Tell me about your sound system education? Where did you first touch the mic?
Where I was up in Saint Andrew in a place named Pinto Cavaliers, there was a little sound named Shoes Crashers living in our area. He used to play every weekend so Shoes Crashers was where I got my practise. And then you had King Ishan which is a big sound up in that area. I think the deejay at the time was Cutty Ranks. He had no name then - he was the little deejay. So whenever that sound would play we would go to get the mic and for any big sound that would come around.
My first big international sound was Stereophonic from out of the east. They would come and play in Gibraltar where I was planting herb. I would get the mic at 4 o'clock and everybody was surprised that I was so good. That made me feel proud so when I came to town, I could go up on any sound because I'd worked on Stereophonic. I worked on Love Bunch, which was a little sound from Tivoli Gardens. At the time I was living at Tower Hill so Tivoli Gardens was our place to hang out because it was ruled by the same party, so we would feel free to go there.
Love Bunch established me in the city and then I started working with bigger sounds and stepped up the ladder. Tape Tone was with me, Lone Ranger and Louis Lepke, Toyan and then we stepped up to Jammys and any other sound there.
When you first started were you a deejay or a singer?
I used to do both of them. I was a versatile person. If I would go to a dance, in those days it was always competition. No matter how small it was, when you'd go to a dance you'd have two deejays or two singers. I always liked to prove myself that I could deejay and also sing. So that was my versatility but the time at Tuff Gong it was the deejay era where (sings) "Jah jah lick you with diseases" was the thing. So I just did a deejay thing and they liked it because at the time the malaria was catching, so it was the opportunity. Anywhere the opportunity was, whether singing or deejay, I would push my head in.
So what happened when you went to Tubbys?
I met him and I was there hanging around. There was Redman who controlled the sound Jamrock and he was in foreign at the time and wanted to start a Redman label. Tubbys was a friend of his, so Tubbys would voice some of his artists on Redman label and put them out for him. I did my first song (sings) [the Drifters] "This magic moment" and they pressed 300 copies. I don't know if it did sell or what.
I had this song I made up (sings) "Sensimania is walking, sensimania is talking" and a guy from England came and liked it and recorded it on a two track. He released it because in those times it was two track most of the time. The rhythm was already there and you did one cut with the voice. It mixed and was playing when Tubbys came in and said "Wait - Tenor Saw was here? "And Peego said "No - King Kong" so he called me into his office and gave me a 16 track tape and said "Give it to Peego - play the number four track and voice on it. But I want the style like what I hear now". I just sang "Someone step on my corn" and it was a hit. That was really the song that put me on the map.
When did you first hear Tenor Saw?
My mother used to live in Payne Avenue. I met my mum at about 19. I was living in Tenor Saw's area because my mum lived in the same place. At that time, I was on and off the music. I was trying every little thing, hustling everywhere with my little friends, so I wasn't really that keen. I think it was after that I went in General Penitentiary, about the end of '82. I did about nine or eleven months. I came out in October '84.
In those times I don't think Tenor Saw was singing because I never heard anything about him. It was like me and Lone Ranger. Frankie Paul was a youth living in the same building. Maybe I heard Tenor Saw after I came to Tubbys.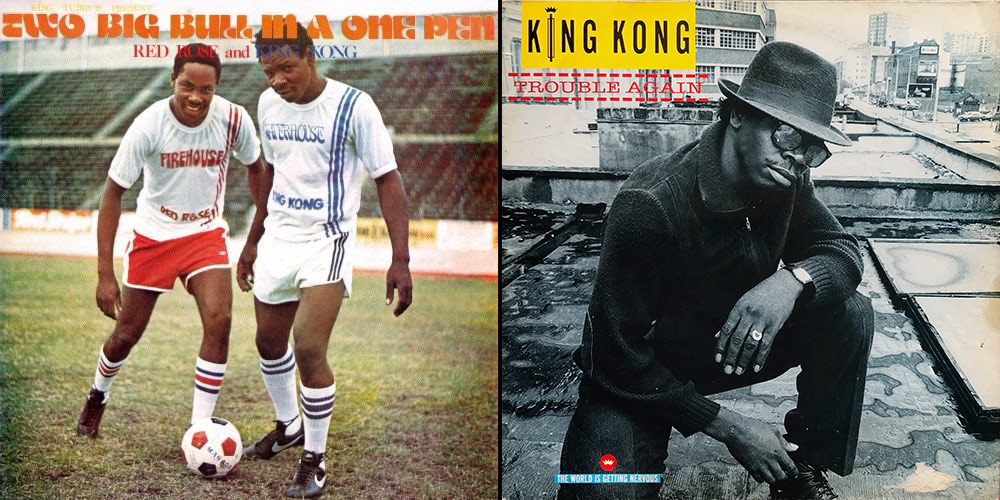 What happened next with Tubbys? You did AIDS which was a big song and then you teamed up with Anthony Red Rose...
Yeah, we voiced some things. I did an album with Anthony Red Rose, Two Big Bull In A One Pen which was a massive hit. I started touring and I had all these hit songs. But my girlfriend at the time, she moved out and I was sleeping on the floor for about three weeks. I said "Tubbys I'm on the floor. My girl move out with everything and nothing in the house!" Tubbys was saying "Go on, hold man, everything soon good". I couldn't really take it so I went to check Jammys who gave me a cheque for about 1500 or 3000 Jamaican. I went to buy some household goods and then I started working with Jammys and the thing got bigger. Then I was on tour in New York and then the sad news with Tubbys [death] and all of that.
So you went from Tubbys to Jammys - when did you link with Bunny Lee?
Now Striker Lee, we had been working. In those days if you were working with one producer and another producer it would bring an animosity. So Striker Lee, me and him used to thief our way because he used to be at Tower Hill regularly. He knew all the youths who were my friends. This youth named Fuba, who was a friend of Barley, introduced me to Striker Lee so I used to go to studio, me and Striker and do all these recordings. Even the track AIDS A Go Round I recorded first for Striker Lee.
So you made a big album Trouble Again/Legal We Legal with Jammys - how did that happen?
When I first went to him I didn't know I was that valuable to him. At the time I just wanted help. I broke the rule actually. I shouldn't have left from Tubbys to Jammys. That was crossing the line but I was in a situation and he was glad to give me what I asked for. I think the first song I voiced was Legal We Legal and then the song Pack Up and Gone because it was about my girlfriend who packed up and gone. That was the start of it.
And you also did the Musical Confrontation LP with Nitty Gritty…
I was just voicing for Jammys so any rhythm he had, he would say "Yo, that riddim me have" and then boom bam boom. So when he came with this computer style rhythm it was like I was the godfather. Tubbys was experimenting upon all these rhythms and then Jammys came and gave me this rhythm, so I felt like I was the God for the computer because of Tubbys already. I just sang a song on it saying "Can't ride computer". Enough people thought I was throwing words upon Nitty Gritty but he was never in my thoughts at one minute. Jammys never said it was an album with him. I was just voicing.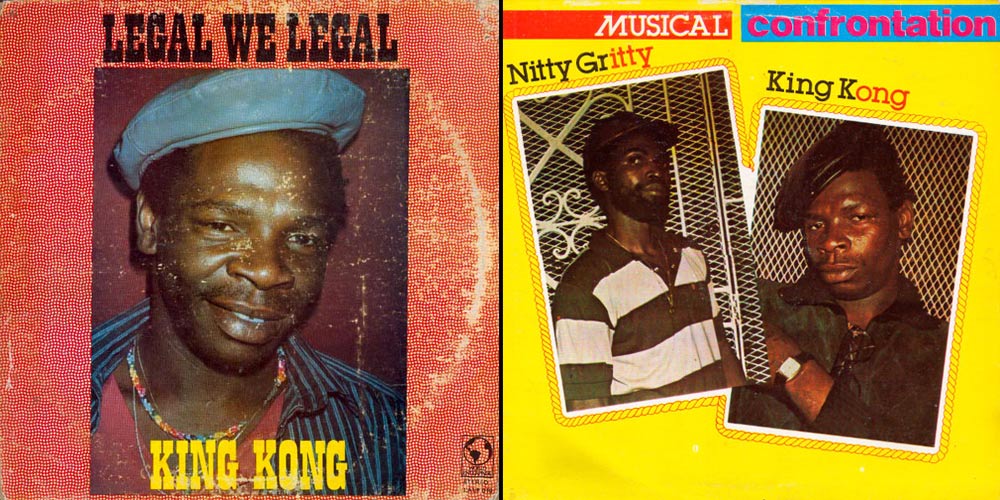 Were you good friends with Nitty Gritty?
No, to be honest with you. I didn't have anything [against him] but after I knew him he tried to exult upon me one or two times, so I never really liked him. He wasn't a friend of mine.
But you did become good friends with Tenor Saw.
Yeah man! Tenor Saw was like a brother from another mother. Tenor Saw was my blood. At first, I was his rival, so obviously he was not going to be that comfortable. So we'd have a little confrontation musically when we'd meet. But when we met in real life together in New York and started to par together he was one of the sweetest brethren. He had a heart of gold. He would consider things I didn't even think about. He was very different. Yeah man, my blood that.
Did you spend much time in New York?
We just toured. New York is one of the places I spent less time in my career. Maybe three weeks at the most. In those times I was very busy. You would drop somewhere, you would do two shows, you would go to Canada and do two shows, England and do two shows, go to the Caribbean. America I never liked it. It was too fast and crazy for me.
So where did you settle?
I was in Canada and then England. I went to Canada in about '87-'88. I met a girl at the time in Jamaica at the beginning of my career. She was Jamaican but a Canadian citizen. We got married and she lived in Canada and she was expecting a child for me. So most of the time when I was free and I wasn't in Jamaica I would go to Canada.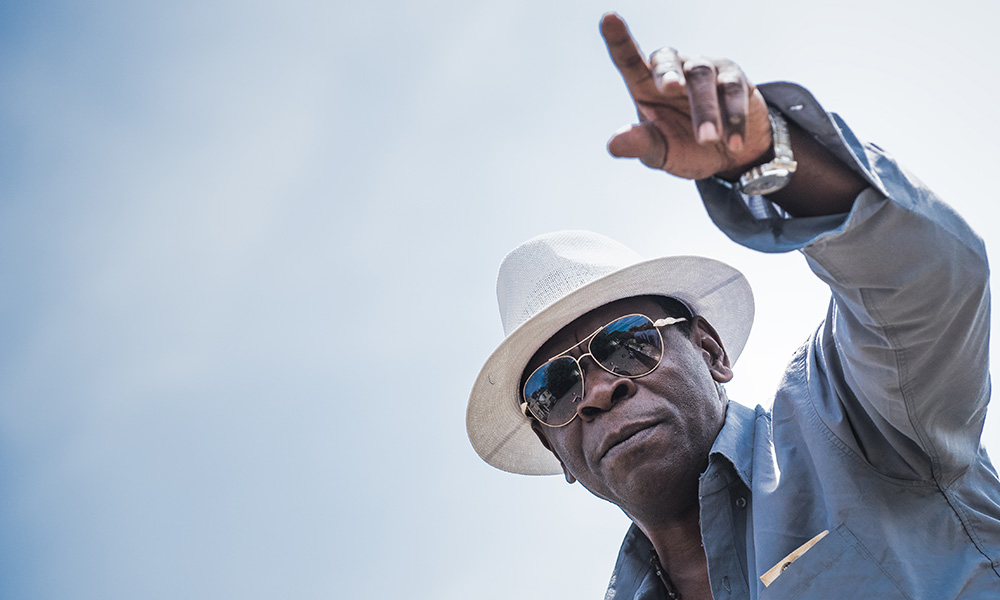 How did you decide to go to England?
England was always a dream place for me from my youth. I used to live on Slipe Pen Road. A man named Mr Hunt used to own the place, 56, where Penthouse used to be. When I was a kid the man who owned that place wanted to take me to England when he was repatriating and my dad wouldn't give me to him. So I had this dream for England. Even in my career I always said "Yeah England!" The place where I was going to get rich was England. So I did always love England and when I did go I really loved it. England even now, is a place where I could live and settle.
So in '86 I toured there, came back, went again, came back, went again. Then I think in '88 I left Canada, me and my wife broke up, so I decided to go to England. I had friends there already and people I worked with and I started to settle there. It was the thing that happened to most artists in that time, when you're in the peak of limelight and then it starts to shed down and you don't know how to go back to Jamaica and face because everybody would look for you up on this level. So that made me say "I want some money before I go back to Jamaica". Then you start hunting money, working, while saving. But then you start to spend back when you're living in that country. Then I ended up overstaying and then this guy messed with me and I had to fix him up and I ended up on the other side of the law.
So you decided to leave England at that point?
No, I was still in England because I loved England and England was my home. But then some little things came through my head after the death of Tenor Saw. I really felt it you know? Even Tenor Saw himself visioned me and showed me something. And then I built up this vigilante thing in my mind against people that deal with hard drugs. And the first vigilante mission of vigilante I ended up in prison! But everything was for the good too because up until that point I couldn't read. It was prison where I learned to read and develop my vocabulary. You can find good things from the bottom of anything.
So where were you living in England?
Well, my life in England was really kind of sticky at one time. So I lived everywhere. Because what really happened to me was I got caught up in the drugs too. When I came to England it was a good thing leaving Canada because I did get caught up that way. I wanted to get out of this thing.
I rented this little flat in Stratford. About that time I was on the streets of England really because my relationship was done and I had my three suitcases. I would catch up with some girlfriend but when they would see things were broken down and nothing was going on they would say after two weeks "Oh you know you have to find somewhere else…" So I would call another friend and my life was like that.
When I wanted to leave this girl she held onto my three suitcases with some valuable pictures with me and Tenor Saw and all of my studio tapes and clothes. She wouldn't give me them and when I went to the police they said I had to sign papers. I said "I don't want you to lock up anybody - I just want you to get my suitcases". So I got this little flat and I paid like £30 a week or a month or two weeks. God bless me I found two scandal bags in the flat with about three pants the people had left or tied up to throw them away. I got about three pants and some T-shirts and those were my clothes.
So I lived in this flat and it was just me and my Luther Vandross CD and sweating out the situation. Then after about 11 months I started to feel better but it was about three years to really sweat that out. Then I started to come back round a little, nobody really knew where I'd gone, I kept low. Sometimes I did some work with Gussie P. I would just come and do my thing and be gone. No one knew where I lived. Then I started to keep dances with sound system. The World Clash was my idea. I kept so many dances so I said "Let me keep a thing World Clash". I got David Rodigan, V Rocket, I talked to Downbeat in New York and Black Scorpio in Jamaica and Coxsone and Saxon. I kept the first one in Birmingham Hummingbird. This was in '92. So this was when the first vigilante move came up to me. Some people said they wanted this and that and I told some youth and they loved the idea so they did it and then I got busted. So that never came off and then they took my idea in '96 and it started there. So after that I went to Jamaica and Massive B started to voice me until right back up to this day.
So where are you settled now?
Now I have repatriated to Ethiopia and I live in Shashamane. I repatriated from 2007.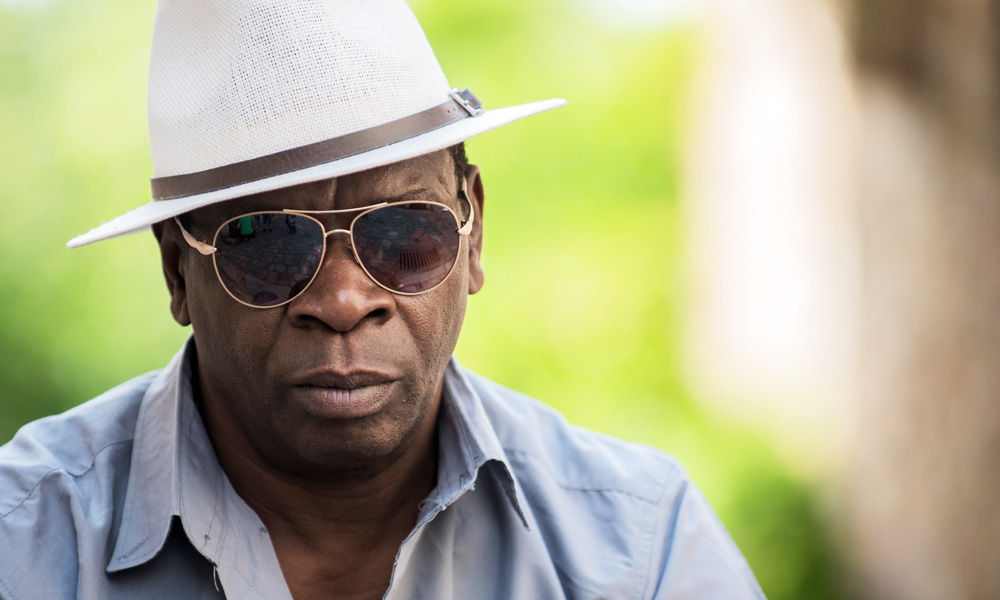 Your experience inspired the title track to your new album Repatriation. How did you link with Irie Ites?
I met a brethren when I came to France in 2001 or 2002. I told him I was repatriating in 2007 and then I did. He visited Ethiopia to check if I was there for true. He saw me and he said "wow - you inspired me. I'm coming too". Then he was keeping a show to raise money to keep some function in Ethiopia so I wanted to be on the show. He was promoting and I went to link him for some dub sessions. That's how I came to Irie Ites.
I did the dub session and reasoned and these couple of brethren seemed really conscious. They looked like they're serious in the business. It's the first people I ever really worked with upon some level where with this album I never took any advance. Normally when I'm doing a thing like this I have to get that but I saw these people were really into reggae and seemed serious so I said "Cho! I work with a lot of people and take advance and after advance, no publishing, no royalties, nothing ever happened. Let me take a chance with these guys on their level and see". So that was the deal, we did the album and they said they'd do their best for promotion. So far they've done a lot of work to make it successful.
This album was done in about three years from when I first met Irie Ites and started recording one and two and three and four singles until we recorded about 17 tracks and they picked the ones they liked. There are some other tracks that I would have loved to be on this album. There is a cover of Gregory Isaacs The Border but they said we can't put it all because we can come again. So they have a starting for the next album.
There are a few different themes on the album. There are two songs about money, two songs about standing tall and firm, and lots of sound system tunes.
Pree The Money is about how they pree the money and don't pree the flock of people. Most people prefer the money so that's why the lyrics even say "We nah watch that, we a work we a work to the top". We want to be independent so we don't depend upon a boss or a 9-to-5 if we can hustle.
And yeah, enough sound [tunes] because the sound system is my heartbeat of the dancehall thing. We came in the dancehall with the culture vibes to sustain the thing that Bob Marley taught us. Because there was a time in Jamaica where you couldn't say "Jah Rastafari" around some man's sound system. And we came as youths with that ragamuffin vibes and pushed the sounds around.
When I heard the rhythm to Just A Grow it sounds like Come Me Just A Come (sings) "Tenor Saw just a come, just a come". I just changed the flavour from Tenor Saw and because today if you say "come" a man would take it sex-wise. That's the mentality of the youths. You have to think about the generation mentality. I said "me a grow, King Kong still a grow" which means that wider aspect. This album is not the finishing of King Kong - you have better to come. Like a tree grows green, every day it brings fruit when it's the season. Sweet same way.
How did you link with Eek-A-Mouse for Wake Up The Town and Pinchers and Burro Banton for Old School?
These were always my brethren from time. Even when I was at Tuff Gong, Eek-A-Mouse was always the big star and I was the little prawn. Me and him used to walk up and down. I used to tell him "Me should name Eek-A-Mouse and you King Kong" because he was so tall! It's always been a dream to do some work with him, so when this album came about we put a few names and they put a few names. I said "Eek-A-Mouse" and he was in town so they said it would be good. I think they were the ones who said they could get Burro and I said "Yeah". At first we were going for Barrington Levy and Chaka Demus but it was difficult to get in touch with Barrington because he was in America. We had General Trees first and did the recording but the production wasn't pleasing to them, so we went for Pinchers.
Finally, how did Rasta come to you?
The Rasta was really from when I was a youth living in Waterhouse. I had a cousin named Neville and he was Rasta. Junior Byles used to come and check him every day and smoke the chalice and talk about Rasta. But me being in a Christian home and my father being a preacher I was a Jesus youth and held onto Jesus.
After some time in GP the brethren that was in the cell said to me "Psalm 7 is for the innocent so if you are truly innocent read Psalm 7 every day". But I couldn't read at the time so he used to read it. He used to sing it Selassie and I used to sing it Jesus.
After I went to England, Rasta became a part of the mind and I had dreadlocks but still Jesus. But after I went to prison and learned to read, I read the Bible and a certain fullness came to me and I saw Selassie I as God. That was the transformation and I came by the 12 Tribes and then the repatriation and the philosophy of Marcus Garvey and all of that developed.
But from a youth I always wanted to go back to Africa. From the age 7 I had the essence of the story but I never had that fullness. And then the transformation came and I had to repatriate. I saw the lights and I had to go home, through the scope of His Majesty. You learn from Him and see the obedience because His Majesty teaches you that the way is to follow in the footsteps of Christ. So at this point I saw His Majesty as my spiritual father who appointed me to the light.