Review
Album Review: Keznamdi - Bloodline
03/17/2020
by Gardy Stein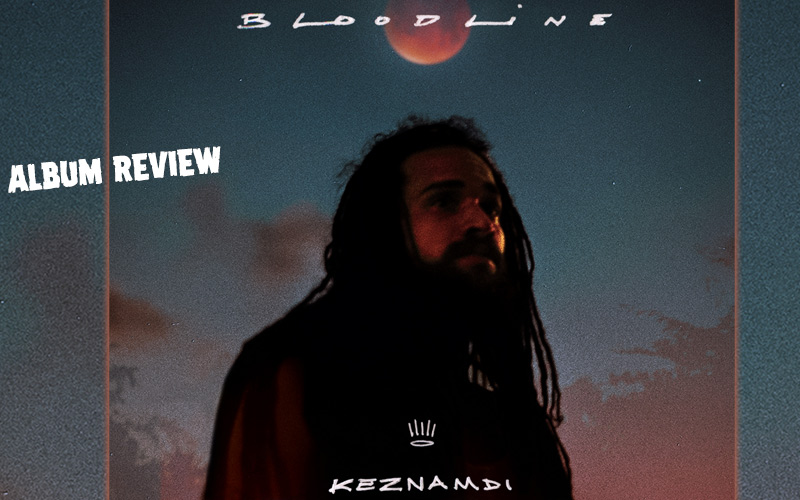 "Blood, sweat and literal tears in this album! I hope these songs can be the soundtrack for your joys and struggles like it has been mine!" (IG @keznamdi)
Mighty, intimate words heralding a mighty, intimate release! Indeed, Keznamdi McDonald presents a firstling which is more real, ingenious and well-produced than some established artist's routine releases.
Bloodline, a joint effort from a team of talented individuals, has the potential to catapult Keznamdi into the international limelight. The young singer who has been "off the grid for a little", as he himself put it earlier this year, has inherited all it takes from a family that is artistically inclined. His parents, Errol McDouglas aka Makaya Chakula and Kerida Scott aka Goldilocks, have taken their children into the studio and on tours very early on, so it's no surprise Keznamdi as well as his sister Kelissa both took up music as their vocation.
The connections thus forged during his formative years enabled Keznamdi to rely on real experts to bring his musical visions to life. Producers like Natural High (So Right), Sean 'Mozia' Roberts (Bloodline and Victory), Danny Shyman (Queen Of The Ghetto) or Norman 'Bulpus' Bryan (State Of Emergency) provide a variety of styles and moods, all held together by Keznamdi's deep involvement in the whole process. Photo- and videographer Ivor McCray contributes the perfect visuals to round off the presentation - warm and vibrant, put in place by Brando. What about the music, you ask?
Opening with Skyline Drive, the title alone brings back sweet memories of the eponymous street that snakes its way higher and higher into Jacks Hill, providing a breathtaking view over Kingston, best enjoyed from the city's famous Dub Club. In part, the song certainly is a homage to the the family-owned Skyline Levels next to it, a studio in which most of the recordings of the album were done. Little details like the white noise in the beginning, the multi-layered backing vocals or the references to singjay-pioneer Tenor Saw make the discovery ride a fascinating one.
When the song slowly fades out, the contrast between its playful, bubbling notes and the plaintive wail "I'm looking for justice" with which the subsequent Justice starts couldn't be more stark, as it evokes the terrors of slavery. Hauntingly impressive, the sound effects of a creaking ship, rattling chains and many-voiced moaning in the second part of the song contributes to its density.
Equally serious, the title track Bloodline features the intense timbre of Mortimer, and together the two exceptional vocalists call on mums and dads to make sure they do their job well, as a reliable parental figure is essential for the mental and thus physical health of sons and daughters. Sleep peaceful, my child!
Already impressed by Keznamdi's vocal performance so far, his skills become more obvious as the album unfolds. Whether in the old-school roots vibes of Chillumpeng, produced by Marc 'Saigo' Robotham and Romario Jackson, or the ultra-modern Queen Of The Ghetto (wait for that hidden-track-thingy!), Keznamdi nails it, and despite all his perfection, there is still an element of emotional fragility in his delivery that makes this artist so damn relatable.
Next, we tick off his Dancehall-credibility. With all the decade-long expertise of his Ward-21-existence, Andre 'Suku' Gray, along with Keznamdi himself and Peter Wade, produced a sizzling hot track on which Canadian rapper Tory Lanez has a fine guest appearance. City Lock! And, since Dancehall is synonymous with bragging and boasting, Love Mi Nuff supplies exactly that, depicting Keznamdi in the dubious dilemma of having to deal with a "mount a gal".
With So Right and Morning Comes, the tempo is then decelerated, making room for a romantic section. Oh sweetness! A big part of the sonic finesse, by the way, the album owes to Charlton Williams who mixed and mastered most of the tracks.
Instrumentalists such as Kevin 'Zuggu' Patterson (guitar), Hector Lewis (percussions), Wayne 'Unga' Thompson (drums), Evan 'Yellow' Mason (piano), Jason Arthur Welsh (bass) and Dean Fraser (sax) provide the musical magic for State Of Emergency. In it, Keznamdi takes his granny into Kingston and "she don't really like what she see", making the song an appeal to politicians to fix the things that go wrong.
The last track now seems familiar. And indeed, the Chronixx-collaboration Victory was released already back in 2017 on the EP Skyline Levels Vol. 1, but this fact does no harm to the joy of encountering the piece again here.
And thus, the ride is over. The eleven songs on Bloodline give us ample opportunity to get to know the artist Keznamdi has grown into, a growth that is evident on so many levels... ok, since I'm bound to lose myself in adulation the longer I write, I better pass the word back to the artist himself: "[This project] is something I feel like I've been working towards my entire life and I'm extremely passionate about. I cannot wait for you to hear it and to see all the beautiful faces from all the distant places." (IG @keznamdi)
---
Release details
Keznamdi - Bloodline
DIGITAL RELEASE
Release date: 03/13/2020
Tracks
01. Skyline Drive
02. Justice
03. Bloodline feat. Mortimer
04. Chillumpeng
05. Queen of the Ghetto
06. City Lock feat. Tory Lanez
07. Love Mi Nuff
08. So Right
09. Morning Comes
10. State of Emergency
11. Victory feat. Chronixx
Featured artists
Mortimer
/
Chronixx