Interview with Keznamdi - Bridging The Gap
05/01/2013 by Angus Taylor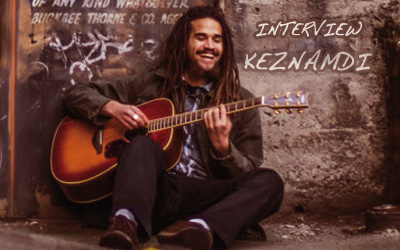 Tipped by Chronixx as an artist to look out for, Keznamdi of the musical clan McDonald dropped his 6 track debut EP Bridging The Gap on April 30th. It follows his older sister Kelissa's EP Rebel In Disguise, features collabs with Chronixx, Kabaka Pyramid and Kez's brother in law Calico and fires the next shot out from within Jamaica's advancing movement of well-travelled eclectic cultural creators. Reggaeville spoke to Keznamdi about where he's going and where he's from…

Your parents Errol and Kerida are in the band Chakula which means "food" in Kiswahili. What does Keznamdi mean?
Yes, "spiritual food". Keznamdi is really two names joined up as one. Kez comes from Ethiopia and Namdi comes from Nigeria. Kez means "prince" or "priest" in Amharic and Namdi means "the son who saved his father's name". Because I'm in a family of four girls, as the only boy I am the one carrying on my father's name.

It goes without saying that your family is very musical – where does the music come from?
Music is a special and divine thing and growing up in this family I never really noticed how special my situation was until I moved out. It was such a normal thing hearing the leftover noise in the studio or playing football while my parents rehearsed. I took it for granted growing up but now looking back, I realize how much subconscious growth I had before it turned to a conscious thing. Music comes from all places - it comes from my family, it comes from within, it comes from other people, it's a limitless and divine thing.

What was your first memory of music?
When my mum was doing her Save The World album I was brought into the studio for the first time aged 5 or 6 to record a song called Mix A Color, talking about which colours make which when you mix them. The whole family went on that Save The World tour all round Jamaica and that was my first memory and a special time.

You and Chronixx are both next generation musicians who got involved in music from very small. Is there a parallel there in terms of this new movement of music in Jamaica?
It's an interesting thing now to see how all the youths of musical parents are taking control. There are a whole lot of sons of sons and daughters of daughters coming in and taking charge now. There's this new movement and it's not just happening in Jamaica. All around the world I'm noticing we're in a new age where there is a new level of consciousness entering this earthly plane. It's becoming the style now to be conscious. It's becoming the fashion now to be a humanitarian and we have to give thanks for that.
From a little youth I always had a connection with the divine and the spirituality of life. I was always living less in the physical and I can definitely say it came from my parents. My parents were always enforcing that spiritual life because there is a balance between the physical and spiritual so you can't just live in one. My father would always tell me "Music not a joke thing. Music is a weapon". Every time you sing one song that's like holding a trigger to a gun. If I sing No Woman No Cry or One Love you will know the rest of the lyrics. They are in your mind and that should show you how powerful it is. It's a very dangerous tool. My parents always let me know from a young age that it is not a joke thing and the militancy of it is very serious.

You were born in Jamaica, you grew up in Tanzania and Ethiopia and now you are based in America. I interviewed Ken Boothe and he said in all his years of singing about Africa he has never been there. In fact there are many veteran Jamaican artists who say the same. But for you, your career is just beginning and you have lived in Africa already.
(laughs) I think it's a good foundation and it gives me a different perspective on the world. It opened my eyes to a lot of things that many youths my age are not exposed to so living in Africa was definitely very beneficial and fruitful to my journey as a musician. Because lots of youths who are not exposed are very closed minded and not open to this vast earth. When you look at how big this earth is you have to be open to everything. So it was a strength to have my later teenage years growing up in Africa which set certain tolls that I can use now.
It even goes back to the title of my EP, Bridging The Gap. I'm able to connect with and relate to a lot more people than just my fellow Jamaicans – Ethiopians, Tanzanians, Egyptians and Americans. So I can bridge the gap culturally, spiritually, physically and all-kind-ally! My EP is a mixture and it definitely shows my travels. There's hip hop, reggae, dancehall and a whole bundle of things in one pot. It can either taste bad or taste good – it depends on what kind of tongue you have!

Your sister Kelissa has been in Africa touring her Rebel In Disguise EP which came out last year. How does it feel to both be making your statements?
Boy, I won't lie to you! It is an honour and a beautiful thing to be on this journey at almost the same time as my sister. Especially as we are doing the same work. We can be making the same mistakes, sitting and Skyping each other with me in America and she in Jamaica, and sharing connections. We're both on the same frequency and we both have the same vision. It's the same with my whole family because all of us are pushing out this new thing. Because it's not just yesterday that we started the music – it's a long time that me and my sisters and my parents have been talking about this day right now. Seeing it manifest is such a beautiful thing.

Will we soon be seeing Kelissa and Keznamdi album together?
It's funny! I'm not supposed to be saying this but since you mention it I'm going to let out that we actually started out doing an album together. Because of our different movements on this earth we have kind of put a pause on it. But actually just waking up this morning I was talking to her and discussing when we were going to start doing this album again. We started it so we need to finish it. We have an album started and it's a collaboration everybody can look out for in the future. It has to come.

Your other sister Kamila is an artist and is married to Jah Cure. Is media attention something your family is used to?
I am really nobody. I am a youth who is a little shy and a home guy. I like to just stay in my yard and be with family. But media has definitely always been a part of my life. My sister Kamila has her own career and is with Jah Cure and even Kimani is with Calico who is the next big deejay. So media has always been a part of my thing but it has never been a problem because I always talk the truth. Once you always talk the truth nothing can go wrong. It's nothing we fear and it is the people's work we are doing so we're not running away. In fact the media is one of our biggest tools right now so I have to give thanks for it and the big exposure we have as a family right now. It's more of a strength than a burden.

Calico is on your EP with Kabaka and Chronixx – it's a friends and family affair.
Yeah man, big friends and family affair! Those things just came out organically because Calico is my success story. He is the one who taught me everything – how to deejay, how to sing, how to everything. He played a very important role in where I am as a musician today. He will always be a part of my musical journey.

How do you go about creating music? Are you a paper and pen man or do you just pick up a guitar?
Usually – and I say usually because these processes come out of nowhere sometimes – I don't write down music because I feel like it breaks the creativity. Everything is in my head. I usually start out with the guitar and once I have a small structure of the song I take it to the computer and build a rhythm around it. Once I have the little thing I take it to the big studio and get the clean sound. But I usually start on guitar or piano. I am a producer myself and all those tracks on the EP were recorded at least a year ago. I had those tunes for a long time and during that time I wasn't producing – the only song I produced was the last track I Don't Wanna, so you can get a little flavour of my production there. Now I produce a lot and I produce all my own work – I play guitar, piano and a little bass and I know how to program a laptop and use Protools and Logic so I am a more self-reliant person now.

How do you feel about the music scene in Jamaica today?
I love where the music scene is in Jamaica right now. I am a fan of the music because you have to remember music pure. A lot of people like to criticise artists for singing negative songs but at the end of the day the music they are making is pure. Whether it's a negative or a positive message you can still listen to the drum pattern or the piano and it's a nice sound. What I love about music especially in Jamaica now is that people are very open minded to a lot of new sounds. It's not just dancehall or reggae any more – there was a time in Jamaica when nothing else could play but dancehall reggae or the American mainstream. But as you say there is a new conscious movement and people are opening up. I never thought Jamaicans would like my music to be honest. My music is not strictly dancehall so I never thought it would be getting so much radio play in Jamaica. The music is in a very good position and I give thanks.

You put a video on your Facebook about the importance of a work ethic recently. [WATCH THE VIDEO BELOW]
That has always stuck with me. I always explain to people whether my age, older or younger that whatever your instincts tell you to do you have to do it right. You have one chance to do it so you have to make sure it's done properly. To be the best you have to do the most. Work hard in whatever you do. Even if you are a garbage man save up get a garbage truck, get the best bags and practice how to pick up the garbage the best way you can. A good work ethic will build up momentum and momentum breaks down a lot of barriers, so when you ride it only one thing can come – the fruits that you reap.

What can we expect from you and your family in terms of future projects?
You can look out for my older sister Kamina because she started out doing music and I will be producing some tracks for her. My nephew – Calico and Kimani's son – he is five years old and has a couple of songs in the studio. He's deejaying already so the next generation in my family is coming up and doing some powerful things.
You can expect some more singles after the EP. We might drop another EP or we might skip and go straight to the album. The album and the next EP are basically done. I am new. I am nobody and it is just this year that everybody started to hear a little of me. But I have been doing this music a long time and I have a lot of tracks in my catalogue. We will get everything out slowly without rushing and do everything at the right time. Expect an album or EP coming up very soon. Now this EP has dropped we'll watch how everybody reacts to it and come again with the next project.

Describe your EP in one word.
Limitless!