Review
Album Review: Christos DC - Tessera
07/26/2017
by Gardy Stein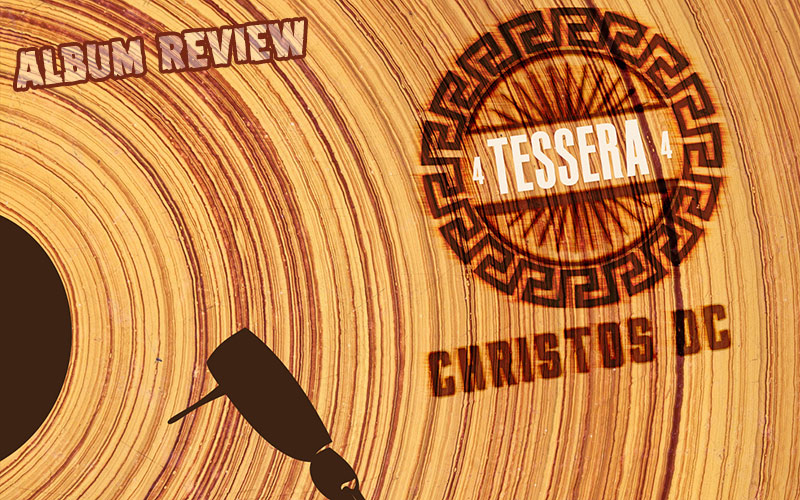 Honest Music – no description could fit the output of Chris Vrenios aka Christos DC better than the name of his label. The Washington-based artist (hence the DC) releases his fourth studio album, an occasion marked, accordingly, with the title Tessera, the Greek word for the numeral "4".

With a spiritual opening by Sadhu Ananda, the first song Speak The Fire is introducing us to a powerful newcomer from Bulgaria called Zafayah and The Skankin Monks. The latter join Christos again in Human Dignity, a deep Roots track which highlights the lyrical focus of the artist, a dedication to an artful that is mission and strength of Christos DC.

His prodigy-like arrangement and production skills, a multicultural background and an ever open mind for inspirations from beyond the Reggae-stream resulted in three exceptional cover-versions. The Desperate Ones, originally sung by Nina Simone, has been melodically draped in a Rocksteady beat, while Neil Young's Heart Of Gold begged for Reggaelization from its creation (check the existing covers of Honeyboy and Kwes!) and here comes in a breathy, reflexive version. The artist's roots shine through in a folky rendition of the traditional Greek tune Ρολόι κομπολόι (Watch Rosary), a title which looks like this on my old laptop: +í++++++¦ü+¦ +¦++++…

Technical problems aside - when Life starts, attention is inevitably drawn to the beautiful horn section (sax: Brian Falkowsky, trumpet: Joseph Brotherton) before the commanding lyrics engage us once more: "Life - a comedy for the rich, a tragedy for the poor". Honest music for real!

Say What You Want is full of teachings again ("Say not all you know but believe in what you're saying. A word is like a bird, once it flies you just can't catch it.") and thus smoothes the way for the man who dishes out his wisdom in the third feature What Is Happening - Akae Beka. Even though it's almost impossible to outdo this moral-musical heavyweight, the remaining guests are just as impressive: Communion unites Groundation-singer Harrison Stafford and foundation-son Kenyatta Hill in a plea for more conscious togetherness and less medially dictated consumption: "Communion of the mind is a union of the heart!"

Perfect closing words, they reverberate in the instrumental final Boots And Tie, a lively communion of Sly & Robbie and a host of other talented musicians (check the booklet for all the names) that has a so-called juice harp speaking to you. And since I am an aesthete, I have to comment on the exceptional cover-art as well. The connection made between wood and vinyl is so simple, but it never occurred to me before. Play me the ancient song of the trees…

Tessera is an amazingly creative album that seems to glow from within, sparking mental agility and physical well-being. It brings to our attention the authentic productions of a man who knows his craft and feels the mystic. Ευχαριστώ, Christos DC!

---
Release details
Christos DC - Tessera
DIGITAL RELEASE [Honest Music]
Release date: 07/28/2017
Tracks
01. Speak the Fire feat. Zafayah & The Skankin' Monks
02. Human Dignity feat. The Skankin' Monks
03. Life
04. The Desperate Ones
05. Come Along
06. Ρολόι Κομπολόι
07. Say What You Want
08. What Is Happening feat. Akae Beka
09. Pressure
10. Heart of Gold
11. Communion feat. Harrison Stafford & Kenyatta Hill
12. Boots and Tie
Featured artists
Akae Beka
/
Professor
/
Kenyatta Hill