A Day In The Life Of A Musician #92
08/14/2011 by Peanut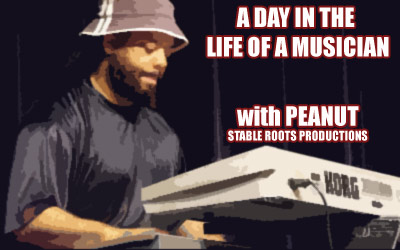 Greetings Brothers and Sisters.

Peanut here once again. Well the Kenyatta " Culture " Hill tour has been rolling along with lots of nice vibes at each stop.

Joseph Hill would be proud watching his youth uphold the legacy and building his own.

Well we had 3 shows this past weekend. First up was Rock Island Reggae Fest 8/12/2011. In Rock Island Il.
reached up there after a 19 hour drive from NC. Checked into hotel and chilled since we had a 4pm sound check. Then I got word Yard Squad, (band I am playing with backing up kenyatta ) was to perform for an hour and let's just say none was ready for that.
So I reasoned with the promoter and Yard Squad Band leader Art and we come up with an agreement to do some instrumentals and use a local singer to sing a few.

After that we left to do sound check and start the Yard Squad set before Kenyatta's to follow. It went over well and the people loved it. You can't go wrong doing some Bob Marley songs at a reggae festival.

Next up was Kenyatta. As we started the show intro everyone came forward from the other stage to witness the son of Joseph Hill for the first time. I am proud to say Kenyatta delivered and held the crowd in his hand from song to song with great stage presence and involving the crowd. It was a beautiful site to witness.

After the show we went back to the hotel. We had to leave real early for the next show (8/13/2011 ) in South Bend, IN.
Left round 8am and reached the hotel and had just enough time to check in and change real quick.

The show was called South Bend Reggae Fest. A tribute to Joseph Hill. So how appropriate to have Kenyatta as the headline after Pato Banton.

Reached the venue and it was raining real hard and I saw the people being moved indoors cause of the lightening and rain. I knew I had to get us set up and get the stage ready as much as possible so the show would stay relatively on time.
So I had the guys load out and setup and sound check as the rain kept coming down.

Pato was before us I gave the suggestion to use some of the same equipment to save time, they agreed. It all changed when the rain wouldn't stop. So Pato set up inside and played while we waited on word from the promoter to see if we was going to play outside still.
Finally the rain and lightening eased up and we was told the show was on. So we headed to the stage. The crowd was ready with a big attendance of Africans who drove from different places to see and hear Kenyatta.

When Kenyatta entered the stage the crowd went crazy with lots of energy. The Africans dancing and singing every song. It felt a little like one of the many shows I have done with Culture in Africa.
Lots of great moments at the show but one sticks out when the Africans started writing and signing all over Kenyatta's shoes and throwing there shirts up to be signed by him.

Love there energy. Kenyatta acknowledge what was going on and laughed and signed the shirts.
After the show Kenyatta stayed and signed every autograph and took every pic. Bless up Soldier for that it means the world to fans.
We headed back to the hotel cause we had another early wake up call to get to the Midwest Reggae Fest 8/14/2011 in Ohio.

Reached the festival grounds round 2pm where again it was raining really hard. The people was still enjoying themselves. Flex Crew was just getting off stage and we was next.

Had a quick band change over and we was ready, as the rain was pouring down. As we started the show everyone back stage came forward and the crowd out front came forward. It was obvious they was ready for Kenyatta Hill. First song in the front house cut out so we stopped till they fixed it. Soon after they fixed it and we started out again at Jah, Jah, See Dem A Come. The vibe was nice as we went thru a lot of Cultures classics with some of Kenyatta's songs mixed in.


During the set the sky cleared up and blue skies appeared. It was mystical. Rastafari! As we ended the show with I'm not Ashamed to a thunderous ovation with the crowd yelling for more but time didn't allow us too. Next up was the Meditations and Taj Weekes. Both acts put on great shows.


After the show we Hungout for awhile and took some pics and reasoned. Headed to the hotel to check in.
Next stop is Woodland Tavern in Columbus Ohio. Remember to check out Kenyatta Culture Hill band page on FB and leave your comments and hit the like button.

Until next time.

Peanut Bless.