A Day In The Life Of A Musician #91
08/10/2011 by Peanut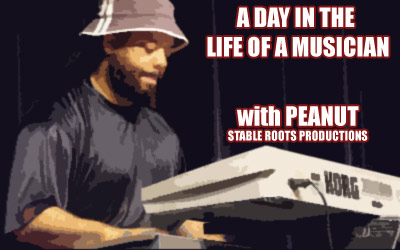 Greetings Brothers and Sisters!

Peanut here once again. Well we had a few days off and the Kenyatta " Culture " Hill tour touched down at Clementines ( 8/7/2011 ) in Harrisonburg Va. and at Martini Kitchen & Bubble Bar ( 8/8/2011 ) in Richmond Va.

We reached Clementines round 7pm and unloaded and set up and ordered food. Food is always good at Clementines. Kenyatta loved all the art in the place.

After eating we was told that we couldn't sound check till 9pm so we chilled out and talked. Bout that time Greg Ward, iron Lion and Brent Finlen came in. Iron Lion was opening up the show and Greg and Brent was playing with him.

I told the guys to let them just play and we just go on without sound check. I sat in with Iron Lion on Keyboards. Always irie playing with the guys. Just before Iron Lion went on i looked around and it was a nice big crowd in the club for a Sun. night.

During Iron Lion's set the crowd got a good mixture of covers and originals. Crowd gave up the love as Iron Lion delivered as always.

Then i just stayed on stage as Iron Lion brought on Kenyatta Hill. Started out the show with the show intro medley into The Message off the Pass The Torch album. Crowd was already up and ready to groove.

Kenyatta felt the energy and it showed in his performaqnce. The crowd kept singing along as Kenyatta would push the mic at them to sing along with him. It was funny watching family, friends and fans having a really good time. It is why we do the music to uplift the people.

Songs like Money Girl, Ganja medley had the crowd in an up roar and really into it. Kenyatta knew it and was having fun with them. Ha ha

Zion gate, tell me Where You Get It, Too Long In Slavery had all the Culture fans in awww as Kenyatta delivered them just like how his father use too do.

Two Sevens Clash mashed up the place. Kenyatta left the stage to a standing ovation as the crowd wanted more. We came back on and did I'm Not Shamed with wicked solos by guitar player Terry Getz and myself. The vibes always flowing with everyone during that sing.

After the show the people showed there love, congratulating , wanting autographs. Some just wanted to chat and asked questions. It was a nice time.

We packed up and headed out.

Next up was Martini Kitchen in Richmond was only a 2 hour drive from my house. The next day we left the hotel and chilled at my house and washed clothes till it was time too go. Reached down at Martini Kitchen round 7pm. We unloaded and set up for sound check. We all ordered food and ate as the sound guy was setting up.

Bout that time people started coming in and i felt it was going to be a good night. Then i saw Gordon Jones come in. The opening band Antero reached and i told them they could use our backline. It was good to see all the guys again. It's been awhile.

We did a quick version of Satta and got off stage.

By this time the place was getting packed and vibes was flowing. Antero took to the stage. They did a great job. People really dug them. It was good to see Mike Dread, Jake, Wiley, Tim and Mighty Jahshua. Nuff people kept asking me who is that guy, i love his vibes.

All will soon know who Mighty Jashshua is. I will leave it at that.

Chris Puma was in the building with Cree, Kerri. Puma was fresh back from on tour with Thievery Corporation. Hailed him up. Seko from Va. reggae was also in the house spinning records and keeping the vibes irie. Jahn and his Queen from reggae va. was also there.

Big up Brother Phillip and all the other elders and long time reggae fans for coming forward and supporting live reggae.

When it was time for us to go on i asked Chris Puma to MC and do a few minutes of I can't wait to get the crowd back into a uplifted mood. As always he mashed up the place and asked the band to take it low to introduce Kenyatta Hill. I took a quick look around and the place was packed and i can say it was a first to see so many reggae fans inside Martini Kitchen. Big Up Richmond for the love. It's why i love to bring the music to the people. Love is all it takes to make someone want to do for others and make them happy.

As we went into the Show intro into The Message, Kenyatta walks on and the crowd yells and i knew the stage was set for a great night. Joseph Hills spirit was in the building for sure. Rastafari!!!!

Song after song going thru the Culture classics, seeing the people singing along and dancing with such joy on there faces. Some giving looks like wow he looks and sounds just like his Daddy. I even saw some with tears in there eyes during the show. The vibes was in the air.

Kenyatta felt the vibes as well, at different points of the night he would just stop and take in everything absorbing all the energy from the people as fuel to channel his father to the people. It is a mystical vibration to see and witness nightly.

By the time we reached Two Sevens Clash which got wheeled up 3 times Kenyatta and the crowd was as one. He left the stage as Chris Puma asked the crowd if they wanted more. They gave up the love as we went into I'm Not Ashamed intro which had Kenyatta running back onstage.

After the show the people hung out and talked with Kenyatta and the band. I want to say personnaly, give thanks for all the thank you's i got for bringing the show to Martini Kitchen. I felt the love and will continue to do my part and keeping reggae fresh in the minds in Va. fans and bringing the shows and artist when possible.

Be sure to look for the videos on youtube. com as my bredren Guitar Jamie filmed alot of the show. Pics will be up soon as well. Check out Kenyatta's band facebook page and give him and shout and click the like button.

Next stop is Port Au Call in Nags Head NC.
Until next time Peanut.
Bless
Video from Toronto August, 1st 2011