A Day In The Life Of A Musician #90
08/03/2011 by Peanut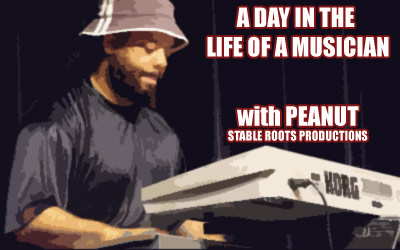 Greetings brothers and Sisters.
Peanut here once again. Well it's been awhile but i am back and i have a full slate of musical vibrations to share with all of you.

Right now i am on tour with Kenyatta Hill in the USA. Doing a 4 week tour starting in Toronto Canada.I will be blogging all the shows with pics and vids as well.

Check the dates on Kenyatta's profile!

Well we had 3 days of rehearsals in St. Louis and then drove 13 hours to Toronto.Reached in on Sunday and checked into the hotel.We already had some issues.The guita player forgot his passport so i had to get on the phone and get a guitar player to fill in for the show.Without a passport you not getting into Canada.

The show was (8/1/11) at Downsview park for the Jamaican Carabana Festival.The show had the funniest Jamaican Comedian Oliver,L.U.S.T.,Steele and Culture featuring Kenyatta Hill.

We chilled at the hotel till about 6pm.Reached the venue and it was totally packed.If i had to guess i say about 8000 people easy.The vibe was electric with all the west indians in the crowd ready for some good reggae music.

I went backstage to see whats was to eat and drink.They had some nice corn stew that was wicked.I went onstage to listen the all the local artist do there thing.They sounded really good.Lot's of talent in Toronto.

Soon the stage Mgr. came up to me and said we was next.So i got the guys together and told Kenyatta to get ready.

The band members are Bass-Art,Drums-Thomas,Guitar-Terry,Riddim Keyboards-Matt and myself on lead keyboards.With Kenyatta on Lead Vocals.

As i walked to the stage the energy in the place was electrifying.I was ready to play, been about 2 years since i have played a Culture show.I looked around at the band and everyone seemed they was ready so i told the MC we was ready.

We went into The Message an original tune off The Pass The Torch album.

As Kenyatta walked onstage, as always i get goose bumps when he walks by my like his father did for lots of years. I feel the vibe.he opened his mouth and addressed the crowd as starting into the song.

Then we started into the Culture classics.First up was Iron Sharpen Iron as the band started to groove.The guitar player Ras Laza who was filling in for us was sounding good so i started to relax.I knew we was going to be okay.

Next up was Jah,Jah See Dem A Come & Jah Rastafari which mashed up the place.We had to wheel out as Kenyatta sang out the signature lyrics as the crowd sang along with him.It was great feeling to see and hear that again.Kenyatta was sounding great.Man he sounds like his father so much.

Money Girl mashed up the place.I was really surprised how good the band was doing. I was worried bout new guitar player and being the first show,hoping everything goes okay.

International Herb,Zion Gates got another thunderous ovation as this point Kenyatta came out his suit jacket.he was dancing and running around onstage.I love his energy it's always contagious.

The crowd was singing along and feeling Kenyatta.They was really giving up the love.The people really feel Joseph's Hills energy thru Kenyatta.

Fussing & Fighting was next right into the all time classic Two Sevens Clash that had all 8000 people up and singing.of course.We wheeled out as Kenyatta was talking to the crowd as Thomas rolled us back in with het signature drum roll will catch you every time.ha ha

As Kenyatta walked off stage to a standing ovation, the MC came up and asked if they wanted more but i knew we couldn't cause time was not on our side at all.Walked off stage and everyone backstage was giving up the love and vibes.

Next up is Oneneta Theater in Oneneta NY on Thurs. So the next few days we will go over the songs and learn some more news ones to play.

Be sure to tune in, i will be blogging every show with pics and vids when possible.
Until next time Peanut. Bless