A Day In The Life Of A Musician #100 @ Hampton Reggae Fest
01/27/2012 by Peanut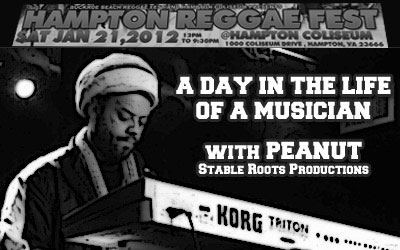 Hampton Reggae Fest 1/21/2011
We left for the three hour drive from Raleigh, NC to Hampton, VA round 9am and reached at 12:30pm and checked into the hotel. The hotel was near the venue which was the Hampton Coliseum and traffic was crazy which meant people where coming to the show.

Today's show was at The Hampton Coliseum featuring lots of bands and artist from Virginia. Bands like Antero, Crucial Elements, Session Rockers and Natures Child all performed. They all sounded good.

Inside the Hampton Coliseum it was a vibe hard to describe really. Seeing so many artist and musicians in one place all there to perform and bringing there musical offerings. So many that i had could'nt reason with all of them but i sited them all. too many to even mentioned but you know who you are and Big Up for the works. Prosperity is round the corner for all. I was real impressed by everyone. Virginai reggae is real strong right now.

Also want to big up VA Reggae, Seko and the whole crew and volunteers,wow is all i can say. Everything was well organized with lots of side stages, food stations and venders. Big Up Yourself.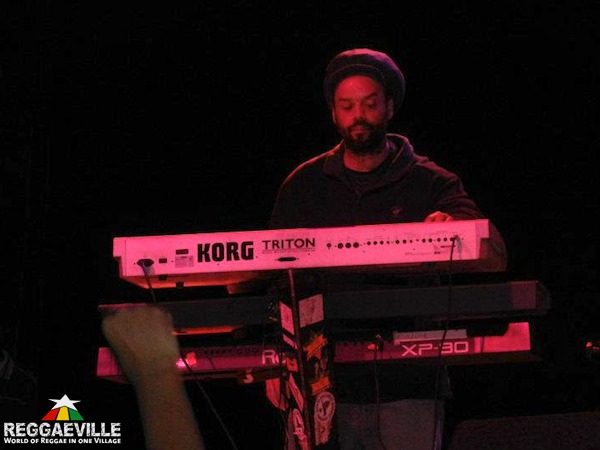 Soon it was our time. We was slated to back up Mighty Jahshua, Ever-G, Ras Puma, Corey Harris, The Itals, The Meditations and Culture. Long session but the Stable Roots crew was up for it and ready.

After setting up the stage and doing a quick monitor check i told the MC we was ready. Big Up Sistah Kerri Thurman.

First up was VA Reggae New Artist Nominee Mighty Jahshua for his debut performance as a solo artist and featuring some of his songs off the soon released album produced by stablerootsproductions.

We went into Jah Calling and the table was set as Mighty Jahshua with his arsenal of powerful lyrics took over the session. The crowd was feeling him and i could see he was enjoying himself. Next up was Locks Of Oppression which mashed up the place. Ended his set with the self titled song Mighty Jahshua which is a crowd pleaser already. Mighty was standing firm. I even saw people in the crowd singing along with him. Mighty Jahshua set the night off right for our session as he exited the stage to a big loud cheer. Big Up Mighty Jahshua the journey has now begun iya.

Next up was my bredren Hailing from Hanover Jamaica Ever-G and The Irie Ites. As always Ever-G is full of energy and positive vibes as he stepped onto the stage with Steal My Joy which is my favourites. song of the new album I co-produced with him. Vocals sounding great and the backgrounds sounding like birds sailing in the wind. Big Up Irie Ites.
Original tunes Whats Up With The World and Mission went over well. Ended his set with The Heathen as he exited the stage.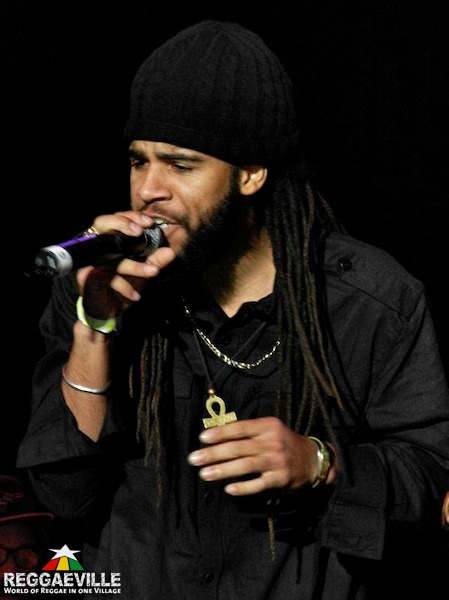 Next up was Ras Puma as Sistah Kerri brought him on. The vibes was just getting stronger and stronger with each artist as the crowd started to fall in and catch the vibes.

We launched into Feel This Joy as Ras Puma stepped onto the stage and the crowd went crazy. They love him down there. Ras Puma working the crowd and stage and had everyone in sync. Day & Night mashed up the place. Friends from his debut album went over real good. Watching all the people dancing and singing along. As i always say when he performs this tune I Can't Wait,it's always a showstopper. People love this tune. Ras Puma exited the stage after a quick acapella version of Sam Cooke.

Then up was Award Winning Artist Corey Harris introducing songs off his reggae album Zion Crossroads on Telarc Records. Cleanliness, Babylon Walls, The Ark of The Covenant mashed up the place. The tune Sweatshop tears the place down every where he performs it.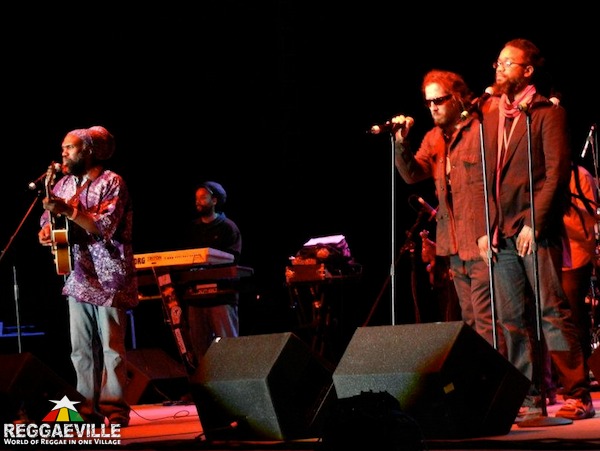 Tonight was just one and the same. I watched the people really get into it and was singing along with him by the end. As always Corey's soaring strong vocals had the crowd in awww. For many it was there first time hearing him,for some there first time seeing him perform reggae. Big Up.

We took a short intermission before the next part of the session started. The vibe in the coliseum was electric.

Backstage the vibe was irie and the Roots Culture Showcase Artist where ready to go.

We headed back to the stage as the MC introduced first up The Itals featuring Keith Porter. We launched into the show intro medley right into Rastafari Chariot which got the vibe and crowd up and moving again. Keith dressed in a black suite was sounding sweet as usual. Hits like Got To Reveal, Call Jah Name, Farewell, Herb Pirates, Just The Way You Are mashed up the place. The Itals ended there session with the world wide smash hit Inna Dis Ya Time.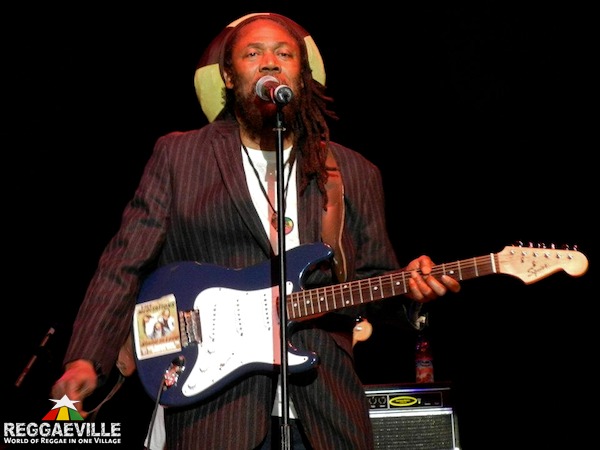 Next up was The Meditations. Once again we launched into there intro into Great Tribulation as they stepped onstage to a great loud cheer. It was there first time in the area and they where feeling the vibes. Lead singer Ansel Collins and the harmony singers where in rare form and sounding sweet. Songs like Nice Time, Carpenter Rebuild, Babylon Trap Them, Funny People went over well. Once Fly Natty Dread started the place exploded and the vibe went up a notch. The people loved that tune. They ended there set a little short due to time with Book Of History. The crowd loved it as they exited the stage making way for Culture featuring Kenyatta Hill.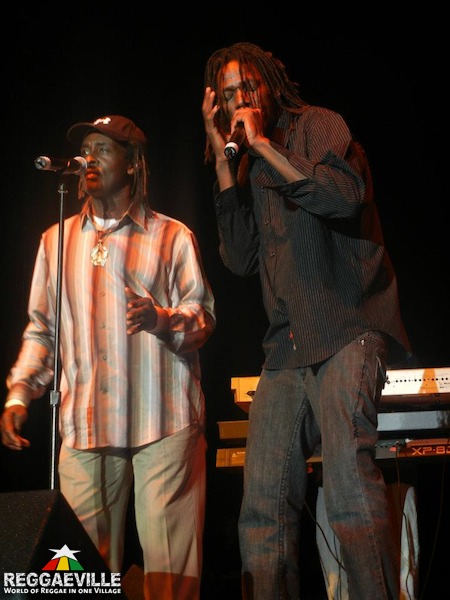 Once again we launched into the show intro right into Jah Jah See Dem A Come as Kenyatta Hill and Albert Walker (original member of Culture) ran onstage to a loud cheer and man the vibe went up another notch. It was crazy. I swear he just carries his fathers vibes with him always. Watching the peoples faces as they danced hanging on his every word and body movement. Songs like Jah Rastafari, Same Situation, Fussing & Fighting went over well. We had to cut the set short due to the curfew. We ended the night with the world wide smash it Two Sevens Clash right into I'm Not Ashamed.

First I just want to say big up the StableRoots crew Peanut on keyboards, Ken Joseph on Drums, Jayson Morgan on Bass, Ras Mel on Guitar, Gordon Jones on Sax, Wylie Jones,Mighty Jahshua on background vocals for your hard work and disciplined. Life of A Musician is not an easy road.

Thanks to all the fans and supporters for both shows, it's why we do what we do. Music is Life, Life Is Music. Heartical Love.

Check out pics and videos of both shows on Facebook and Youtube.

Until next time Blessings Peanut.