Interview with Ken Boothe
03/22/2013 by Angus Taylor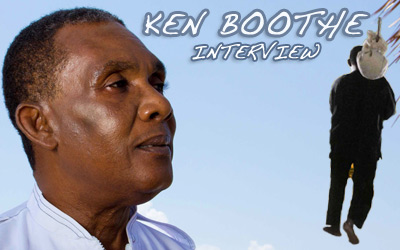 In 1963 when Ken Boothe began singing, ska and rhythm & blues were all the rage while rocksteady and reggae were just around the corner. Five decades later he has dropped his 31st album Journey – which sees him combine all these styles with a taste for modern one-drop and uptempo dancehall.

This year's European tour schedule includes the chance to see him indulge both his old and new school sides live on stage. Londoners can witness his return to the London International Ska Festival on Sunday 31st March: revisiting the days when he and Stranger Cole recorded the likes of Artibella for Clement Coxsone Dodd's Studio 1. In July, he will be at Cologne's Summerjam: sharing a bill with Busy Signal and Snoop Lion – who used his 70s recut of Artibella for his first post-transformation single La La La.

As warm, serious and soulful as when he sings, Ken Boothe granted Reggaeville this interview. The forward-minded veteran recalled the multiple musical departures on his Journey album and how they relate to the many stops on his long and illustrious career….

You have released your new album Journey after 50 years in music. How did your musical journey start?
I grew up in a musical family. I was living in Denham Town in the colonial days when parents had bred us and fed us even though they weren't as well off as other parents. Me and my sister grew up singing the blues. This was my mother's first child – she is not here with us any more – but she was the first one who opened my eyes to show business. She used to take me to rehearsals and in those days it was a live band – an orchestra.

Tell me about your first break in the business back in 1963.
The person who gave me my first break was Stranger Cole. I met him and we started as a duo. Aged 15-16 it was Stranger who gave me that break because he was already a big star. The first time we went into a studio Stranger took me to Duke Reid at Treasure Isle. There were a lot of people there for audition that day but because Stranger was already singing for Duke Reid and he had told him about me Duke was prepared for the audition. It was kind of easy for me because it was me and Stranger singing the song so Duke Reid just listened. And in those days when producers heard good singing they didn't even listen to the song all the way. I remember when Stranger and I sang Uno Dos, the first song we did, Duke Reid didn't even hear the whole song before he pointed upstairs to his studio and said "Gwaan go record".
Was that your first tune? I thought you and Stranger did some songs before that?
(pauses) Yes, we did some songs for some independent producers. There was a guy who they called Big Sevens who was just a man who loved music and decided to record us because he loved how we sing. There was another sound system man they called Sir Percy - because in those days Sir Coxsone and Duke Reid inspired a lot of soundmen to produce – so we did a song for him. There was Sir Mike who was a Syrian who had a lot of stores downtown but loved sound system business – we did two songs for him also. We did a few songs for a few independent producers but for Ken Boothe to become a household name it was Sir Coxsone.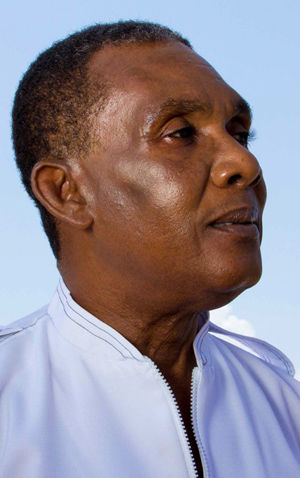 Tell me about how you came to record with Coxsone at Studio 1?
For me, and even for Stranger Cole, Sir Coxsone was like Motown. For most singers in Jamaica, no matter who they were singing for, Coxsone was making music with quality. Even though there weren't a lot of tracks in the studio there was a quality sound and his music had a difference. So me and Stranger decided – even though Stranger was a big name already – that we had to break that barrier. Both of us went up there when we had written Artibella and World's Fair and it was easy for me again because Sir Coxsone felt honoured to have Stranger come to his studio, even if it was a duo with me and him. World's Fair released first and was in the Jamaican charts, then Artibella and I fell in love with Sir Coxsone's music. My spirit went there. Every time I woke up in the morning the only place I would think about was Studio 1 and Sir Coxsone. The artists who recorded for him in those days were great singers like Owen Grey, Jackie Opel, Wilfred "Jackie" Edwards, even Laurel Aitken and Millie Small. The elite of singers in those days.

How did Coxsone help you on the next step of your journey – becoming a solo artist?
I kept going up there not knowing what was going to happen to my career. When you were at Studio 1 you would mingle with the Wailers, Delroy Wilson, the Gaylads. Guys like Owen Gray were the forerunners but these were the people in our age bracket. Until one day Coxsone called me and said "I think you should sing on your own". I had doubts because these singers around him were so great that I was wondering if I could really compete. He looked at me and said "You, when I hear you sing, are different". He decided to start me out with soul music. But at this time people were starting to identify with the ska and find their own identity musically speaking. So when he released these two soul songs they didn't do well because people were focussing on the ska. Because the ska is a dance music that will make you happy.

So you left the soul and went back to the ska?
I loved Sir Coxsone because at his studio, whenever the time was there, any one of us could go in and record. So after a while he told me that any time I wanted to record I could just go to Jackie Mittoo and tell him. So I told Jackie Mittoo and I went into the studio and started to do ska. Tunes like Come Running Back and You're No Good. But for me to hear these songs I had to go to the dancehall and this was where I began to hear my voice without me! (laughs) The first time I heard my voice on a vinyl was in the dancehall. Sometimes I would go night after night and not hear any song with me but I never stopped going because I loved singing and anywhere the sound would play I would walk because I didn't even have a bicycle.

As the 1960s turned to the 1970s how did your journey take you from Coxsone to Leslie Kong at Beverleys? You, Jimmy Cliff and Toots are all past the fifty year mark in the business and all recorded there.
After a while we started to get to know the business part of it. Me, Wailers, Gaylads, Delroy Wilson and all of us started to realise that we were entitled to more royalties. We heard other recording companies were paying more royalties and we started to get children with our baby mothers and be dads so we had to take care of our families. So we heard that where we were getting ten cents from Coxsone, Beverleys would be giving one shilling or one and six. We wanted to break barriers and we heard Beverleys could get you in the British charts. We realized our livity needed to extend financially so we asked and got a negative answer. So we left because we were dealing with upliftment and betterment. With Sir Coxsone the musical part of it was not why we left – it was just the financial part of it – we wanted to be better off. We did get a little better treatment and Beverleys was where I did the Freedom Street album. After that we moved to Mrs Pottinger.

Both Leslie Kong and Mrs Pottinger are no longer with us. Can you share some memories of them?
We moved to Mrs Pottinger also where she would give us the same kind of money in royalties. She would give one shilling or nine pence. We could see our way out with that kind of money because 500 records in those days were at six pence each. When we checked it out it was too small for us and we wanted to step up. Mrs Pottinger was the only lady producer in that time and she loved good music. I did songs like Say You with her, Starlight, Hallelujah. I did an album for her and it was really a good album because she had a lot of taste even though she was a woman. Because men have dominated the music industry ever since so for a woman to be side by side with them producing I think she was very outstanding. Just this morning I was mentioning her name to a good friend of mine.

Your new album is self-produced. In 1971 you decided to go out on your own and work without producers for a while.
We decided to go out on our own and formed a company called Links. This was Melodians, Delroy, Gaylads, myself and another friend who we called Bumps Oakley. But they ganged up on us, all the producers, because we were the resource in that time, and no one wanted to play our records on the radio so we had to go back to these people again. But I ended up with Lloyd Charmers.

Lloyd Charmers, who passed away last year, produced your cover of the American group Bread's Everything I Own which became a massive hit in 1974. On your new album you cover an English pop group, Spandau Ballet's True.
Lloyd Charmers played a great part in my development as an artist. He had a lot of taste. Mine and his taste was the same in the songs that we loved. He was older than me so his experience was the same as mine in terms of rhythm and blues. When I was young he had a group they called the Charmers which is how he ended up with that name. He loved me a lot and thought so much of me, musically speaking, but we were close friends also. Me, him, Delroy and BB Seaton would see each other every day. But he chose me to produce and I think we did a good job of it.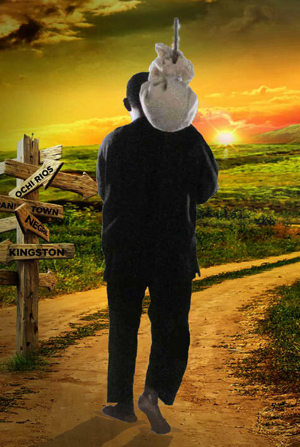 How did you come to record Everything I Own?
In terms of the charts Everything I Own was my biggest hit, but he actually didn't want me to do the song! Lloyd was like this – when you had a plan for an album he would work out everything on his own and then bring me the songs he wanted me to do. In those days it was ten songs that completed an album but that day we only had nine so we were one short. I told Lloydie I had a friend in Canada who I was staying with and when I was listening to an Andy Williams album we heard Everything I Own. Andy Williams just passed away the other day too, God bless his soul. My friend looked at me and said "Ken, when you go back to Jamaica you should do that song". So when we needed one song to complete the album I remembered and it was like God spoke to me. I asked Lloydie if he wanted to hear it and he said "No, Ken" so it was the musicians that said "Mek we hear this song". When Willie Lindo, the guitar player worked out the song and played the opening everybody was on fire in the studio! And when I started singing the whole studio was so joyful. Now the Khouris, who owned Federal, and knew when they had a hit on their hands, heard us working out the song. Mrs Khouri said that if this song didn't go to number one she would sell the whole studio complex! (laughs) And so said, so done. The song went straight to number one for weeks.

When did you find out it was a hit in England?
They released it in England and I went there on tour in some little clubs to sing it. I had never sung to white folks. I had been with Alton in 1967 on tour but I had never seen so many white people. I came back and when I was sitting on my veranda one day I heard the bell ring and the postman brought a telegram saying the song as leaving the breaker for the charts. So they sent for me to do Top Of The Pops but because the song was number one in Jamaica I was busy doing shows all over the island. So the first time it played on Top Of The Pops they made a video with a guy with a shadow so you couldn't see his face but it wasn't me. I went on there about two weeks after that and it was history because I have been on Top Of The Pops fourteen times. Me and my friend Mikey Campbell would count every time we went on and write it down. I enjoyed it so much, even though the company with our royalties, Trojan, went bankrupt, because it let me get more popular and I met a lot of people I never met before. I remember a Christmas Gala show where I met people like Three Degrees and Michael Jackson, Barry White, Hot Chocolate and Gary Glitter – before he got messed up in those times. I never got to meet those kind of people before as a country boy!

You changed the lyrics of Everything I Own from the original Bread version. The original is about David Gates losing a father but yours is about losing a woman. Did that help it to get so big?
Yes I think so. I think a love song is the ultimate song. But I sang it as if I was sheltering from violence. Jamaican violence was starting out with the gun wars so I sang "You sheltered me from harm". David Gates sent me more songs after that song went to number one but Lloyd Charmers decided we should do a song that we wrote for the follow up so we did Crying Over You which went to number 11. But I give thanks because I know that in the British Charts two songs is all anybody gets! (laughs)

Another of your old friends who is no longer with us is the keyboardist Glen Adams who used to sing with you in the duo Ken and Glen.
Me and Glen were coming a long, long way. How I love him. He also grew up in a singing family. His sister Yvonne is a great singer but he was the one who actually pursued music. We recorded I Remember which was a good song but he was also a musician. When he got sick here in Jamaica it showed him how important he was as a musician to a whole lot of us. There is one guy in England, [Dennis] Alcapone, he is a nice gentleman. Because I don't just deal with music alone, I look at the person also. He is the one who, when anything happens to any artist, he calls up everybody and tells them that we have to go and visit them. He was the one that let me know Glen Adams was at the University Hospital. When Bob Andy took sick too, he was the one that called me. And I heard that when Lloyd Charmers took sick too, he was the one that called up everybody and arranged the Nine Night in Jamaica. I commend him for these things.

You will be at SummerJam in July where you will be sharing a bill with Snoop Lion who used the rhythm to your 1970 cut of Artibella. That song was voiced for Phil Pratt, who is still with us.
Phil Pratt is another nice person as a producer. We grew up together like me and Glen but we were much closer. We used to dive for money when the ships used to come in the dock. When I was young we were honest. When we were singing on corners non-professionally we knew how to hustle honestly. We'd dive for money in the mornings then go out to sell the Star – but not steal anything from anybody. We all do things our parents don't know about but where some people did negative things we didn't do that. At Christmas I would sell sealing stamps and hangers to hang up your clothes and curtain rods. Most singers in Jamaica in my time would go through the same situation so we could have our own money to move. I started buying my clothes from an early age. If I wanted some shoes I would sell some Star and make up the money. We didn't grow up with any gold spoon. We grew up in a poor community in the colonial days and we have come a long way.

Looking back on your 50 year musical journey, do you have any regrets?
Most of us when we took up this journey, it wasn't easy. We went through a lot of perilous times. Some of the producers weren't honest. We got ripped off in a whole lot of ways. They knew that in colonial days we weren't as well learned as people who got to go to college or university. We just went to ordinary little elementary school. I'm not an educated person as such but I put all that into my children because I know that education is the key to any nation's progress. And I would encourage kids going into music to know that too. If we guys were more educated in certain ways a lot of people could not have exploited us. I think the American singers went through the same thing like we guys. They did not attend school in a great way. Slavery was abolished and then you had to conk your hair and sing in a club to act like you were white and that was the only way they accepted you at the time. Everybody went through that period where you were being exploited by someone in some way. I think what is good for all of us, is to keep that faith in whatever you are doing. You must not let anyone give you any doubts about yourself. Sometimes when I talk I remember these things and tears come to my eyes when I think of this journey. There were a lot of ups and downs in that journey so you have to have perseverance, you have to have faith. That's why I say in the song Journey "Don't be afraid to walk that walk. Don't be afraid to talk that talk. When you start a journey, don't turn back".

Your new album Journey sees you singing on a lot of different rhythms including uptempo dancehall. Why did you decide now was the time to showcase your broad taste?
Because I'm alive and there is a younger generation of people who took up this business. So we have to show them we are for all times. I'm alive and well. I've done two or three rhythms of what they call dancehall. But I didn't drop my standards – I made sure of that. The way I look at it is – whatever era comes up I have to get involved. We guys have been doing this since the 60s right up to the 80s and 90s.
You clearly like dancehall music - you worked with Shaggy in 1994 for the soundtrack to the film Money Train.
Yes, I did back Train with Shaggy. And now Snoop Dog has redone my Artibella in 2013. I'm 50 years in this business and still have my life in front of me. I love music and I don't know when I'm going to put down this business. I'm co-ordinating with some younger people. If you listen to Dancehall Girl on my album I got Josey Wales involved and a young man from America – a rapper named Chauncy. He is my friend's son who came to my studio and he liked Dancehall Girl so right away I just put him on the rhythm and of course Josey Wales is a legend. I've also done one with G Mac, a young upcoming deejay. You have to get yourself involved because there are a lot of changes around the music where people do things with other people. But I'm not going to drop my standards. I'm not going to do that.

There are musical standards and there are lyrical standards.
Yes, I'm not going to drop that part of me. I love to sing love songs. My feeling is that the ultimate is going to be love. That's what we're fighting for. But what is happening in the world, people have to sing about it too – discrimination, victimisation and things like that. There is a song on the album called New World Order. Because the world is making a big change right now so me and my writer Valbert Brown wrote that song. I see that song as relevant because the leaders of today need to know how to lead. Because a lot of leaders, all they know is how to make war. So people need to open their eyes and see what's happening around them. The leaders have to deal with compassion and show more interest in people.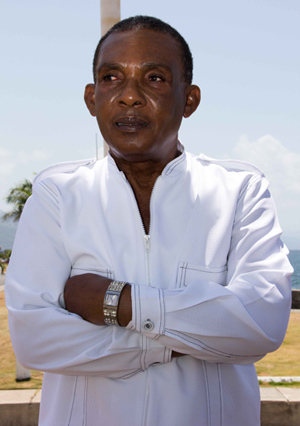 As someone who listens to ska, rocksteady, reggae and dancehall, what is the next beat that's going to come out of Jamaica?
It's not like one time. I don't see too much of that kind of thing. Too many people are not doing anything original. I think what is lacking now is originality. If you have original things you can get a sound out of it. I believe in original songs like on my album here now but I also adapted a song. Any artist who tells me he is not going to sing over any artist's song is foolish because people have been doing that from ever since.

Let's end the interview by going back to American soul music. You cover Otis Redding on your new album. But back when you first went solo in 1966 you sang one of my favourite tunes on a soul rhythm, Lonely Teardrops.
I Love Otis. Yes, that was Jackie Wilson. I remember Sir Coxsone brought the record back from America. Sir Coxsone was the producer of all producers because he knew which songs to give me to sing. A lot of the songs were adapted songs that we made popular.

Your song is different from the Jackie Wilson one though. I prefer yours.
Let me say this. Music has no colour. It belongs to all of us. When I hear people from other nations express themselves about the music it just shows we are all God's children. We all share the same problems. We breathe the same air. We share the same sorrow. Sometimes joy can become sorrow and sorrow can become joy. My fore-parents were slaves but how could I blame the slave master's children for what they had done? That was then. His Imperial Majesty Haile Selassie, I love his teaching, because he speaks about humanity at all times. I never hear him speak against any race. Most of the kids today, whether they are white or black, are thinking in a human way for human beings. They want to cut out negativity and get close to each other. The ones who don't want to be like that are just a few who no one sees that much. I give thanks for you, who love our music when you could embrace something else. When I look at Europe I see reggae and I see Jamaica. I see that love. I don't take it for granted. It's the love of the people that makes me cross the Atlantic for that enjoyment. Did you know I have never been to Africa?

Really?
I was talking to Chronixx and he said he just left Africa. I said I have been singing for 50 years and never been to Africa. But I know one day I will get to that motherland. Because the first people came from Africa. So even in France or Germany they have things from where it started. Everywhere in the world has something to offer. So if all of us could join hand in hand and put all our resources together I think we'd have a better world.

On Sunday 31st March you are headlining the London International Ska Festival for the second time. Owen Gray has also played it twice. Your old friend BB Seaton will be there. How does it feel to be bringing the ska back in London again?
I'm looking forward to the ska festival. What these festivals do for me is let me see my good friends I haven't seen for a long time. Owen Grey is someone I haven't seen for quite some time now and I know there are a lot more artists there that I am going to be glad to see! Ska music means so much because everything grew out of that first plant. That was when they planted the first sound. No one can take ska out of Jamaican music. What the musicians did was break it down because it was so quick that you could not dance to three ska tunes so easy! You'd be tired! But whenever you want to perk up and be lively and happy – it's the ska, I tell you. Because if you are frustrated or down in any way then that beat, that sound can lift you up. I love ska. That was how it started out for all of us. We all got a little taste of the ska. The guys that started the ska were a bit older than us and I came in when the rocksteady was getting ready. But I really enjoyed it. That was the acorn of the music.