Review
Album Review: Kelissa - Spellbound
01/19/2017
by Gardy Stein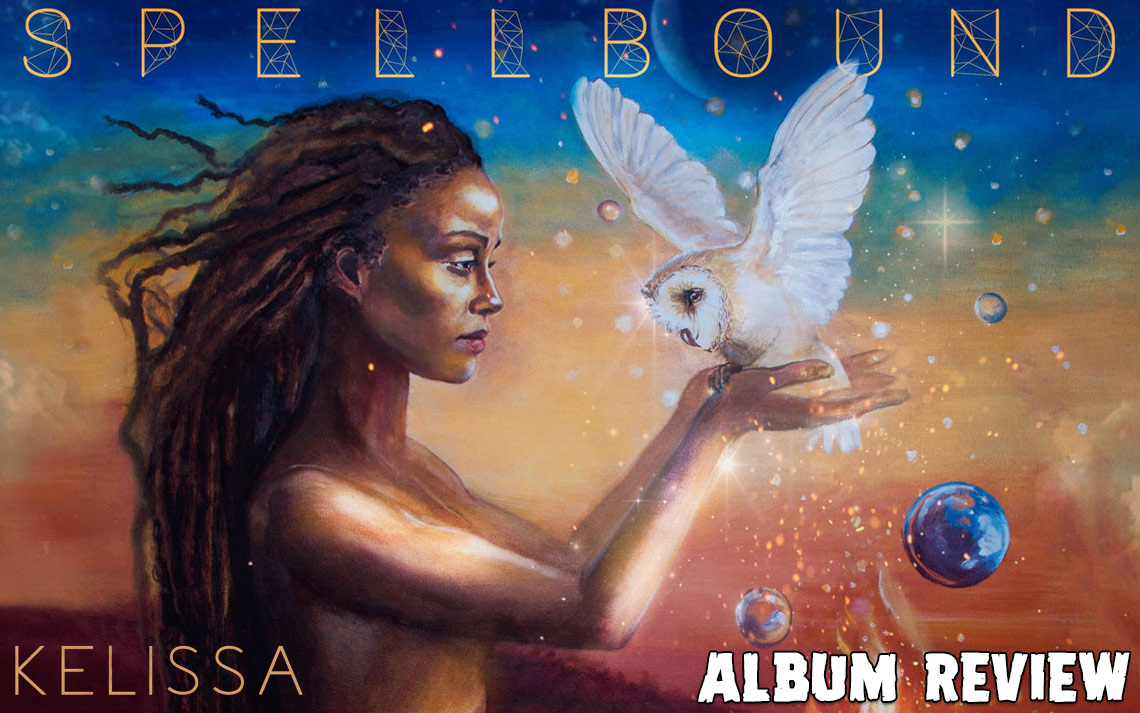 Exotic cultures seem to be en vogue among the female artists of Jamaica: while Hempress Sativa appears as an Egyptian Goddess on her recent release Unconquerebel, the sophomore album of Kelissa depicts the singer as a naked Indian nature spirit on the cover, owl and fire and revolving planets and all - a fascinating artwork by Nakazzi Hutchinson. In line with this image, Spellbound comes across as a rather shamanic affair with eleven tracks, including two dubs and three interludes.
The title track Spellbound that kicks off the album is not at all Reggae. Spherical bells, Native Indian drum patterns, a flute and Kelissa's floating voice are all it takes to make us feel comfortable in this soulful, easy listening piece. A nice contrast, the second song brings Reggae back on the table with full force, represented to the maxx by none less than Mr. Jesse Royal. In the only feature of the album, the dream team tells us to Wake Up And Live, "get up and give", on a rhythmic, fully instrumental beat that shines with carefully arranged brass sections on its peaks and moves us with rolling bass through its valleys. Best Kept Secret continues the Reggae-ish direction the album takes, and while it displays the singer's sweet and soft vocals, the next track Topsy Turvy catches up with Kelissa's more aggressive, confrontational side.
Having slowed down in the preceding, cleverly placed interlude, Take Your Time celebrates the couples around in a laid-back lovers' rock style. Before the release closes with the above-mentioned dubs, How Many More tells us to stand together and heal the world with love. Thumbs up for the courage to release such an experimental approach on Reggae music. Thumbs up as well for the extraordinary musicians who managed to give the at times airy delivery a solid foundation: Nambo Robinson (trombone), Nnamdi Robinson and Wayne Armond (guitars), Kazemde George (saxophone), Hectar Lewis (percussions) along with mixing engineers James "Bonzai" Caruso and Jamar "Chronixx" Mcnaughton himself really did a great job creating an outerworldly sound-sphere that is different from anything you might have heard so far.
Spellbound is quite a listening experience, and if you are curious what Reggae with a shamanic twist sounds like, check out this album!
---
Release details
Kelissa - Spellbound
DIGITAL RELEASE [Anbessa Productions]
Release date: 01/19/2017
Tracks
01. Spellbound
02. Wake Up and Live feat. Jesse Royal
03. Give Your All (Interlude)
04. Best Kept Secret
05. Best Kept Chant (Interlude)
06. Topsy Turvy
07. Slow Down (Interlude)
08. Take Your Time
09. How Many More
10. Best Kept Dub
11. Spellbound
Featured artists
Jesse Royal