Review
Album Review: Living Heart Vol.1
03/11/2014
by Angus Taylor
A collection of rare jewels for Burrell fans that represent a father's legacy being continued by his son.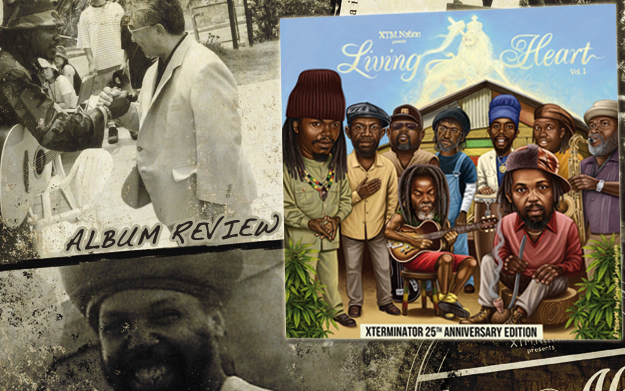 The passing of 57 year old Phillip Fatis Burrell at a time of great nostalgia for his 1990s productions resulted in a huge outpouring of sadness and love for his music. Burrell's Xterminator empire was a chief architect of the 90s roots revival that helped make Sizzla and Luciano's names – while giving valuable grounding to next generation artists such as Chezidek and Lutan Fyah.

His son Kareem "Remus" Burrell's reboot label XTM.Nation has been attracting attention for similarly distinctive rhythms that continue the tradition of clean-sounding, intricate, eclectic live instrument based reggae. And to commemorate a quarter century of the parent imprint he has released this compilation of unreleased material produced by his father, along with his own creations. The cover depicting Luciano, Sizzla, Beres Hammond, Sly & Robbie, Dean Fraser and Earl Chinna Smith is illustrated by Original Jeremiyah and the heartfelt liner-notes are penned by writer and friend of Burrell, John Masouri.

Burrell was an old school producer in the mould of Coxsone Dodd. The notes reveal he wanted to be a trumpeter until suffering a police beating that left him unable to play. Xterminator's actual music was directed by Dean Fraser and Burrell used the finest engineers available such as Stephen Stanley, yet Fatis stamped his personality on the overall sound. The tracks here are clean, smooth, heavily produced and often laden with Fraser's gushing soprano sax. Despite slick, occasionally MOR arrangements up top, their rhythmic foundations laid by Sly Dunbar and Kirk Bennett definitely maintain their roots.

There are big cultural tunes from Ini Kamoze (the folksy wisdom of We Pop It Off), Pressure Buss Pipe (the militantly drummed Shield & Guide) and Gentleman (the haunting Eyes Wide Open). Lee Scratch Perry delivers an unusually coherent wordsound stream-of-consciousness riff on Ken Boothe's When I Fall In Love as flange effects cover the instrumentation like metallic spray paint.

Buju Banton gives a bewitching performance with a demo-ish acoustic cut of his Oh My Father, whereas Sizzla's Daylight melds 90s eighth note digi drums to his own acoustic guitar. Kareem's productions include one of his own key artists Jesse Royal singing the rootsy Little Did They Know on a tough relick of Dennis Brown's Halfway Up Halfway Down. Royal also joins the deejay Jahman for Show Them How Fi Blaze which updates the melody and rhythm to Tony Tuff's Deliver Me.

Masouri's diplomatic gentle tone and commitment to the truth mean he doesn't shy away from his friend's somewhat formidable reputation. But it's clear from the less roots oriented fare included that Burrell senior had a softer side. Though these ballads and departures from traditional reggae might seem sentimental, their lyrics are given vital context by Masouri. Beres Hammond's Do It Now is addressed to Burrell on news of his death. Gospel ballad Pair of Wings by Nadine Sutherland – a long way from her early days singing Starvation at Tuff Gong – is an ode to Garnett Silk. The words to Luciano's 90s chill soul pop track One Big Family which quotes a couplet from Harold Melvin and the Bluenotes' Wake Up Everybody chime with the project's familial themes.

Not all of the songs here would make it onto a "best of Xterminator" compilation – but that's not what this is. It's a collection of rare jewels for Burrell fans that represent a father's legacy being continued by his son.


---
Release details
Various Artists - Living Heart Vol.1
DIGITAL RELEASE [XTM.Nation]
Release date: 03/11/2014
Tracks
01. Part of One Big Family - Luciano
02. Stand in Love - Lee "Scratch" Perry
03. Shield and Guide - Pressure Busspipe
04. Show Them How Fi Blaze - Jahman & Jesse Royal
05. Eyes Wide Open - Gentleman
06. Daylight - Sizzla
07. We Pop It Off - Ini Kamoze
08. Little Did They Know - Jesse Royal
09. Oh My Father - Buju Banton
10. Do It Now - Beres Hammond
11. One More Chance - Kayla Bliss
12. Pair of Wings - Nadine Sutherland
Featured artists
Beres Hammond
/
Gentleman
/
Sizzla
/
Luciano
/
Kayla Bliss
/
Jesse Royal
/
Buju Banton
/
Pressure Busspipe
/
Lee Scratch Perry
/
Ini Kamoze
/
Nadine Sutherland