Review
EP Review: Kairo McLean - Easy Now
04/17/2021
by Gardy Stein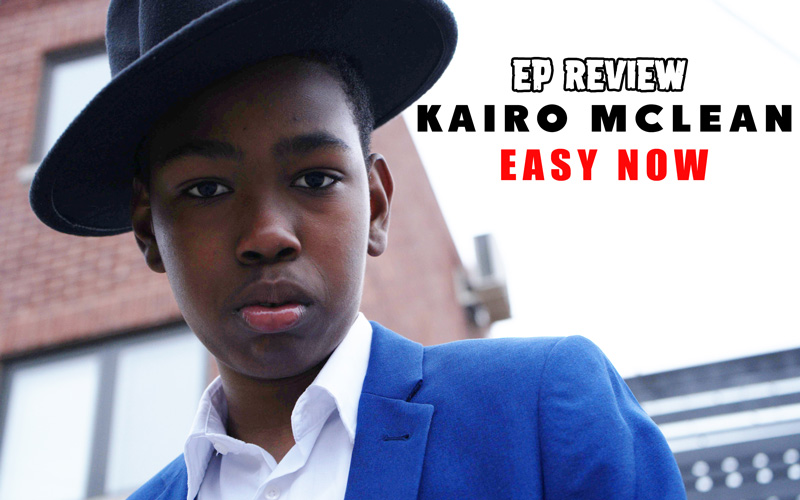 prodigy [prod-i-jee ], noun: a person, especially a child or young person, having extraordinary talent or ability
Every living being is bestowed with a talent. Amount and quality might differ, but anyone can discover his or her own - sometimes it might take a lifetime, sometimes it becomes evident quite early on. Thus, some children are born with a gift for languages, speaking three different tongues before their 5th birthday. Others, like my friend's son at age 1, observe and imitate every movement made while cooking and are at their happiest when allowed to stir a pot or mix ingredients or pour liquids. Some excel in sports, running faster or kicking the ball better than any of their peers. And some rare souls astonish us with their perfect pitch, their musical skills and their unique voices.
An example of the latter is Kairo McLean, a young singer from Toronto born to Jamaican-Canadian parents. At the tender age of 12, he now debutes with his first ever EP Easy Now executively produced by Tim Dub, released under the label Willow Records. And, oh, what a debut this is!
Kairo erupts on us like a sudden spring shower, heralded not, as so many others, by a talent contest of some sort, but by the pure and undeniable quality of his artwork. Instrumentalist, songwriter and vocalist, he knows what he's doing, and where what he's doing comes from. His music speaks of a deep knowledge of his Jamaican roots, of Rocksteady and harmonies, and the first four songs he puts forth are vibrant testimonies of the budding artist he is.
With a classical Reggae intro of bass, drums and horns (chapeau to Tim Hamel and Tom Richards for trumpet and trombone!), Fear opens the EP with a question: "What is this insanity taking over humanity?". Perfectly arranged, the brass section adds monumentum to the track which is carried by an already pushing drum-pattern. In the following title track Easy Now, Kairo not only captivates us with his voice but also with his flow. How many hours of music has this kid consumed to be able to poise his words on the riddim with such precision? From the slightly slurred blue notes in the bridge to the little vocal quirks he adds now and then, he sings with a confidence and claim some of his established colleagues still strive to achieve. Yes, there is room for improvement when it comes to the clean and exact delivery of some keys, but the natural presentation of the status quo carries an element of authenticity that is worth much more than technical perfection, especially in a business where autotune has become so awfully common. Easy peasy, lemon squeezy, just be yourself starrr!
On a slower pace, the subsequent tune assures each and every one of us that we will Rise Again, no matter what we go through. Written by Daddy Garvin "Super G" McLean (who also plays the bass here), it becomes evident where Kairo inherited his lyrical abilities from, and the emotion he puts in the delivery allow us a glimpse of the mature artist he'll grow into being one day. Imagine the mountains he will be able to move once he puts his mind to a cause!
"I'm feeling like a rebel, powered by the bass and the treble." Rebel, the last track of the EP, again showcases the amazing vibes this boy can create, especially in the lower ranges. Like Fear, this track has been written by Kairo himself, which is as remarkable as the fact that he did his own backing vocals, only supported by musical director Josh Goldman. "We had our prophets and you took them away, if they could have spoken out, oh the things they would say! Peace of mind would be one of them, they would teach us to be true, they would have passed the knowledge down on to the little youths." Words of wisdom from the lips of a 12-year-old!
Kairo McLean is a name to remember. With a debut such as Easy Now, the musical quality of which cannot be stressed often enough, great things can be expected in the years to come. Or, to quote the first listeners who commented on the Easy Now premiere on our YouTube-channel:
"Reggae future secured" (Ganja4life)
"Not because he's young I'm saying this but that's an excellent production" (Bigshot 45)
"So good! You're a talented musician, don't give up on your dreams. Some day you'll be a big fish!" (Norma Nolasco)
"Easy now Mr. McLean, Quality reggae music at this age!? Yeah lemon squezéé! Keep up this work, I hope you'll keep the horns included in your future music to keep spreading this happy feel vibe you're producing now! Love from Belgium." (Sean Babusiaux)
---
Release details
Kairo McLean - Easy Now EP
DIGITAL RELEASE [Willow Records]
Release date: 04/16/2021
Tracks
1. Fear
2. Easy Now
3. Rise Again
4. Rebel