Review
Album Review: Sara Lugo - Hit Me With Music
10/16/2014
by Gardy Stein
A woman on the rise that will hit you with her music!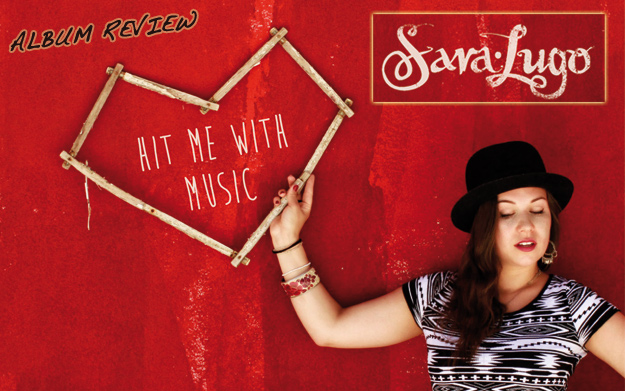 Sara Lugo is back! Scarcely 3 years after her debut album What About Love, she fends off the looming grey of our northern autumn with some jolly golden sparkles. Obviously more than satisfied with their last collaboration, her new work is out again on Oneness Records, with Groove Attack and Soulfire Artists joining forces in its distribution.

Calling an album Hit Me With Music means having to live up to high expectations to say the least, and indeed the title track makes a direct lyrical connection to Bob Marley, although it is a quite un-reggaeish affair that was conceived during a Jam Session with friends. Anyway, Sara hits us with a variety of music on this release!

The album starts out with The One, and whoever it was written for must be a very special man indeed. What a sweet, sweet thing! It's the kind of song that gets better the more often you hear it. You'll be enticed at once to sing along, and the wonderful orchestration sets the pace for the extraordinary musical delivery throughout all twelve tracks contained.

Soldiers Of Love is a good proof of that claim. With minimalist drums and something that sounds like a vibraphone (a marimba, as I just found out!), a spherical sound is created to which Sara's voice adds a distinct outer space feel. Strolling off Reggae main street once more, Never Ever begins with a skilfully played guitar before the tune flows into a Hip Hop beat on which the singer even drops a short Rap. From space via downtown NYC to the rooftops: I Wish further broadens the diversity of the record, and its inherent Big band flavour brings to my mind images of beautiful Sara in a fancy dress singing at a cocktail party. Worth mentioning in this section is Love The Children, too, an Altafaan production that is graced by the presence of Dean Fraser's saxophone.

Of course, Reggae lovers will get their kicks as well. Black & White, Play With Fire and More Love (an Altafaan production as well) are solid tunes of that genre; watch out, though, if heard too often you might suffer an overdose of the above mentioned sweetness of Lugo's voice!

In my humble opinion, Sara's vocal qualities excel in the three combination tunes included in the album. Of course, not much has to be said about the hymn High & Windy featuring Kabaka Pyramid on the Reggaeville Riddim. Out since 2012, this track has found countless fans both on Youtube (more than 500,000 views) and in the dancehalls. A similar fate will certainly be met by Really Like You, a Silly Walks production. This lover's combination with Protoje has been received favourably at a number of live shows, and very recently won the hearts of Jamaican people as well, as the upcoming interview will reveal (stay tuned!). Last but not least we have Learn To Grow, bringing Ras Muhamad to our attention. Although the man is a superstar in his homeland Indonesia, he is not yet too well known over here, a fact that is hopefully going to change with his recently published album Salam. The above mentioned track works with a quite simple riddim which is brought to life by the versatility of the two singers. Besides this melodic quality, it's the most conscious tune of the dozen (next to Love The Children maybe), most other songs treating the subject of love in all its facets.

Hit Me With Music is an album with the potential to brighten up any of the cloudy November days ahead. It's great to see a female singer boldly stepping into the spotlight, and Sara Lugo made the perfect choice to engage her sweet voice to the skilful musicians of the One Drop Band, Lionel (Jamaram), Giuseppe Coppola, Filou and Morry "Da Baron" v. Korff. A woman on the rise that will hit you with her music!


---
Release details
Sara Lugo - Hit Me With Music
DIGITAL RELEASE / CD [Oneness Records]
Release date: 10/17/2014
Tracks
01. The One
02. Really Like You feat. Protoje
03. Hit Me With Music
04. Black & White
05. Soldiers Of Love
06. I Wish
07. Play With Fire
08. Learn To Grow feat. Ras Muhamad
09. Never Ever
10. Love The Children
11. More Love
12. High & Windy feat. Kabaka Pyramid
Featured artists
Protoje
/
Ras Muhamad
/
Kabaka Pyramid